Things to do in Sochi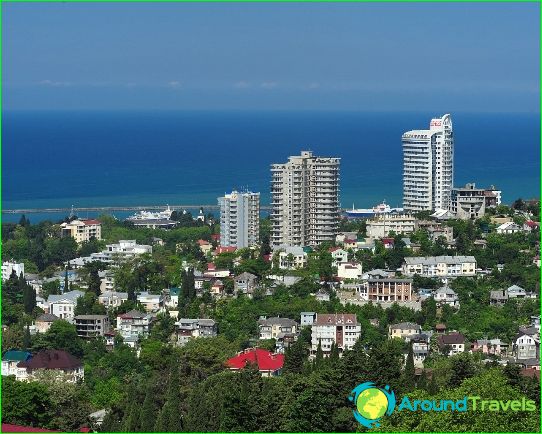 Entertainment in Sochi is an opportunity to ride a jet ski, take a parachute flight over the sea, go diving, play paintball ...
Amusement parks in Sochi

The park "Riviera": by visiting this park, you can ride various attractions such as roller coaster, plate "Calypso" (space flight) slide "The Dragon", "Chain carousel", and also play air hockey, walk through the Labyrinth (designed for children aged 3-8 years), go go-karting, visit exhibitions of wax figures and moving robot dinosaurs. In addition, the Dolphinarium is open in this park: here you can not only admire the show (the main participants are dolphins, seals and lions), but also take dolphin therapy courses (interacting with dolphins, you will be offered to perform relaxing and developmental exercises, as well as swim with them).
"Happylon sochi pirate's Park": in this theme park (it is located in the mall "Moremall") little visitors will be able to frolic in children's playrooms, play slot machines, ride rides ("Sea flight", "Typhoon", "Tsunami"), spend time at the circuit and in the maze "Pirate town" (5 tiers). If you're in the mood for a bite to eat, check out the tavern "Tortuga" (European cuisine, children's menu).
What entertainment in Sochi?
An interesting entertainment can be a walk along the Sochi Arboretum, which consists of 2 parts (they are connected by a tunnel passing under Kurortny Avenue). It is worth noting that you can get to the top of the park by funicular.
Walking through the park, you will see rotundas, gazebos, decorative stairs, peacocks, ponds with ducks and pelicans floating in them, many plants (bamboos, palms, chestnuts, azaleas, hydrangeas) and sculptures ("Adam and Eve", "Neptune"), as well as visit the Butterfly Garden.
Active travelers can ride on alpine meadows in jeeps, climb mountain peaks by cable cars, go on an excursion to deep gorges and beautiful waterfalls.
Entertainment for children in Sochi
Children should be delighted with a trip to the water park "Lighthouse" - there are both children's and adult slides (look for them in the corresponding zones).
An equally memorable entertainment can be a visit to the Nikola Tesla Museum - guests are offered to watch an animated film about Nikola Tesla, see physical experiments, admire the Tesla show with laser special effects.
With the kids, you should definitely look into the Sochi Art Museum: after going to the interactive hall (exhibition "Miracles of multimedia"), you can become "part" the picture you like. So, for example, you will see yourself in the forest with bears (the image will be displayed on the big screen). In addition, here you can compose fragments of your own picture on the interactive table.
Planning a vacation in Sochi? Here you will find a variety of entertainment in the form of visiting discos and beaches, sightseeing, active pastime in nature.
Photos