Airport in Palma de Mallorca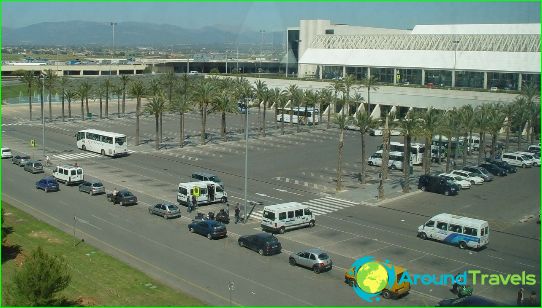 Palma de Mallorca Airport, also known as Son São João Airport, is one of the largest airports in Spain. It is second only to the airports of Madrid and Barcelona. Palma de Mallorca airport is located in the Balearic Islands, about 10 kilometers from the city of Palma (Mallorca island). Among the three airports located on these islands, it is the largest.
About 23 million passengers are served here annually, while the maximum passenger flow is 25 million. It is worth noting that expansion is planned by 2015, which will allow to receive up to 38 million passengers per year. At the moment, the airport covers an area of ​​6.3 square kilometers. The airport is now capable of parking 88 aircraft.
The airport in Palma de Mallorca has two runways, 3000 and 3270 meters long.
In addition to civil flights, the airport is used for military purposes by the Spanish Air Force.
Services
The airport in Palma de Mallorca has 4 terminals. One of them is used for domestic flights, and the other three serve international traffic..
Son São Joao Airport is ready to offer its guests all the services they need on the road. For hungry passengers, there are cafes and restaurants on the territory of the terminals..
A spacious shopping area is ready to offer customers a variety of goods, from souvenirs and gifts to cosmetics and perfumes.
For business class passengers, the airport offers a separate waiting room with an increased level of comfort.
Also on the territory of the airport there are mother and child rooms for passengers with children, in addition, there are specially equipped playgrounds for children..
Of course, the airport is ready to offer standard services - ATMs, currency exchange, luggage room, Internet, etc..
How to get there
There are several options for getting from the airport to Palma de Mallorca. The cheapest option is the bus. Buses 1 and 17 run to the city. The cost of the trip will cost about 2-3 dollars. Buses leave for the city every 30 minutes.
Alternatively, you can offer a taxi that will take passengers to the city for $ 20..
Photos Palma de Mallorca airport