Water parks in Barcelona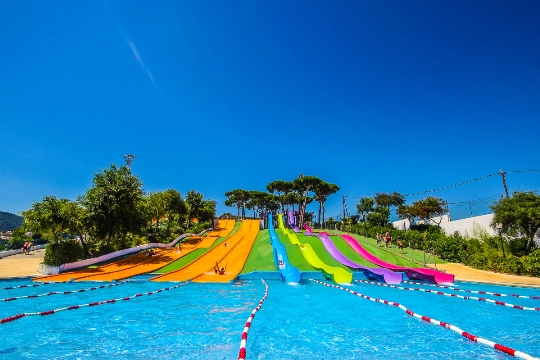 Barcelona is a great place for families and children: for example, adults and young guests will get a lot of pleasure from active water recreation at the local water park.
Water parks in Barcelona
Waterpark "Illa Fantasia" has:
12 swimming pools (Llac - with hydromassage, Piscina Monumental - with 2 basketball hoops, Piscina D'ones - with artificial waves);
22 slides "Bitour", "Aquamania", "Megatour", "Torpede", "Espiral", "Supertobogan", "ZigsZags", "Espirotub", "Multipista", "Rapids";
5 mini golf courses;
children's (2-10 years old) pool "Zona Infantil" with mini slides;
a recreation and picnic area (there are several barbecues and tables for 800 seats, and you can get the necessary products in a supermarket located next to the water park);
catering establishments (cafe-bar, burger-bar, ice-cream parlor, restaurant "El Chef").
In addition, in "Illa Fantasia" guests will find pay phones, lockers, ATMs, showers, a first-aid post, and a souvenir shop. It is worth noting that visitors to the water park are regularly pampered with discos, concerts, theatrical performances, and involvement in sports games..
Cost of admission: adults (over 140 cm) - 22 euros / whole day (15 euros / 5 hours from 14:00), children (100-140 cm) - 15 euros / whole day (13 euros / 5 hours). Special prices: 2 adults - 40 euros, 2 adults + 2 children - 60 euros. For seniors (age 65+), a full day stay in Illa Fantasia will cost them 15 euros, and a 5-hour stay - 13 euros..
Water activities in Barcelona
By visiting the Aquarium in Barcelona (adult ticket - 18 euros, children ticket - 14 euros), you will visit several of its zones, for example, in the first zone (the aquarium itself) you will meet scorpions, seahorses and sea dogs (do not ignore the "Oceanarium "- you will pass along the conveyor through the aquarium with sharks and ocean fish), and in the Planeta Aqua zone - with piranhas and penguins (there are special aviaries). As for the Explora zone, little guests will be happy to visit it - they will be able to take part in interactive games, slide down the tunnel, which is surrounded by bubbling water, and take a photo, riding on a giant turtle.
Those who decide to go diving with sharks will pay 300 euros for this exhilarating pleasure (price includes excursion, theoretical lesson and diving).
The beaches of Sant Sibastia, Barseloneta (sports grounds for volleyball and football, skateboarding and rollerblading), Sant Miquel, Somorrostro (famous for fashionable clubs and restaurants), Nova Icaria (guests will find tables here for tennis, playgrounds and volleyball courts, as well as kayak rentals, surfing and diving equipment).
Approximate cost of water activities: 30-minute jet skiing - 100 euros, Flyboard - 85 euros / 15 minutes, Puddle Surging - 35 euros / 90 minutes, Wakeboard - 30 euros / 30 minutes.
Photos