Water parks in Madrid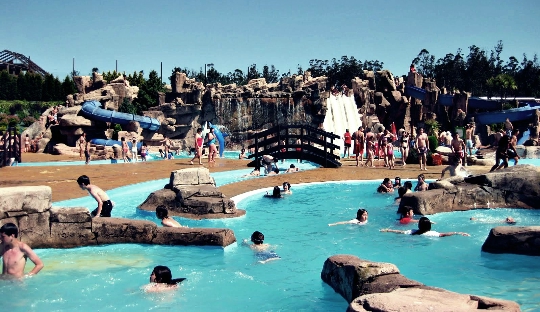 Are you planning to have fun with your family all day in Madrid? Local water parks will cope with this task - they will give you a festive mood!
Water parks in Madrid
Aquopolis-Villanueva dela Canada water park is equipped with water attractions "Waikiki Hungle", "Splash", "Black Hole", "Boomerang", "Turbolance", "Rapids", "Pistas Blandas", "Estanque Dorado", "Swan Dive" "," Waves Beach "," Malibu Beach "," Mini Park "with children's pools and slides, food outlets and ice cream stands. Admission ticket for adults - 25 euros, children - 19 euros, seniors (65+) - 14 euros.
Aquapark "San Fernando" has recreation areas, water attractions "Anaconda", "Speed ​​Race", "Kamikaze", "Speed", "Blue Lagoon", a swimming pool for water sports, children's attractions "Tobogan Infantil", "Chapoteo "and" Laberinto de Gusanos ", catering outlets. Entrance fee for adults - 20.5 euros, for children (90-140 cm) - 15.9 euros, for seniors (65+) - 16 euros.
Water activities in Madrid
Interested in swimming pools? Stay in one of the hotels with swimming pools - Wellington Madrid, Emperador, Hotel Santo Domingo, Urban and more.
Vacationers in Madrid are recommended to visit the Zoo Aquarium - looking at the inhabitants of 35 aquariums, clown fish, bull sharks, tubular anemones will appear in front of their eyes. In addition, here you can visit the "sea ballet", the heroes of which are dolphins (they will jump and somersault, write pirouettes), as well as on shows with the participation of other animals (you can see how sea lions juggle, as well as watch the tricks penguins). Ticket prices: adult - 18 euros, children - 15 euros (the same price is valid for seniors).
Despite the fact that Madrid is not a seaside resort, if you wish, you can spend time on natural reservoirs. At your service is the Las Presillas recreation area (entry to the zone will cost 4 euros): the coast in this place is equipped with playgrounds, braziers, tables and benches.
If you are vacationing in Madrid in July-August, try to go to the Rio Sequillo recreation area - it is allowed to swim here during these months. The Rascafria zone can be an equally suitable place for relaxation - it will delight travelers with a natural pool surrounded by green meadows. In addition, this area is equipped with toilets, kiosks and restaurants, and if you wish, you can arrange a picnic here (important for those who come here with their own provisions). As for the hikers, they will also have something to do here - there are special routes in the vicinity..
Are you interested in opportunities for water sports? Go to the reservoirs of San Juan and El Atazar - here, at the rental points, you will be offered to rent a canoe, windsurf board, kayak, boat or sailboat.
Photos