Prices in Koktebel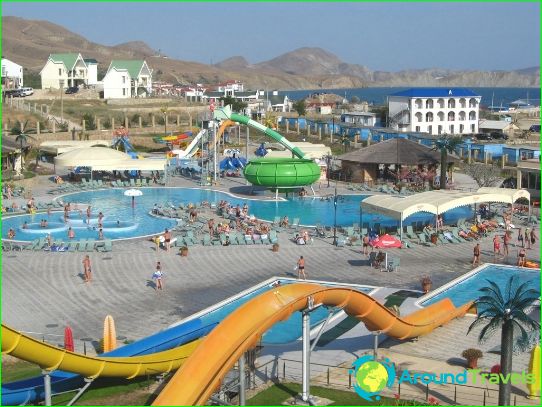 Koktebel is a popular Crimean resort. It is located next to the extinct volcano Kara-Dag and is 20 km away from Feodosia. It is believed that this resort was founded by the artist and poet M. Voloshin. Therefore, in the very center of the village is the House of the Poet. If you are going to relax in Crimea, you are probably worried about the prices in Koktebel.
Places to stay
There are hotels of different categories in Koktebel. They offer accommodation in rooms with varying levels of comfort. In hotels of the resort, prices for accommodation vary between $ 20-240 per day per room. The cost of housing depends on the distance to the beach and the season. There are also hotels in the village that are open all year round. All establishments are designed for families and children. Many of them have well-equipped areas with a car park and barbecue area. Hotels usually provide a free taxi or shuttle service. Tourists are picked up at the airport or railway station and brought directly to their place of residence.
Many people choose to rent hotel rooms that have swimming pools, internet access and children's play areas. Each hotel provides meals in a dining room or cafe. Private accommodation prices are lower than hotel prices. The highest price level is observed in July and August. During this period, you can rent a 1-room room in a mini-hotel for 800-1700 rubles per day. Guest houses, located 1000 m from the beach, offer rooms for 700-1400 rubles.
Transport service
You can get around the resort on foot, by taxi and minibuses. A sea taxi runs from the Koktebel embankment to Tikhaya Bay. A ticket for an adult costs about 200 rubles, for a child - 140 rubles. There is a bus station in the village, from which there are bus routes to other resorts of Crimea. You can get to Feodosia for 15 rubles, to Sudak - for 43 rubles.
Prices in Koktebel for food
The cost of food is usually included in the price of a guided tour or in the cost of hotel accommodation. Sometimes hotels only take into account breakfast. The rest of the time, tourists can visit the restaurants and cafes of the village. The bulk of catering establishments are concentrated on the embankment. Many cafes offer fixed price set meals. Such establishments are considered budgetary as «Small fish», «A spoon», «Emine». Restaurants are more expensive «Zodiac», «Shinok», «Bear» etc. The cost of meals varies from 50 to 500 rubles. You can try the products of the local factory of vintage cognacs and wines in restaurants or in the tasting room. Experts believe that cognac «Kutuzov» with an exposure of 25 years, produced by the plant, surpasses the famous «Napoleon».
Photos