The beaches of Feodosia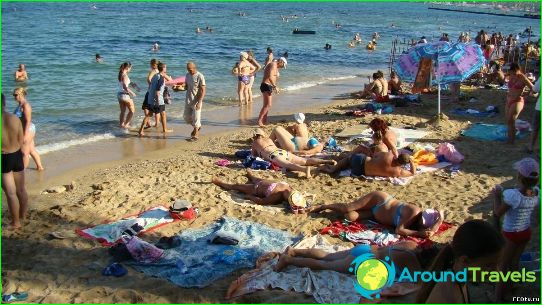 It is noteworthy that the hospitable Feodosia invites vacationers to its beaches for free. This means that you do not have to pay for the entrance, and this will save a little money for renting beach equipment. In addition to this pleasant detail, before going on vacation to the beaches of Feodosia, you also need to know that the city itself is divided into districts. Some of them are considered historical:
Quarantine
Morsad
Center
Ukraine
White pool
White acacia
Cinema "Ukraine".
Each of these areas is famous for its own beaches..
Beaches in the central regions of Feodosia
If you prefer to live in the center then you should visit the beach «Pebbles». It is located very close to the center of Feodosia, like the beach with the corresponding name «Urban». «Urban» the beach is located along a small promenade that stretches from st. General Gorbachev to st. Gallery. It should be taken into account in advance that by choosing this beach, you will come across small pebbles, and in the water it will turn into clean sand. The beach will provide you with everything you need for a comfortable stay: toilet, changing rooms, showers. Various equipment is rented.
Sandy beaches for children
Arriving on vacation in Feodosia with the kids, a vacationer may be faced with the fact that he needs a beach specially equipped for children. We can say that the beach «1st city» just perfect for families with children. The best sandy beaches of Feodosia are scattered throughout the coast in different parts of the city, and this beach is one of their best representatives. It is also popularly called «For children», because the bedding here is soft white sand, and the sea is very shallow. Due to the shallow depth, the water here warms up very quickly, so you don't have to worry about the kids catching a cold..
Unusual beaches
There are also beaches in Feodosia with colorful, exotic names. For example, two beaches located in the station area «Aivazovskaya», are called «Bounty» and «Pearl». Even without knowing the features of these beaches, I want to relax there at least for the sake of their names. The bottom is flat, and the beach strip is covered with sand. These two beaches are very popular among locals, so it is advisable to take a place in the morning. Volleyball fans will be able to find a volleyball court here, and those who want to just sit in the shade can rent a sunbed or chaise longue..
Wild beaches in Feodosia
Some vacationers really like to spend their holidays or vacations in places untouched by people, which have not yet been touched by the all-pervading civilization. For them, there are good wild beaches in Feodosia. Very famous beach «Chumka» with the same wild name. Here you can not only have a good rest, but also take wonderful photos on wide boulders.
Photos of the beaches of Feodosia