Rest in Sudak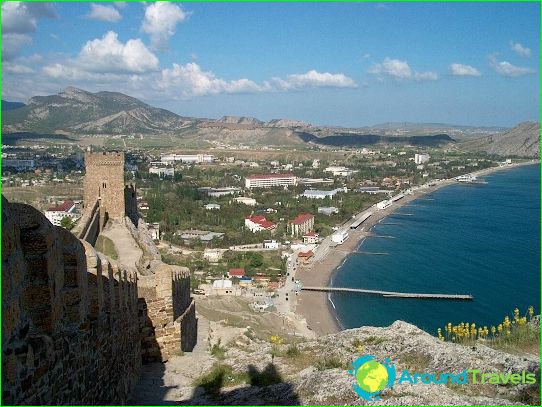 Rest in Sudak means comfortable beaches, quartz sand, which improves metabolism and restores the protective functions of the body, inexpensive housing, good entertainment facilities, first-class wineries ...
The main types of recreation in Sudak
Sightseeing: on excursions, you will walk along the Sudak Embankment and Cypress Alley, see the Lutheran Church, the Church of the Intercession of the Most Holy Theotokos, the medieval Genoese fortress, visit the winery, go to the protected tract Alchak-Kaya (this trip is for hikers), to the grotto, to Shalyapin Cave Monastery, Sun Valley ...
Beach: despite the fact that there are free beaches in Sudak (the municipal beach is practically not equipped), it is better to relax on beaches with paid access. Pay attention to the beach "Mojito" - it has an observation deck, a summer cafe, a playground, sun-proof straw umbrellas, gazebos, a rental point where you can rent sun loungers, fins, masks. You can also sunbathe and swim on the beaches of Cape Meganom - people flock here for the sake of clean water, unpolluted air and pristine nature. Here you can rent an umbrella, sun lounger, have a snack in small cafes.
Active: in Sudak you can go water skiing and "banana", have fun in the water park "Water world", go diving (go to Gravernaya Bay to see the mine and the anchor cemetery at a depth of 7 meters), surf, paragliding, go on a quad trip to Cape Meganom or Lavender Field.
Eventful: arriving in Sudak during the festive events, in mid-July you will visit the Festival of Folk Crafts "City of masters" (here the secrets of glassblowers, potters and other artisans are revealed for everyone), at the end of July - at the Festival "Sudak" (dance and song competition), at the beginning of August - at the Knights' Festival "Genoese helmet" (guests will be pleased with medieval entertainment, knightly tournaments, costume competition).
Prices for tours to Sudak
The ideal time to visit Sudak is June - September. A slight increase in the cost of tours to Sudak (by 15-25%) is observed in mid-June - August. If you do not like the noise and liveliness on the beaches (it is at this time that the resort life is in full swing), you can take a bus and, after driving a few kilometers from the city, find secluded beaches. You can save even more on vacation expenses by heading here during the low season, which lasts from late October to early May.
On a note!
Even if you do not plan to spend a lot of time on the beaches, you should definitely take a sunscreen with an SPF of 30-50 units with you due to the high solar activity in Sudak..
Leaving Sudak, you should take home wine, rose oil, paintings with seascapes, cosmetics based on essential oils of lavender, juniper, fennel (have anti-aging and healing properties), sets of essential oils and accessories for aromatherapy.
Photos of rest in Sudak