Children's camps in Evpatoria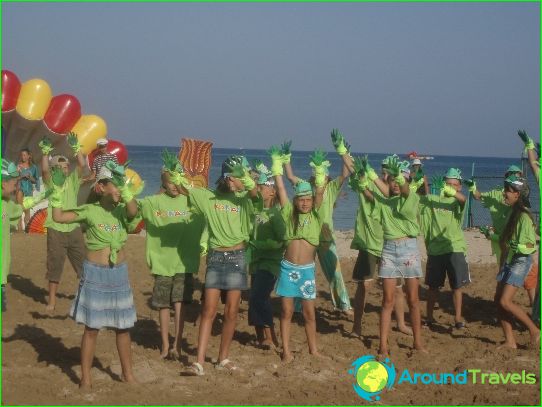 Evpatoria is a famous resort that has been operating since the times of the USSR. It is located in Crimea, on the shores of the Kalamitsky Bay. Previously, our parents rested there - in pioneer camps. Today Evpatoria has improved the system of children's recreation. Old Soviet camps have been renovated and renovated.
Children from all over Russia and neighboring countries continue to go to Evpatoria. The resort hosts organized groups and creative teams. For a bright and unforgettable children's holiday there is everything you need: the southern sun, warm sea, clean air, beautiful nature, sports grounds, etc. The camps are equipped with football fields, games, sports and gymnastics halls, auditoriums and swimming pools. Each family can choose a voucher for a child, depending on his age and interests. On the territory of the resort there are health and sports camps, as well as sanatoriums. Children's camps in Evpatoria delight children with the sea, sun and soft sand.
Features of rest in Evpatoria
The mild climatic conditions make this resort one of the highest priorities in the matter of children's recreation. There are no sudden changes in temperature. It is useful to have a rest in Evpatoria, as there is a lot of sun and clean air. There are at least 258 sunny days a year. In this respect, Evpatoria is ahead of Sochi, Yalta, Sukhumi. The climate of this resort is comparable to that of northern Italy and southern France. The beneficial influence of the climate is due to the influence of the sea and the nearby steppes. Evpatoria is not closed from the winds, but it is never cold here. This resort stands out from other seaside cities with warmer sea water, the temperature of which remains even. There are no storms and low temperatures in Evpatoria. All this makes the resort the best place for children to relax. Wellness and a great beach holiday are the main goals of children staying in camps and centers..
You can visit children's camps in Evpatoria at any time. Unique natural factors make the city a famous balneo-mud clinic. Mineral and sea waters, medicinal plants, sand, sun, air and mud are the main advantages of the resort. Evpatoria is ideal for families and children. All conditions have been created there for entertainment and interesting leisure. The city has not only beaches, but also fascinating attractions. Yevpatoria received the status of an All-Ukrainian children's resort back in 1965. Children's sanatoriums of the resort treat a whole range of diseases:
diseases of the musculoskeletal system,
respiratory diseases,
hearing and vision problems,
skin diseases, etc..
Sanatoriums and health camps for children in Evpatoria are equipped with the latest medical equipment. Highly qualified medical staff work there. You can visit the sanatorium all year round. In children's camps, rest is successfully combined with health-improving procedures. All camps and sanatoriums have their own beaches, which children visit 2 times a day. Sandy and gently sloping beaches are very child-friendly. In addition, sea water in such places warms up very quickly. The swimming season in Evpatoria lasts from mid-May to October.
Photos of children's camps in Evpatoria