Wine of Crimea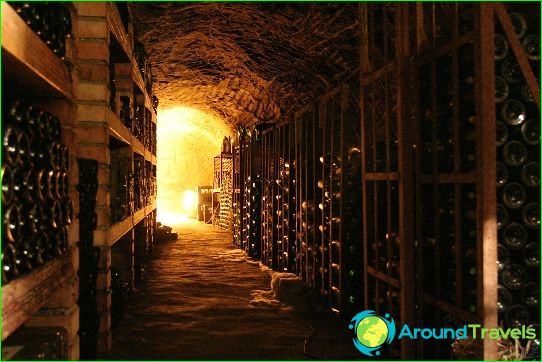 The ancient Romans sincerely believed that the gods gave the vine to man. Perhaps this is true, because in the blessed Crimea, even wines are so good that their glory resounds far beyond the peninsula. From here they bring as a souvenir not only a perfect tan and excellent impressions, but also Crimean wines - tart and sweet, aged and young, red and white.
History with geography
The culture of viticulture and wine production in Crimea has existed since the 7th century BC. Archaeological finds at the sites of ancient settlements unambiguously tell about this. The heyday of winemaking fell on several periods, one of the most significant of which was the era of Genoese influence. It was in the XIII-XIV centuries that the Genoese captured part of the peninsula from Sudak to Balaklava, reviving ancient traditions on these lands.
The second bright surge in the production of Crimean wines was in the 19th century. A new stage in the development of winemaking is associated with the name of Count Vorontsov, who grew the best grape varieties on his estates in Massandra and Alupka. More than 350 wineries of the peninsula in those years produced products that took worthy places at Russian and European exhibitions.
In the Crimean collection
All the huge abundance of wines produced in Crimea can be divided into several groups, each of which has thousands of admirers all over the world:
Table wines of the Crimea, produced from various grape varieties. They are classified into white and red, depending on the color and grade of the raw material. Among whites, the most popular are Rieslings, Rkatsiteli and Aligote. White table wines are aged from 1.5 to 2 years and have a pleasant acidity and golden color. Red table wines are mainly made from Cabernet Sauvignon and Saperavi grapes. The wines are aged for about 3 years and have a delicate and harmonious taste due to the combination of several valuable grape varieties.
The champagne sparkling wines of Crimea are three-year-old drinks, including the magnificent brut "Novy Svet", and the collection "Crimean" semi-dry, and the sparkling "Novosvetskiy Serdolik".
Among the dessert wines of Crimea, Muscats are invariably in the lead: white "Livadia" - soft and harmonious, pink "Magarach" with a velvety and oily liqueur taste and black "Massandra" with a delicate aroma of prunes and chamomile.
Strong wines are represented by Madeira "Krymskaya" and Massandra sherry, and for fans of the classics and lovers of nostalgia for the days gone by, Crimean winemakers prepare port and Tokay wines.
Photos