Cuba resorts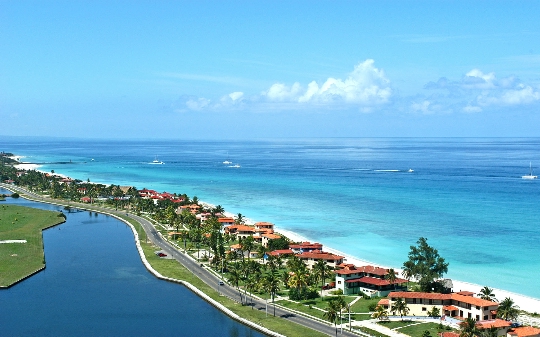 If air tickets to Liberty Island warm your pocket nicely, you can only envy the traveler: such an amazing vacation is hardly even dreamed of by a fan of hot beaches and blue seas. All Cuban resorts are similar to each other with a unique nature, fantastic colors and a kind attitude of local residents. They love the Russian tourist here and even often speak his language, which seems especially pleasant and touching for so many thousands of kilometers from home..
For or Against?
In the usual comparison of Cuba's resorts with other popular holiday destinations on the planet, there are only two drawbacks - not too humane prices for air tickets and a relatively long flight. Everything else is just pluses for the island, where an amazing atmosphere of comfort and freedom reigns, which guests begin to feel already at the airport of Havana or Varadero.
The resorts of Cuba have ideal beaches. They seem to have left the pictures of heavenly delights: white sand is soft and clean, water of all shades of turquoise is always warm and comfortable for swimming, emerald green of palm trees and endless space.
Prices for hotels and services here are quite affordable even for a traveler with an average income, and the service in hotels is not too "intrusive", but it is quite consistent with the declared level of star.
The number of interesting excursions around the island clearly exceeds the number of days declared on the tour, and therefore neither adults nor children are bored in Cuba's resorts.
Always in the TOP

The name of the most important and popular Cuban resort was once glorified by the famous song. Since then, the sombrero-like sky has been seen by many thousands of travelers stepping off the plane at Varadero airport. Forty kilometers of flawless white sandy beaches on the northern coast of Cuba and dozens of hotels of various categories - this is a real paradise for fans of a leisurely vacation, in which the main thing is complete relaxation.
Beaches near the town of Holguín in the northeast of the island are no less popular. The Guardalavaca Recreation Area is exactly where Christopher Columbus landed on the Cuban coast. Its amazement and admiration for the beauty of these places are shared by today's guests of the Emerald Beach, and diving fans feel great diving on a coral reef - one of the most beautiful in the world.
If you dream of islands, then the best Cuban resorts for you are Cayo Largo, Santa Maria and Cayo Coco. Having retained the charm and seclusion of the past, these islets of land seem to still remember the pirates and magnificent caravels that once roamed these turquoise sea expanses..
Photos