Tours in Varadero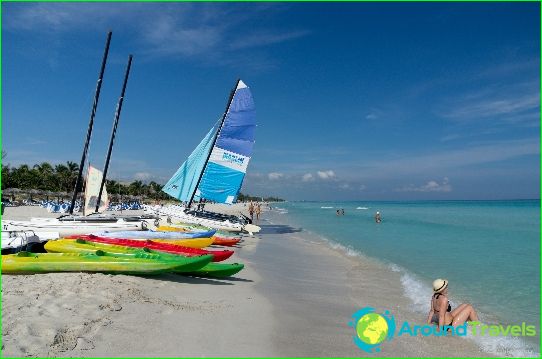 The main beach resort of the Island of Liberty, Varadero is an annual pilgrimage destination for thousands of tourists who dream of the hot sun, white beaches and the turquoise surface of the Caribbean. When booking tours to Varadero, it is important to take into account some of the peculiarities of the climate and mentality of the Cubans, the location of the resort and its distance from Russia.
Briefly about the important

Varadero has its own international airport. A direct flight from Moscow takes about 12 hours. You can get to Varadero by flying to the capital of Cuba, Havana, and from there - by taxi or bus..
Varadero is a resort in the literal sense of the word. Its construction began in the 30s of the last century, and today Varadero is a chain of hotels of all kinds. There are no historical sights here, and therefore fans of educational recreation are better off planning tours to Varadero with sightseeing days in Havana..
It should be borne in mind that the inhabitants of the Caribbean in general and Cuba in particular have some peculiarities of a national character. It is not customary to rush and be nervous, and therefore you will have to forget about the punctuality and responsibility of the service personnel during the vacation. The maids and waiters are in a state of perpetual mania, and the best way to enjoy a tour in Varadero is to relax and stop rushing. A small tip will also help build rapport and serve as an incentive for the resort owners to interrupt the maniana..
Cuban cuisine is a mixture of Spanish, Creole, Native American and Negro traditions. Gourmets and fans of gourmet dishes will find it boring on the island. However, the famous cocktails based on Cuban rum, invented here, will help brighten up the picture..
Informative and fun
Of the architectural landmarks in Varadero, there is only a fortress tower, similar to the medieval one, but in fact it is a successful imitation. But there is more than enough outdoor entertainment at the resort. Here you can go fishing on a boat or yacht, take a horse ride and come off at an evening dance show, where everyone will be happy to teach how to write salsa figures..
Coastal restaurants are an excuse to get out of your hotel for lunch or dinner. They perfectly cook the best local seafood dish - lobster. It can be ordered in different forms, moreover, the price of the issue will pleasantly surprise both experienced gourmets and simply amateurs..
Varadero - Cuba

Photos