Currency in Iceland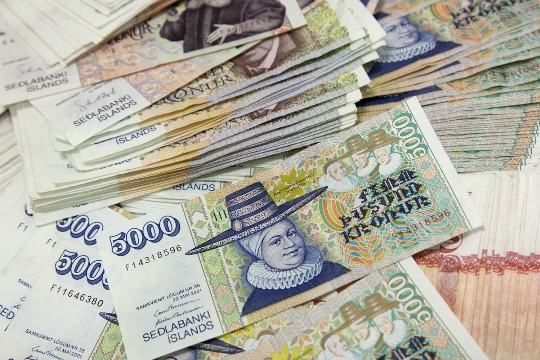 Icelandic krone - this is the name of money in Iceland. The currency was introduced in 1885. Originally one krone consisted of one hundred air. But since 1995, air has ceased to be used in cash circulation. One crown equals approximately 0.24 rubles. Its historical name, the crown received from the crown originally depicted on the coin.
Coins and banknotes
Initially, all coins depicted a monogram (intricate interlacing of initials) and the crown of King Christian H. Coin minting began in 1925, but in 1944 Iceland was proclaimed a republic and two years later minting coins without royal symbols began. Icelandic banknotes began to be issued in 1885. At first, they were of three denominations - 5, 10, 50 crowns. In 1947, the production of new banknotes began. Later, banknotes with a higher denomination began to be issued - 100, 500, 1000 kroons, etc. Also, kronor banknotes, like most other currencies, are very diverse in color. The 10 kronor banknote is blue, 50 kroons - brown, 100 kroons - green, 500 kroons - red, 1000 kroons - blue. After a certain amount of time, the government carried out a modification of the currency, that is, it added many elements of new protection that were not there before, while the appearance of the currency remained the same.
The 2008 crisis and the planned transition to the euro
Due to the crisis in autumn 2008, the Icelandic krona fell by 53% against the US dollar. Because of this, a representative of the Icelandic government said that their country needs a new currency and the only alternative to the kroon is the euro. In 2009, Iceland began negotiations to join the European Union.
Country travel
If you come to Iceland and you do not have local currency, then you can exchange it for kroons at any bank or purchase special checks that replace money, which you can easily pay almost anywhere. When exchanging currency at a bank, regardless of the amount of money that you exchanged, a commission of two and a half dollars is charged for the services rendered to you. It is also possible, when leaving the country, to receive monetary compensation in the amount of 15% of the VAT amount included in the full cost of your purchases. But this service is available if you have made purchases for at least 1000 CZK and you have a special receipt that the seller in the store must give you..
Photos