Shopping in Malta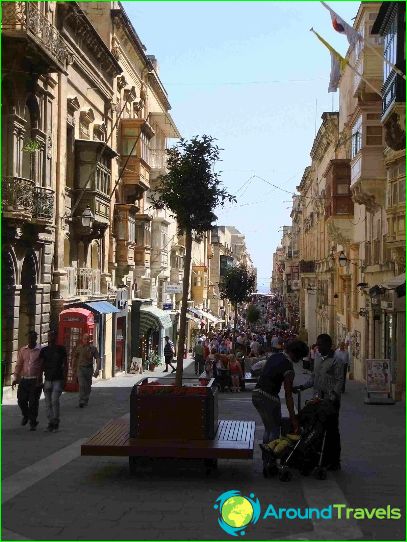 Holidays in Malta will not be complete without the obligatory shopping and walks in local shops..
Popular shopping and retail outlets

To buy clothes from Diesel, Morgan, Mothercare, go to Sliema, to St. Anne's Square. For the usual Zara, Marks & Spencer, BHS, Dorothy Perkins, you won't have to go far, just to the nearby Tower Street. But you should not count on the best shopping in life - the assortment in the stores is small, the prices are about the same as in your home country. There are two other shopping malls Tower Point and Tigne Point, but they are located far enough from each other, so do not expect to get around them in the same day..
In Paceville, near the ARCADIA supermarket, there are two outlets with a generally accepted discount system - up to 70 percent all year round.
Sliema has a Zara brand store opposite the bus station. The area of ​​the store is 2000 square meters, prices are normal, there are discounted items, women's clothing is presented on the first floor, men's and children's clothing on the second. In the shopping center "Plaza" there are mid-priced trademarks "United Colors of Benetton," Bamboo "," La Senza ".
It is also worth looking into the small shops in the old part of the city, on the side streets - often there you can buy shoes of world brands at very low prices. There are also local shoe workshops, which mainly produce summer leather shoes, very decent in quality and at a ridiculous price..
From local crafts - you can visit Mdina and the village nearby, which has been turned into a center for the production of souvenirs. The most famous are vases, plates, clocks, dishes, toys, chandeliers made of colored painted glass from the factories Gozo glass, Phoenician glass blowers, Mdina glass..
Many jewelry stores where you can find jewelry to your liking.
In general, you shouldn't go to Malta just for shopping. It is better to try local cuisine with a focus on Italy - risotto, pizza, fish, seafood, spaghetti with a variety of sauces, washed down with local wine. The wine has a tart taste, it is often used in cooking, for example, to prepare a national dish - rabbit in wine sauce. Maltese wines are labeled MALTA or GOZO and the abbreviation D.O.K. (Denominazzjoni ta' Origini Kontrollata). As for alcoholic drinks, try tequila made from the local cacti, it is inexpensive, it is used as a basis for cocktails..
Overall, shopping in Malta can be described as «needed something» or «accidentally turned up».
Pictures of Maltese goods, shops and markets