Culture of the Netherlands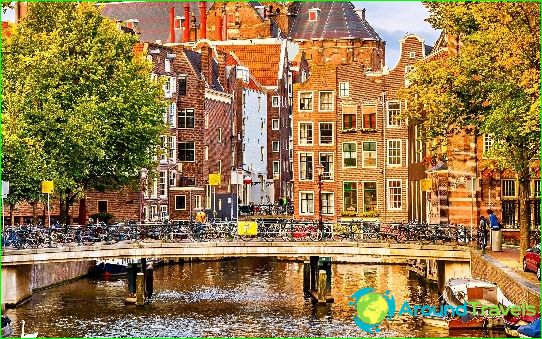 This small European state has always attracted the dreamy glances of travelers. The "fault" of this is not only the mills, coffee shops and tulip fields, but also the unusually rich culture of the Netherlands, the country that gave the world Rembrandt, Descartes and Anne Frank.
School from The Hague
At the mention of Holland, magnificent canvases of artists come to mind, the work of which is connected by a single school. It is called The Hague and is an artistic association that emerged in the Netherlands in the 19th century. The school had a noticeable influence on all painting in the country, and its most famous representative was Vincent van Gogh..
The paintings of other prominent Dutchmen can be seen in the expositions of the best museums in the world. The most popular galleries are located in the capital, Rotterdam and The Hague:
House of the Rembrandt Museum in Amsterdam, where the great painter lived and worked for two decades. The main exhibits are the graphic works of the artist and his etchings..
The Boijmans-van Benning Museum is one of the largest Dutch art galleries in Rotterdam. Offers visitors the work of Bosch, Rembrandt, Rubens, Kandinsky and Dali. Among the masterpieces on display is Pieter Bruegel's The Little Tower of Babel, painted in 1563.
The City Museum of Amsterdam presents all areas of art. Its unique exhibits are paintings by Monet, Picasso, Chagall and Cezanne.
Ten UNESCO
That is how many sites in this country are considered by UNESCO to be worthy of the World Cultural Heritage List. The culture of the Netherlands has evolved over many centuries, and architects, sculptors, painters and musicians have all contributed to its formation. Architectural monuments in a small territory of Holland are located with a high density, and therefore whole neighborhoods and cities were included in the lists of protected objects.
The harbor and the historical part of the city of Willemstad, old defensive structures in the capital, the island of Schokland with its church-museum, the 17th century canal system in Amsterdam are of particular value for descendants..
About daily bread
The national cuisine has become an equally important part of the culture of the Netherlands. Its dishes are mostly made from fish and seafood, and the famous Dutch cheese has become a world famous brand many decades ago. The most popular varieties of cheese exported and loved by the Dutch themselves are Edam, Maasdam, Gouda and Leerdam.


Photos