Holidays in Seoul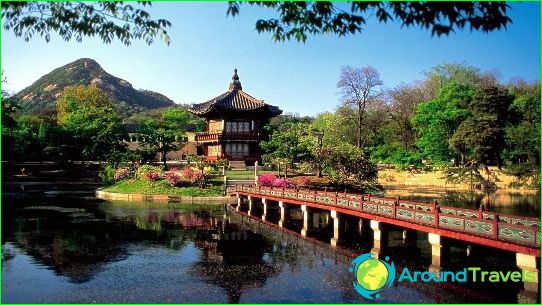 Holidays in Seoul are a great opportunity to admire old buildings and modern high-rise buildings, spend time in beautiful parks, visit numerous palaces and temples, enjoy Korean food, go on an unforgettable shopping tour.
The main activities in Seoul

Excursion: on one of the excursions you will visit the National Folk Museum, the Korean house, which hosts costume performances, see the palaces of Changgyeonggun, Gyeonghigun, Deoksugun and Gyeongbokgun, the bridge "Rainbow Fountain", Cheongwadae Presidential Residence, climb the Seoul Tower Observation Deck.
Active: Seoul has prepared a lot of interesting things for tourists - they can go mountain biking, go trekking, visit horse races (they are arranged on weekends at the Seoul racetrack), have fun in an amusement park "Lotte world" (in addition to various attractions, there is an ice skating rink, as well as shows and parades in the park), theme parks "Seoul land" and "Ever Land" (a visit to this park will delight fans of extreme attractions, as well as those who want to go on a small safari), visit the Museum of Optical Illusions, gamble in a casino "Seven Luck Casino", come off in nightclubs "Velvet banana", "M2", "Joker red".
Beachfront: If you can't imagine your vacation without beaches, you can go to the beaches of Incheon. So, the Yrvanni beach is great for casual walks. In addition, here you can enjoy the sunset and taste seafood dishes in the nearby restaurants.
Prices for tours to Seoul
The following periods are perfect for a vacation in the capital of South Korea - April-May, September-October. It is worth noting that prices for tours to Seoul at this time, as well as on New Year's and Christmas, increase markedly. You can save a lot, "catching" last minute tour to Seoul, so it makes sense to closely follow the lucrative offers from tour operators.
On a note!
Due to the risk of contracting tropical fever or encephalitis, it makes sense to get the appropriate vaccinations before travel.
It should be noted that it is convenient to get around the city by buses, metro and taxis. It is more profitable to make calls from pay phones by paying for communication services with coins, credit or special phone cards.
On the streets of this huge city, you need to be extremely careful not to become a victim of pickpockets and scammers, so in Seoul you should not walk in poorly lit and uncrowded areas, especially alone. As for valuable things and money, it is advisable to store them in a hotel safe..
Experienced travelers are advised to bring from Seoul tinctures on the root of ginseng, cosmetics based on it, ginseng tea, lacquer, ceramic souvenirs and leather goods, Korean electronics, antiques, interior items.
Holiday photos in Seoul