Where to eat in Seoul?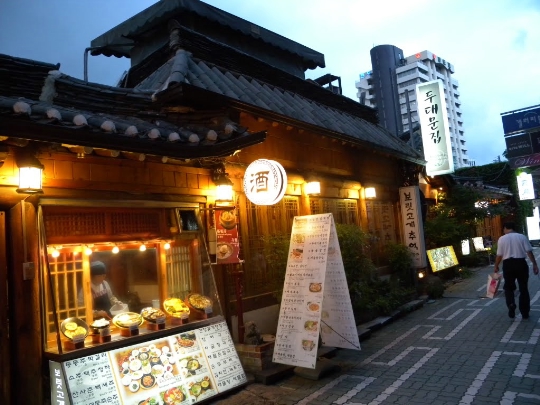 Wondering where to eat in Seoul? The capital of South Korea offers both street food and restaurant food. There are establishments in the city where you can taste Japanese, Korean, Chinese, European and Russian dishes..
Where to eat inexpensively in Seoul?
You can eat inexpensively at Namdaemun Market - here you can dine on Korean delicacies, seafood, rice, meat, cabbage. From "street" dishes worth trying takkochi (pieces of chicken fried on a fire on a stick), kimbal (a mixture of rice, bacon, spinach and eggs in dried seaweed).
You can enjoy sweet hottok cakes on Insadong Street - here, right in front of tourists, rice sweets and donuts are prepared. On the same street, you will meet many cafes and restaurants offering Korean and European cuisine..
For a full lunch or dinner at reasonable prices, you can go to food courts (you can find them in all shopping centers and near the main attractions).
For a budget lunch, visit one of the seven restaurants on Heukseok Stn that specialize in Korean barbecue. On average, lunch here costs $ 7.5.
Where to eat in Seoul delicious?

Slobbie: The chef and his chef team at this Korean restaurant prepare traditional dishes from locally sourced ingredients. In addition to the main dishes, you can order homemade desserts, traditional tea, and rice wine here. It is worth noting that an eco-cookery school and an eco-shop are open at the restaurant (organic products are sold here).
"Korean house": In this pretentious restaurant you can taste imperial Korean cuisine (except, as here, you will not find it anywhere on the peninsula). In addition, in the evenings, you can watch the national costume show (Korean dances).
Vatos Urban Tacos: In this restaurant you can taste the masterpieces of Mexican cuisine and fusion dishes of modern Korean cuisine. Here you should enjoy ribs or pork belly with Korean kimchi, various cocktails and American beer..
Tosokchon: In this Korean restaurant, dishes are prepared not only based on traditional rice, but also ginseng, kingko nuts, and all kinds of herbs. For example, here you can order chicken soup with ginseng (Samguetang).

Seoul food tours
On a food tour of Seoul, you will visit a traditional restaurant where you can taste Samgepsal fried meat or Kalbi ribs. To get acquainted with Korean culture, you will be offered to learn how to cook kimchi - a spicy coleslaw.
Gourmets will like to relax in Seoul - they can stroll through specialized districts where they can taste certain dishes, for example, rice cakes with hot pepper sauce or pork legs "chchokpal".
Photos