Dushanbe shops and markets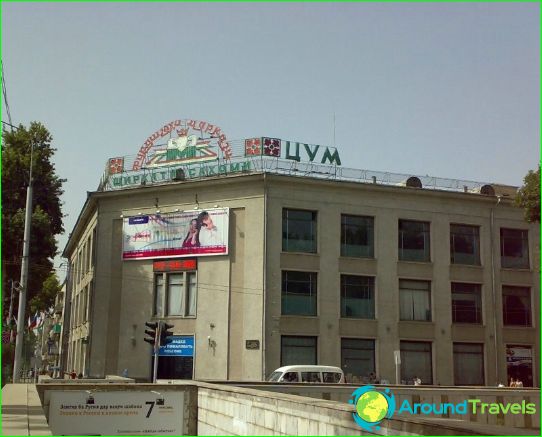 Dushanbe, like many eastern cities, developed as a market settlement. In the early years of its formation, the market was open only on Mondays. Over time, the small bazaar became more and more noisy, grew and was not content with just the beginning of the week for its work. But the evidence of the days of the birth of the capital of Tajikistan is forever reflected in the name of the capital: «Dushanbe» so it translates - «Monday».
At present, it is difficult to call Dushanbe the center of trade, more precisely, it is absolutely impossible - the years of Soviet power and the collapse of the USSR affected. But even in such conditions, you can enjoy shopping, remember your Soviet past and acquaint the younger generation with a vivid example of the former unobtrusive service..
Popular retail outlets
TSUM is the former name of the store, now it sounds like «Furushgohi Markazi». The department store has experienced a lot in its half-century history. Once it was an exhibition and sale of the achievements of the Soviet economy with the most beautiful girls-salesmen in Tajikistan. Then he witnessed the dramatic riots of the 90s, because it is located on the main street of the city - Rudaki Avenue. Now retail space is rented by official dealers of manufacturers of household appliances and electronics: Philips, Sony, Samsung, Panasonic, Toshiba, JVC, Bosch, Siemens, Indesit, Ariston, LG, Whirlpool, Scarlett, Tefal, Moulinex, Rowenta.
There is a small shop on Rudaki Avenue - «Academy of Tourism». It is one of a kind in the country. The assortment is modest. Sells tents, backpacks, primus and gas cylinders for them. The prices are very high. Conquerors of natural elements and lovers of spending nights by the fire in more and more countries prefer to bring their equipment with them. But you cannot carry gas cylinders for primus on the plane, which is what the shop owners use, wringing a huge price for them..
In search of souvenirs, it is recommended to look into the shop «Silk road» on Shotemur street. The store offers a decent selection of fine silk scarves, colorful national robes, carpets, embroideries.
«Bactria» - the cultural center of Dushanbe, where artists and craftsmen organize exhibitions of their works. At the center there is a store called «Tilia Teppa», where you can buy Tajik works of art. It also sells blankets and warm clothes made of Pamir yak wool, books and CDs with a national bias. Located on Ak. Radjabov.
«Bozori Shokhmansur», or Green Bazaar, - an exotic oriental bazaar with herbs, meat, vegetables, fruits, nuts, skullcaps and other national clothes, musical instruments. What is not here, you can even buy a local «weed», called «nose» or «US». They trade it quite legally, it is something akin to tobacco.
Photos of Dushanbe shops