Saint John's - the capital of Antigua and Barbuda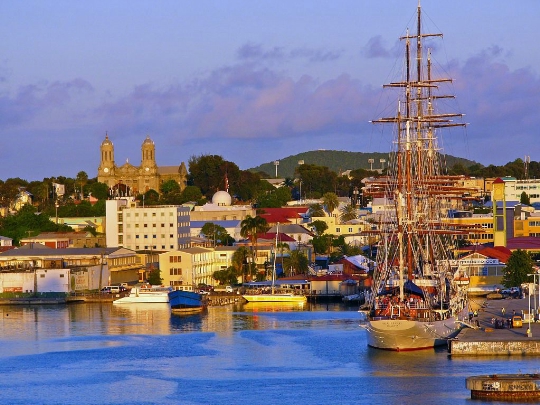 One of the countries located in the West Indies is located on three islands: the names of two of them became the name of the entire state, and the third island, one might say, remained somewhat offended. On the other hand, the capital of Antigua and Barbuda has become home to half of the country's indigenous people, and tourists «evenly» distributed to all heavenly points.
Treasure Islands
The map of this state consists of only three islands, differing in size and number of attractions. The largest piece of land is Antigua, this is where the majority of guests from other states arrive.
Locals joke that the number of beaches on the island is equal to the number of days in a year. Therefore, during the year, you can relax on the new beach every day. Antigua has a high level of development of tourist services, there is everything from youth democratic nightclubs to chic casinos, from hotels to entertainment complexes.
The second largest island of Barbuda surprises with its preserved wildlife. The island is coral, with long beaches disappearing into the horizon. This piece of paradise is not as popular with tourists as neighboring Antigua, and the service is not as intrusive here. Therefore, the main contingent of vacationers is people who love solitude..
Not far from Barbuda is the third island that is part of the state (but is absent in the name). This is Redonda, an uninhabited piece of land, which received a beautiful name from guests - the island park. Its area is only one square kilometer.
St. John's - Holidays in Paradise
The capital of Antigua and Barbuda is radically different from the main cities in many countries of the world. Firstly, travelers who come here for the first time are usually surprised by the peace and quiet. Holidays in St. John's are endless beaches, cozy lagoons, beautiful coral reefs.
Locals understand that their quality of life depends only on tourists, so they strive to make the stay of guests on the islands serene but memorable.
St. John's beaches
There are no private beaches in this state, which endlessly pleases tourists, since you can be accommodated in any place where your heart desires. In the list of the most popular vacation spots, the following can be noted:
Fort James, which guarantees the most comfortable stay;
The Gulf of Galia, loved by surfers of all countries and peoples, is especially good in winter;
Hawkesbill Bay is a nudist dream.
In addition to spending time on the beach, in St. John's, tourists actively go on picnics, get acquainted with the life of the islanders, and fish in the Atlantic Sea. The main event in August is the carnival, which attracts many guests.
Photos