Oranjestad - the capital of Aruba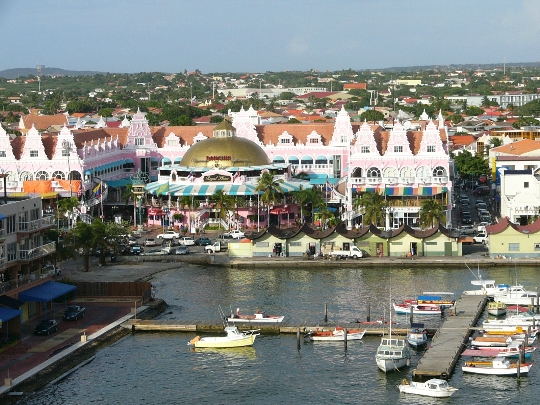 The capital of Aruba is a too loud name, since it is still far from the complete independence of the territories. A state entity located on one of the Lesser Antilles, today it is a subject of the federation of the Kingdom of the Netherlands. Therefore, it is more correct to call Oranjestad not the capital, but the administrative center..
The city is located in the south-west of the island, its architecture is closely intertwined with local traditions, colonial style, you can feel the strong influence of Dutch masters.
City history and names
First, Fort Zoutman appeared on the site of modern urban development, this happened in 1796. For some reason, the first inhabitants of the fort could not think of a name for it. Since horses were bred on the island, and then transported to neighboring islands, the settlement was called that - «place on the horse beach».
The modern name of the main city of Aruba is also translated simply - Orange City. True, its origin is not associated with the popular fruit, but with William of Orange, the first king of the Netherlands. The city received its new name at the beginning of the 19th century. This small settlement began to develop rapidly after the discovery of gold deposits.
The life of a modern tourist
The main source of income today is guests from other countries, who have long fallen in love with the local snow-white beaches, striking in their purity, the picturesque ocean and the emerald green of the palm trees. There are many hotels, inns, apartments in Oranjestad, many of them offer the highest level of service.
There are hundreds of beaches in the vicinity of the city, all of them are municipal, that is, they are absolutely free for tourists. Opposite the harbor of Oranjestad, there is a tiny islet with the beautiful name of Renaissance, which guests also love to visit.
Entertainment and attractions
Oranjestad is rich in museums, so for those who would like to get to know the history of these territories and the city itself, ethnography, folklore, art, there is a direct road to one of these institutions. The most popular are:
The Historical Museum, housed in the famous Zoutman Fort;
The Numismatic Museum, which contains collections of coins from sunken ships;
Archaeological Museum with unique artifacts found during excavations.
There are sights, natural and historical, in the vicinity of the city, for example, Gwadirikiri - a cave complex, a place of refuge for pirates, the romantic Khuliba or Arikok cave, national park.
Photos