Vientiane - the capital of Laos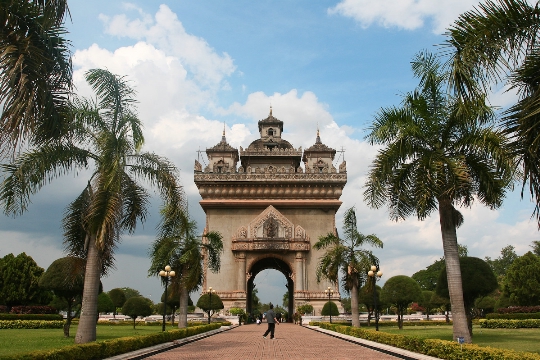 It is interesting that the capital of Laos has a name that would rather fit the neighboring country, since it is very close in sound and, obviously, has a similar etymology. The name Vientiane is translated by linguists in different ways, but it sounds equally beautiful - «City of sandalwood» or «Moon City».
The guests note the striking difference between the capital and neighboring Asian cities. Life in the main city of Laos flows calmly, measuredly. Perhaps the influence of the Buddhist religion, which is professed by most of the population.
Through the pages of history
A beautiful legend says that the current capital was founded by a prince with a difficult name for the Russian ear - Thattaradtha, the first name of the city also sounded extremely long and complex.
Historians more prosaically argue that the city was founded by the Khmers, and not from scratch, but around an ancient Hindu temple. Then the Khmers were driven out by the Lao civilization, some of them assimilated with the Lao. Since 1354 Vientiane has served as an administrative center, and since 1563 it has become the capital..
Then, over the centuries, there was a clarification of relations between Laos and neighboring countries, guests from distant Europe, in particular, the French colonialists, who left their memory in the form of numerous buildings in the colonial style, were noted here..
Morning market
Such an interesting name was given to one of the most popular markets in Vientiane, although it works not only in the morning. Here you can buy beautiful textiles (on the ground floor), clothes and precious jewelry (on the second floor). Local traders a priori set inflated prices for their goods, so you can safely start bargaining and reduce the price several times, which will undoubtedly please the tourist. But the seller will not be left behind..
Main attractions
Vientiane is proud of its amazing architecture, temple complexes, so-called stupas, and parks. It is very difficult for tourists in the capital, since the list of monuments worth visiting is extensive. The most popular cultural and historical sites are:
Temples Wat Sisaket, Wat Simiang, Ho Pha Kao;
Patusay - the famous triumphal arch;
Pha Thatluang - Buddhist stupa;
National Museum of Laos.
Each of them deserves a separate description, like the Buddha Park, located in the vicinity of the capital, where fantastic sculptures depicting the main deity of Buddhists are collected.
Photos