Sierra Leone flag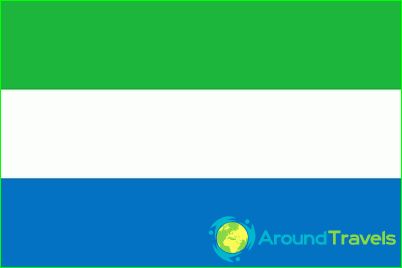 The national flag of the Republic of Sierra Leone, the draft of which was presented by the Heraldic Chamber of the country, was adopted in April 1961.
Description and proportions of the Sierra Leone flag
The rectangular flag of Sierra Leone is divided into three horizontal stripes of equal width. The upper part of the flag is light green, the middle field is white, and the lower stripe is bright blue. The length of the Sierra Leone flag refers to its width in a 3: 2 ratio.
The green color on the flag of this state recalls the rich nature of Sierra Leone, its mountains and rivers. In addition, green also symbolizes the agricultural industry, which plays an important role in the country's economy. The blue color of the Sierra Leone flag is the hope for a brighter future and the belief that the most beautiful times are just around the corner. The white field of the banner symbolizes law and order that unite the inhabitants of the republic in their striving for progress.
The colors of the Sierra Leone flag are repeated on the country's coat of arms. It depicts two golden lions standing on their hind legs and holding a shield depicting a third lion against a green field. Above it - three burning torches, and below it - a stylized image of the sea. The mountains on the shield are the mountains of Leo, after which the country was named.
The national flag of Sierra Leone can be used for any purpose on land, including civil and military. It has the right to lift civil and commercial or merchant ships. The country's navy has its own banner, which is a white rectangle. Its upper quarter, closest to the pole, is occupied by the image of the national flag of Sierra Leone.
History of the flag of Sierra Leone
The Republic of Sierra Leone gained independence from British colonial rule only in 1961. During the years of dependence, the country used the flag typical for all colonies of Her Majesty. It was adopted in 1916 and was a rectangular blue panel with an image of the flag of Great Britain in the canopy at the flagpole. On the right, on the former flag of Sierra Leone, the country's coat of arms was applied, which was a heraldic shield against the background of a round white disk.
In 1960, a few months before the proclamation of independence, the Heraldic Chamber of Sierra Leone presented draft flag and coat of arms, which were successfully adopted by the parliament of a sovereign state..
Sierra Leone flag photos