Lo Mo Dee is the closest wild beach to Phi Phi Town. Well, or rather, how wild - it's just that this beach is not very popular with tourists. At least few people get here on foot, except for those people who live on Long Beach - they go 15 minutes, no more. Inhabitants of the rest of Phi Phi Don have to sail here by boats and spend money on it.
The beach as a whole is very nice and cozy, because it is a secluded corner «uninhabited» islands in a beautiful bay. In general, this whole area along the beach is very small and surrounded on all sides by mountains, while the entire coastal strip, which is adjacent to the beach, is planted with palm trees.
The content of the article
Beach description
A beautiful place near Phi Phi Town, an excellent beach for fishing. Four hundred meters of sand is bounded on the right and left by rocks, and on a large flat area behind Lo Mo Di there is a man-made palm grove with very tall palms. Looks amazing, especially when you get here in the morning, before the package tourists with excursions start disembarking.
The sand on the beach is very fine, with fragments of coral, almost white, fluffy (if dry) and for some reason does not muddy the water at all in the surf. The main emotion on Lo Mo Di is a deep, satisfied exhalation. I think you yourself know the state when a person plunges into beauty: words are not needed, and delight is transmitted only by the number and frequency of sighs.
Lo Mo Di is heaven. The main thing is to come here in high season and not at low tide..
Entering the water, depth and waves
The beach is quite shallow, even at high tide you need to move 50 meters away, so that it is up to your neck. And, nevertheless, you can swim on Lo Mo Di. The bottom is clean for hundreds of meters under water, until the flat surface goes abruptly in depth - there begins a half-dead coral reef.
In general, this is a classic Pipi beach, which looks breathtaking in high water, and at low tide turns into a lunar surface. On the one hand, it is cool here for children who enjoy cooking in hot water. On the other hand, those who like to hang down in the water will have to walk far from the shore. Waves on Lo Mo Di only happen in bad weather.
Sun beds and shade
Five or seven years ago, on this beach there were only palms, bushes and a bar made of planks, where the eternally sleeping Thai lay. The bar is still in place, the Thai too. In addition to drinks, the bar offers sun loungers for rent for 100 baht. The scale of rental is decent, half of the beach is filled with sun loungers. But there are not many people in general. If you do not take into account the influx of organized groups, then on my arrival there were, it seems to me, 20 people in total.
There are a lot of shadows, the shadow is different, mostly natural, from a palm grove and other deciduous trees, the name of which I constantly forget. If you know Thai trees by names and appearance - send your comments, it will be useful to all readers.
Beach photo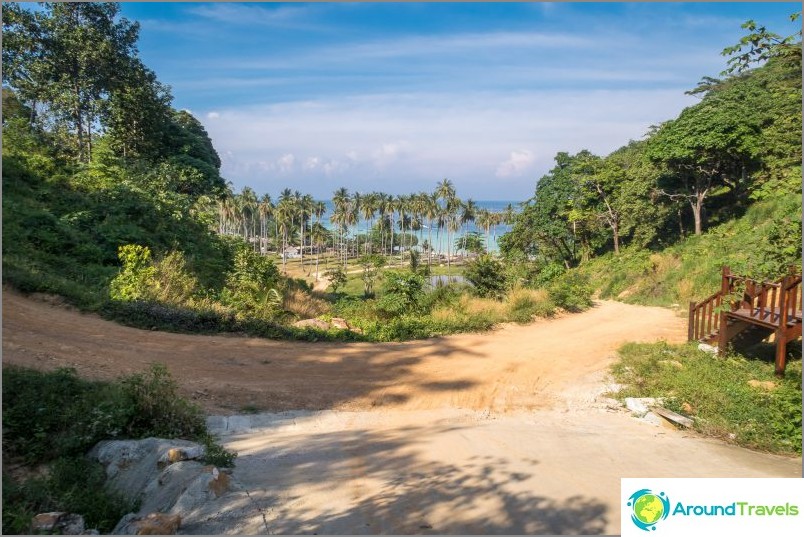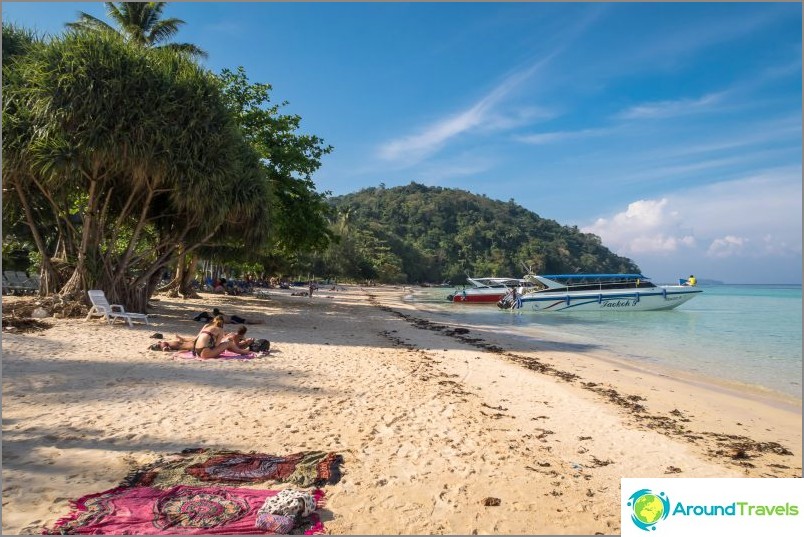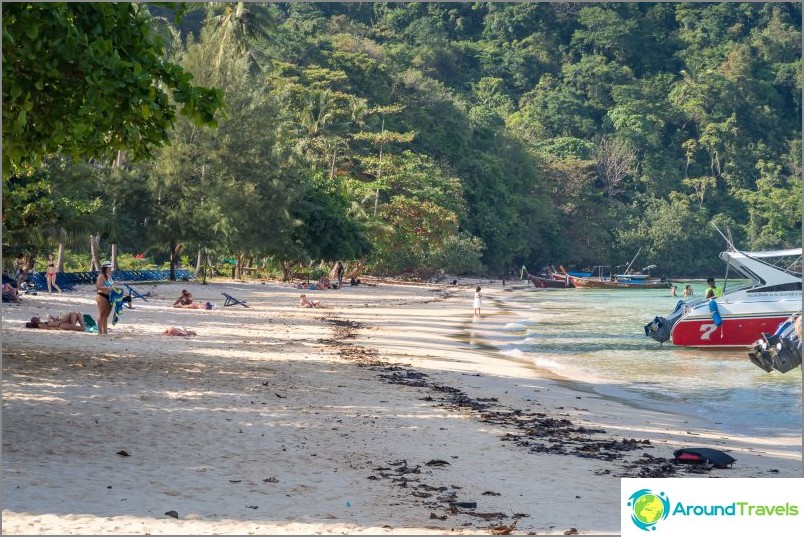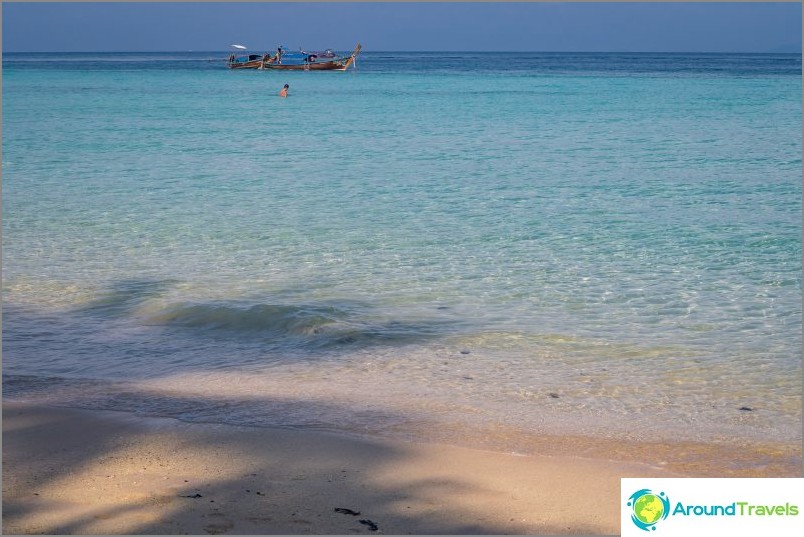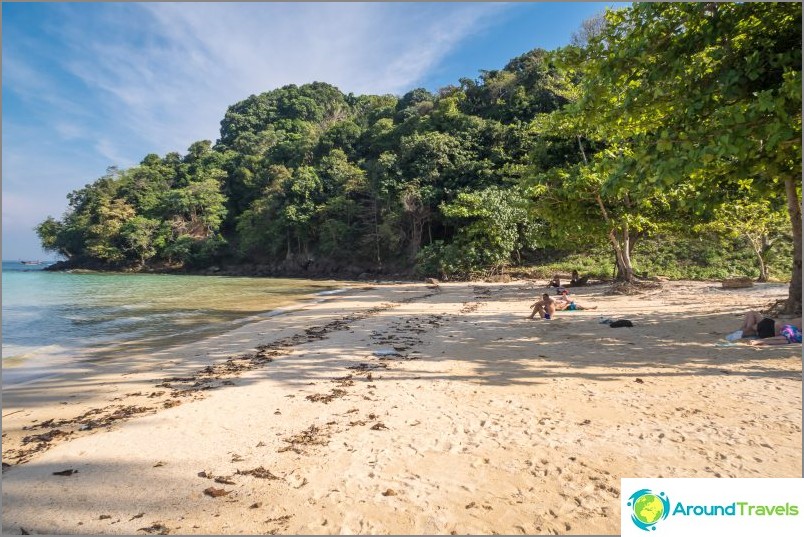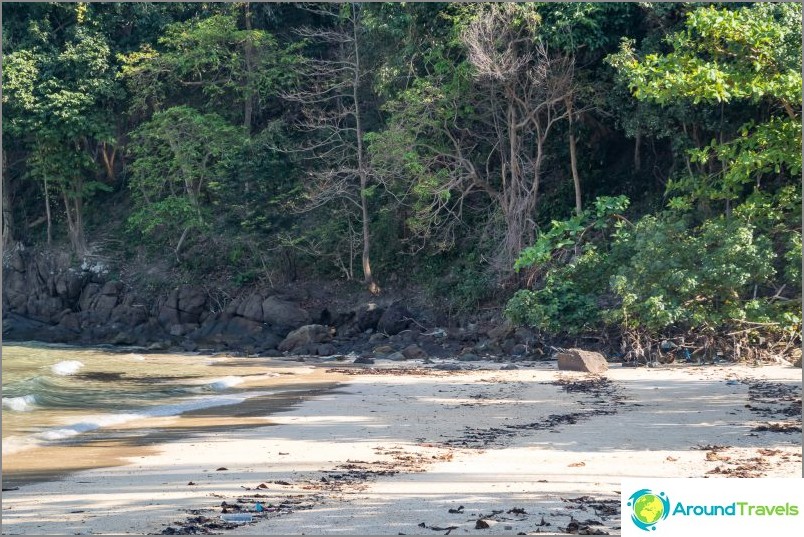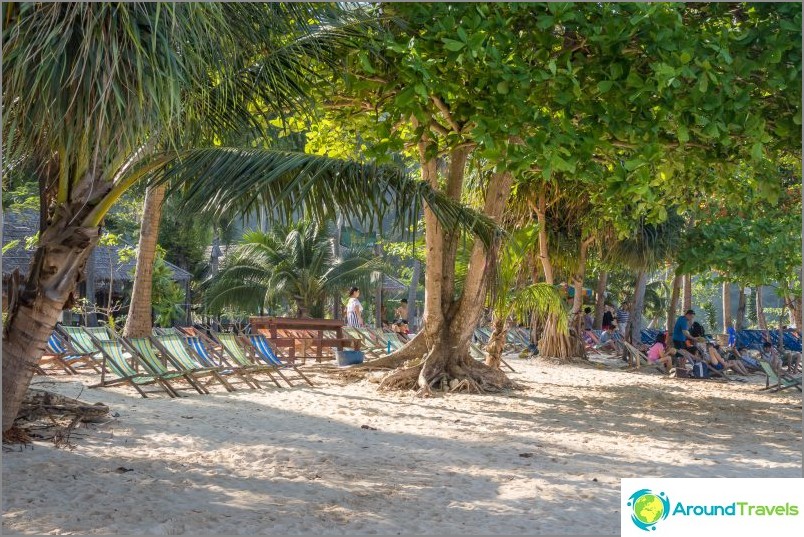 Infrastructure
As I wrote above, Lo Mo Dee Beach has its own bar, and it offers nothing but drinks: water, soda and beer. Prices, of course - with a surcharge for delivery to the beach, and for the heavy sleep of a Thai near a foam refrigerator.
They also brought a large group of Chinese tourists on a boat in my presence, which began to settle down noisily, eat and swim. I'm guessing they stopped for lunch here during their tour. In general, the infrastructure of the beach, how shall I say ... beachfront. Bar, sun loungers, taxi-boats, which are on duty here, that's all.
Behind the beach, in the hills, there is a large reservoir, and in the depths of the palm ridge there are industrial buildings of a coconut plantation.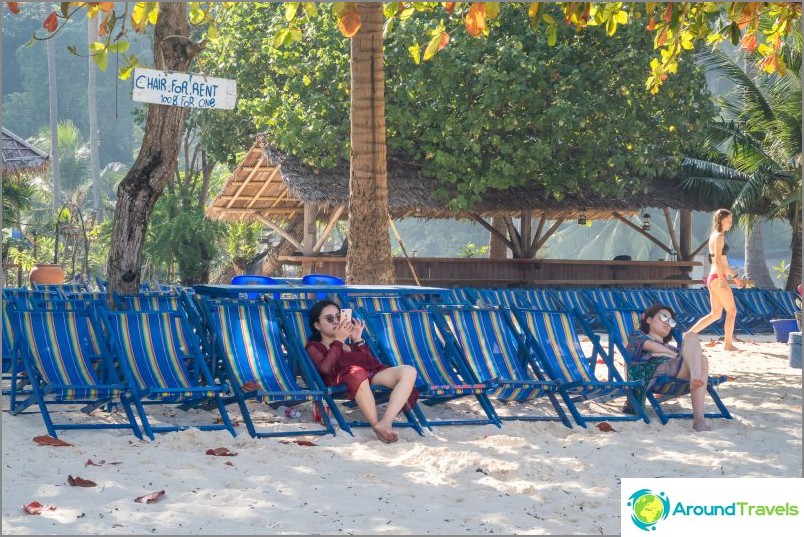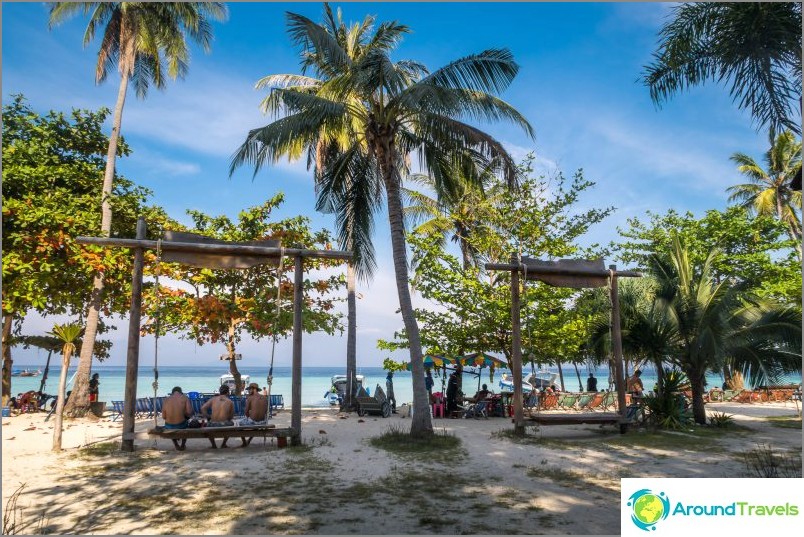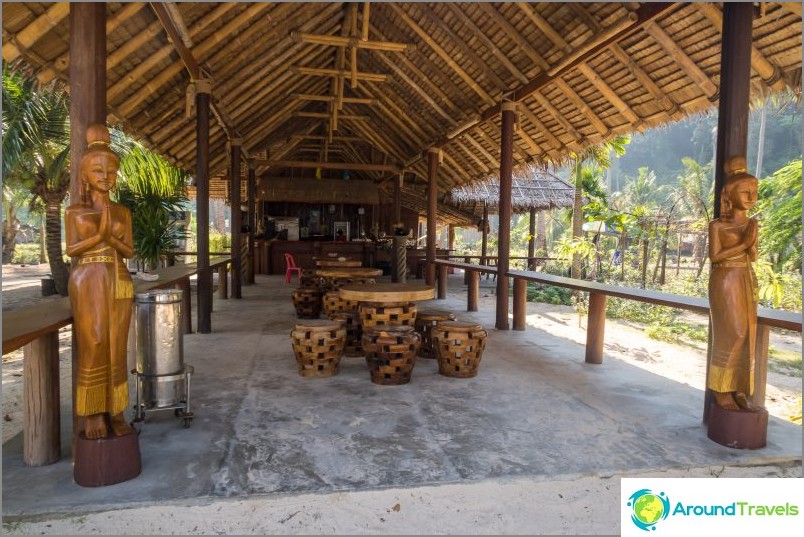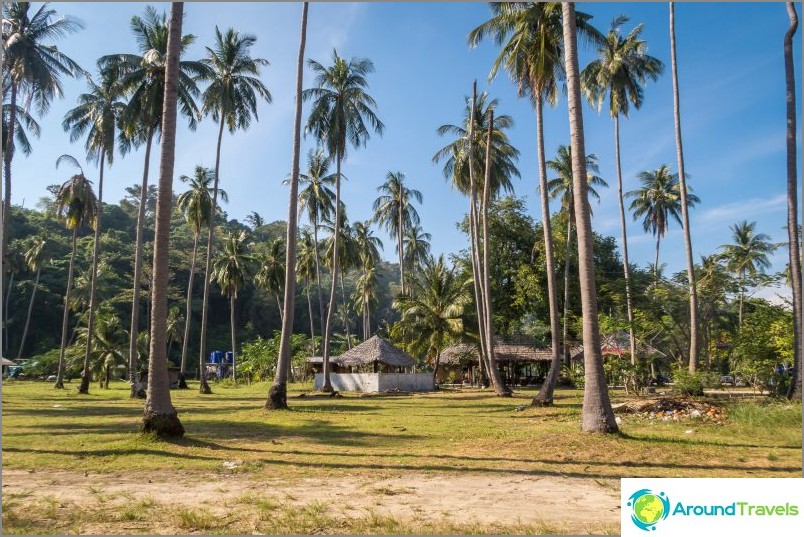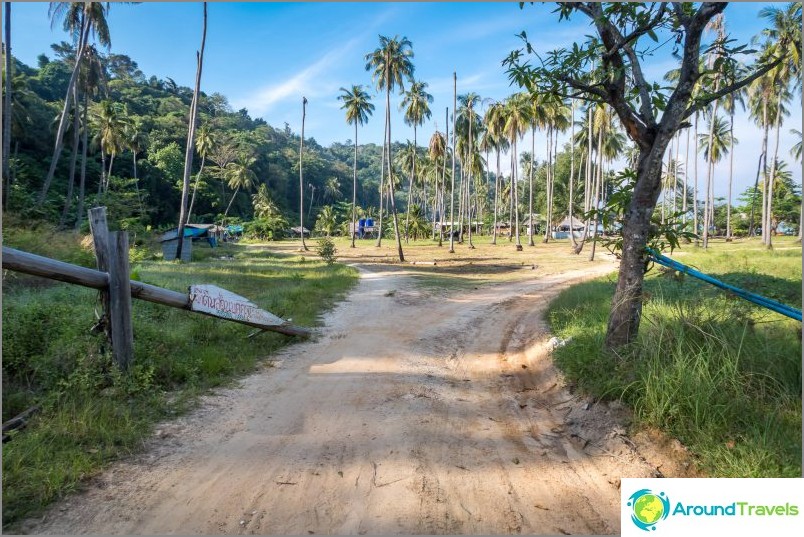 Houses and hotels on the beach
There are only a few vacant bungalows and commercial buildings on the Whole Lo Mo Di. Apparently, all this land belongs to one owner. If you go here by land, then at the entrance to the grove you will see a barrier and a sign with the notification that this is a private area, although the barrier is open and I had no problems with access. The beach is purely for toning, not for life.
Using the link below, you will be taken to a general list of hotels around Phi Phi Don, but you click on the map icon and there you will already decide on accommodation options near Lo Mo Di. The island is so small that Roomguru doesn't even try to divide hotels by beaches..
Hotels near Phi Phi>
Be sure to check for discounts or specials on the excellent Roomguru service. He will quickly and easily show you discounts in all existing booking systems. In Asia, for example, there are a lot of offers on Agoda.com, which are much more profitable than in the same hotels in the Booking.com system..
How to find the beach
The advice common to all the beaches of Phi Phi Don is the boatman. True, for a trip from Tonsai, they require as much as 600 baht. If you feel the strength and mood to walk, then go along the only embankment path in Tonsai towards the Viking hotel, then go through Long Beach and after that you will get to Lo Mo Di.
There is also a second trekking - through the mountains, along the same road that leads to Phi Phi Don Viewpoints, only there you do not need to turn onto a dirt road into the jungle, but you should stubbornly walk along the concrete to the end. If you're lucky, the Thais can give you a lift in a pickup truck, they have it on that road instead of an elevator.
Beach Map
Lo Mo Dee Beach Map
Lo Mo Dee Beach Map: