Recently, a large number of good, comfortable and inexpensive hotels have appeared in Adler, as well as new modern hotel complexes with world-class infrastructure have been built: swimming pools, gyms, a system «all inclusive», extensive and well-groomed interior and even a private beach. All this during the holiday season can be used by the guests of Adler, who have come to comfortably relax on the sea..
I have already made a selection of good hotels in Adler, relevant all year round - Where is the best place to stay in Adler inexpensively. And for the summer, it is better to look for an option by the sea. My selection of good hotels for a beach holiday - Hotels in Adler by the sea.
The content of the article
Hotels in Adler with a private beach - my selection
Prices for hotels in Adler, as well as at all resorts on the Black Sea coast in the Krasnodar Territory, are very much higher in the season. In addition, cheaper numbers are quickly sorted out. The most expensive month is August. Below for each hotel is an approximate price per room in the summer season. The exact cost of the room for the dates you need is better to look at the links.
When you are in Adler, you will hardly want to sit at the hotel all the time. If you are going to see the sights, read my post about what is interesting in the area - What to see in Sochi, there is a list of attractions where you can go or go. Name «in Sochi», but this is actually about the Greater Sochi area, which also includes Adler.
Riffos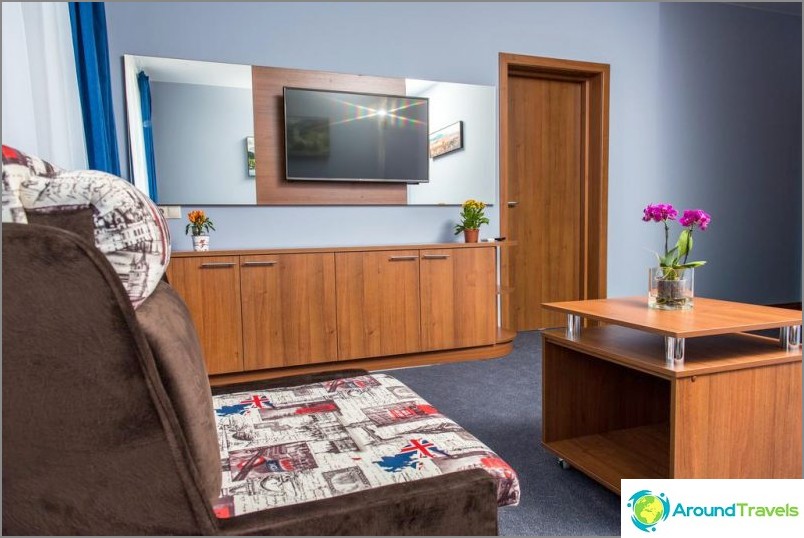 Cost per day: from 6500 rubles
Riffos is two minutes walk from the sea, literally ten minutes - to the Olympic. Super-convenient location and good infrastructure nearby: pharmacy, minimarket, cafes and restaurants overlooking the sea. The hotel is relatively fresh, the interior is still not tired and the staff is not friendly in Russian. There is a transfer service, its own restaurant, the rooms are furnished with good quality furniture and equipped with household appliances of the vacationer.
Riffos>
Hotel Oasis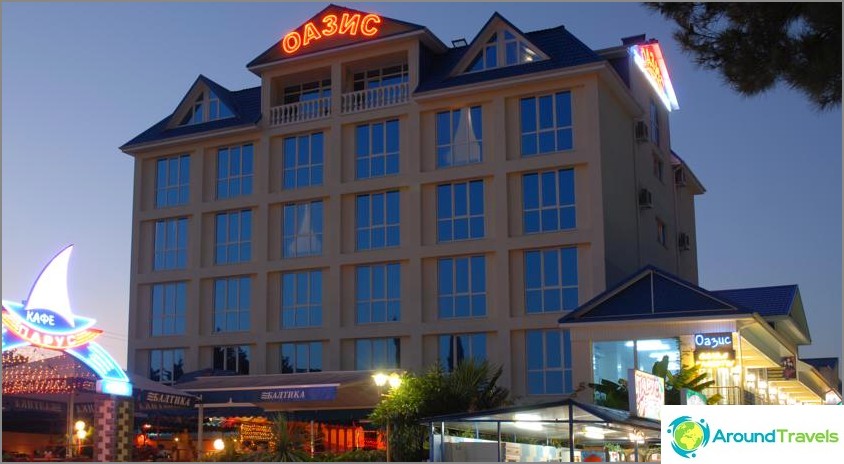 Cost per day: from 2000 rubles (out of season)
Hotel Oasis 3 stars, for lovers of outdoor activities in the center of spa life. In the evenings, the hotel rooms can be noisy with the music downstairs or in the restaurants nearby. Within walking distance from the hotel there are shops, entertainment for every taste, cafes, Amfibius water park, oceanarium.
Rooms are small but tidy. Cleaning is daily, there are toiletries, refrigerator, TV, air conditioning, on the floor there is an ironing room and a shared balcony. With a hotel guest card, you can go to the nearby private beach of the Vesna pension, guarded and clean. However, sun loungers and umbrellas will be paid for. The hotel also offers business lunches from 12 to 16, free drinking water on the floor.
Hotel Oasis>
Hotel Bridge Resort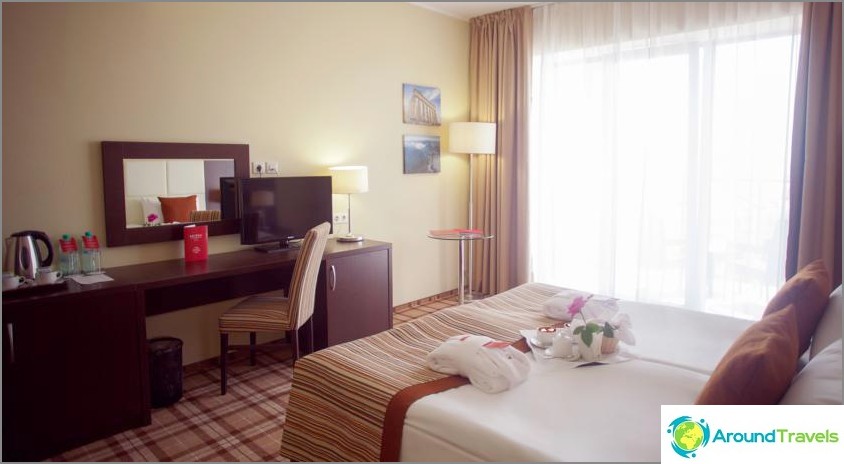 Cost per day: from 3900 rubles
The 4-star Bridge Resort hotel is located in the Nizhneimeretinskaya Bay, not far from the Olympic Park. The hotel is well suited for a relaxing family holiday, in the style of Turkish or Egyptian hotels «all inclusive». The Bridge Resort has a good buffet (breakfast and dinner), the rooms are cozy and large, clean, the service is quite on the level. The hotel has swimming pools (indoor and outdoor), a large area, a private beach, a restaurant, an animation program, free wi-fi for guests. All rooms have a balcony, are equipped with air conditioning, there is also a TV, kettle, toiletries.
Hotel Bridge Resort>
Hotel Almira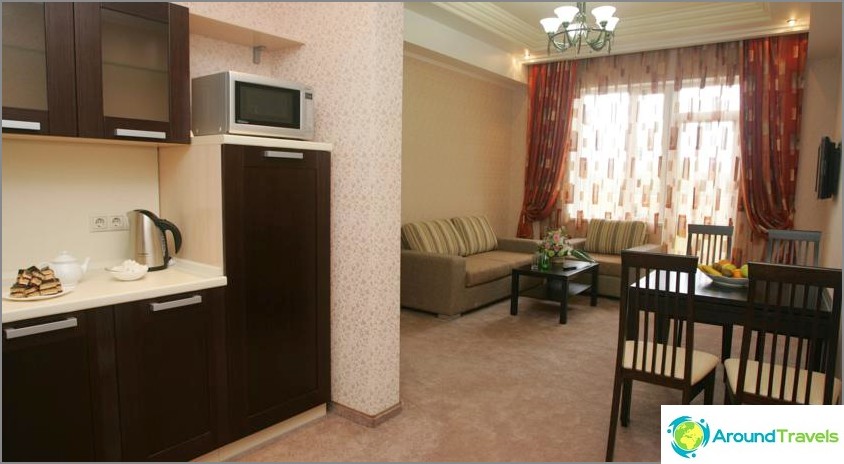 Cost per day: from 2400 rubles
Pleasant Hotel Almira 3 stars with a swimming pool, spacious rooms, a private beach. The hotel offers breakfast, free wi-fi, gym. There is also a sauna (extra charge). There are drinking water coolers in the corridors. Near the hotel there are many cafes, shops, a promenade. The rooms are clean, the staff tries to make the guests' rest comfortable and pleasant. The location of the hotel is good, it is convenient both for summer beach holidays and as a base for excursion programs.
Hotel Almira>
Velvet Seasons - Catherine Quarter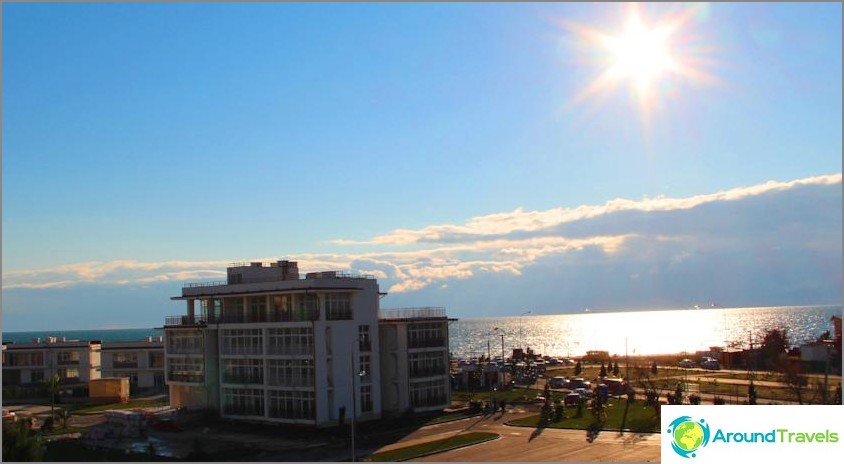 Cost per day: from 2200 rubles
Velvet Seasons - Ekaterininsky quarter - a large new resort complex by the sea, next to the park. One of the democratic accommodation options with good service. For guests on site there is free wi-fi, a gym, parking and children's playgrounds. Convenient beach Imeretinskaya Bay with clear sea is located 350 meters from the hotel.
All rooms at the hotel are air conditioned and equipped with a flat-screen satellite TV and toiletries. In addition to the buffet restaurant, there is a cafe and canteen on site. There is a bus stop nearby, which is convenient for trips to Sochi or to the Olympic venues. Suitable option for a family holiday by the sea, in a quiet environment.
Velvet Seasons - Ekaterininsky quarter>
Crew Hotel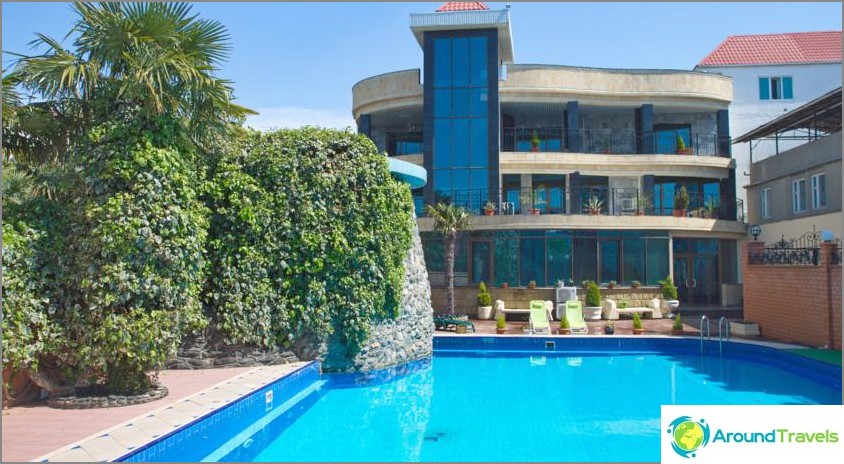 Cost per day: from 2500 rubles
The Crew Hotel is a well located hotel with beach access and its own outdoor pool. Shops and cafes can be found near the hotel. Hotel guests can enjoy free wi-fi and a swimming pool. Rooms are clean and spacious, there is a refrigerator, kettle. The hotel has access to a pebble beach. All hotel rooms «Crew» located on the 2nd floor and equipped with a TV, fridge and electric kettle. Many rooms have a fully equipped kitchen and a balcony, and offer scenic sea views. Breakfast is served in a cafe «Coffee Boat». Guests of the hotel can also make use of water sports equipment including sailing..
Crew Hotel>
Sanatorium complex Knowledge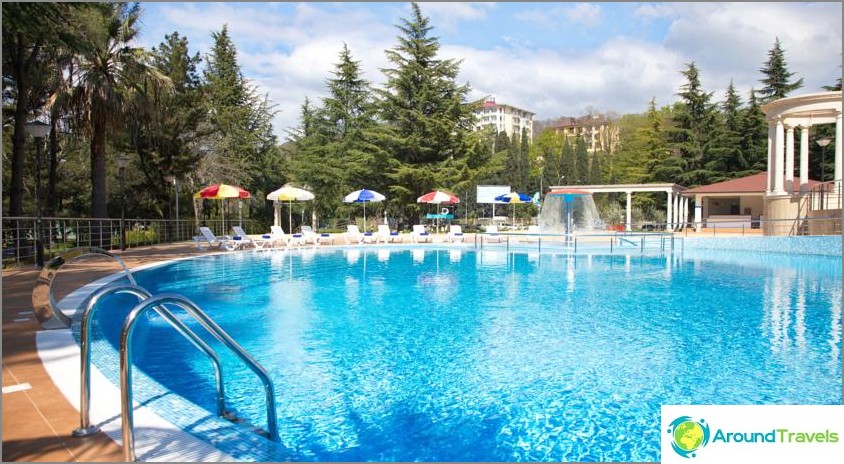 Cost per day: from 4000 rubles, depending on the season and type of food.
Soviet health resort complex Knowledge, with a large beautiful area, relatively good food, swimming pool and staff. The rooms are small, renovated, but quite basic. The residential building is located 50 meters from the sea, guests can use a private pebble beach. The pebbles are large, the beach is about 200 meters long.
There is a playground for children on the territory of the sanatorium. There are also medical treatments. In addition to purely sanatorium events, there is live music in the restaurant. In the rooms: air conditioning, TV, refrigerator, balcony overlooking the sea. For treatment and recreation with children at sea, this is an option for an amateur, but generally not bad. It is possible to choose a full board, that is, the hotel can serve as a kind of analogue of foreign beach resorts with a system «all inclusive».
Health resort complex Knowledge>
Apart-hotel Imeretinskiy - Marine quarter
Price per day: 5200 rubles depending on the season and type of accommodation
Apart-hotel Imeretinskiy - Marine Quarter is a large and new hotel complex with developed infrastructure. There are many convenient options and services, from playgrounds to transfers to Krasnaya Polyana and ski passes. Nearby are the Olympic Park and Sochi Park. The hotel has a large well-groomed and guarded territory, where it is convenient and safe to walk with children. There are also playgrounds, sports equipment rental, swimming pools.
The hotel rooms are large, pleasant, freshly finished and newly furnished, equipped with almost everything necessary for life: hairdryer, iron, ironing board, TV, refrigerator, washing machine, kitchen utensils for cooking, dishes. The hotel is located in a very quiet area, well suited for families. There is a bus from the hotel to Krasnaya Polyana, you can also buy various excursions.
Nearby there is a Pyaterochka store, a small market and a cafe. The territory is guarded. Polite helpful staff. The Imereti quarter is good for hikers and sports enthusiasts. Pool and gym passes are available in the main hotel building. It is convenient to walk, ride, jog on the embankment. Suitable for both summer beach holidays and winter ones. Especially convenient for tourists with their own vehicles.
Apart-hotel Imeretinskiy - Marine quarter>
Hotel Sport Inn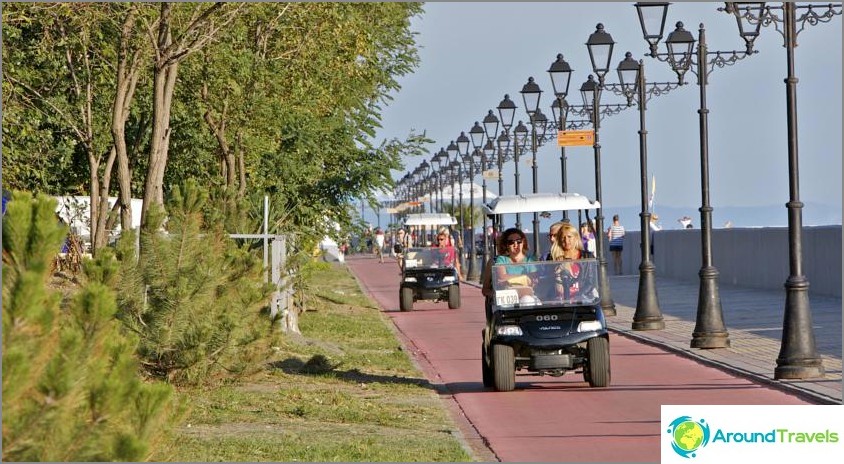 Cost per day: 5500 rubles depending on the season and type of food
New modern Hotel Sport Inn 4 stars in the area of ​​Nizhneimeretinskaya bay, next to nice, newly equipped beaches and clear sea. The hotel has a professional and friendly staff providing good service. There are studio rooms with a kitchen, you can use a washing machine.
The rooms are clean, new, bright, with a pleasant design. In the hotel restaurant there is a buffet in the season, and à la carte breakfasts in the winter. There is a food option «half board». The hotel has a sauna, parking, terrace overlooking the sea. The hotel also offers a tennis court and free Wi-Fi. A good place for a comfortable family vacation with children by the sea.
Hotel Sport Inn>
Arfa Park Hotel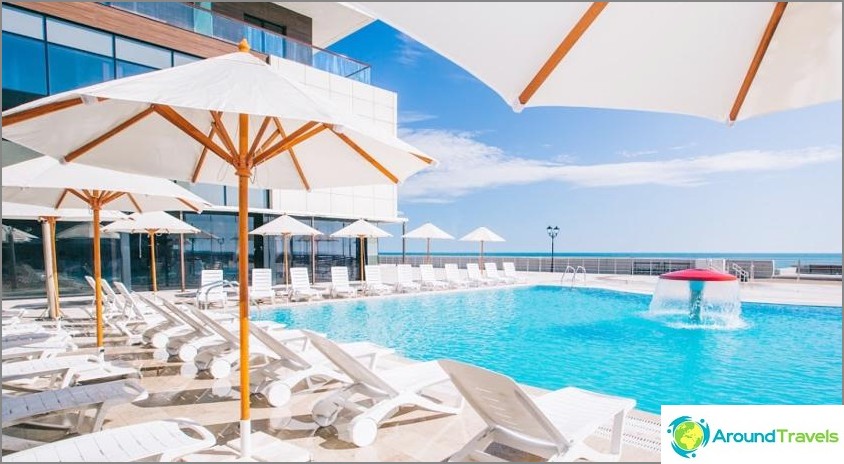 Cost per day: 5200 rubles depending on the season
Arfa Park Hotel is a place for a full beach holiday, with full board (buffet), on the first line, with accommodation in three-storey villas. In addition to the rooms, each villa has a large lounge with a TV and a kitchen with a stove and a dishwasher, a swimming pool with a terrace, where there are sun loungers and a table with chairs. Some rooms also have their own sun terraces.
The windows offer excellent views of the sea and mountains, the hotel territory is well-groomed: a lot of greenery and flowers. Rooms are spacious, stylish and modern. The breakfasts at the hotel are good, with a choice of food for every taste. The hotel has a swimming pool with slide and relaxation area, sun loungers and parasols. Guests of the hotel can use the bike rental service. Olympic Park is a 15-minute walk from the hotel..
Arfa Park Hotel>
Hotel Radisson Blu Paradise Resort & Spa, Sochi
Price per day: 12500 rubles for a double room, depending on the season and type of food
Radisson Blu Paradise Resort & Spa, Sochi is a huge 5-star hotel, excellently located and offering guests a wide range of services for a comfortable stay: swimming pools, spa treatments, a sauna, a fitness center, tennis and volleyball courts, children's and karaoke clubs, free wi -fi, buffet. The hotel rooms are clean, modern and spacious with excellent sea views. A good and varied breakfast is served in the hotel restaurant in the morning. The hotel is located near the Olympic Park, to which you can take either walking or cycling.
Radisson Blu Paradise Resort & Spa Hotel>
On the map
Krasnodar Krai Hotels
Apartment in Dzhemet:
Apartment in Vityazevo:
Apartments Katerina Alpik:
Apartment in Krasnaya Polyana:
Apartment in Sochi:
Nice apartment in Adler:
Guest House Amigo:
Rose Springs Hotel:
Hotel Uyut Tamani:
Hotel LetooteL:
Recreation center Oka:
Blue Roof Hotel:
Hotel Iris Guest House:
Emerald Hotel:
Sanatorium Aquamarine:
Guest House Dunes Dzhemete:
Guest House Olympus:
Hotel Dzhemete:
Hotel Grand Cruise:
Hotel Bohema:
Hotel Zolotaya Bukhta:
Pension Tonky Mys:
Camping Breeze Base:
Primorie SPA Hotel & Wellness:
Hotel Compass Magnolia:
Guest House Khata Kazaka:
Grand Hotel Kempinski:
Hotel Grand Paradise:
Hotel Marseille:
Hotel Del Mare:
Yug Alliance Hotel:
Eco Dom Hotel:
Apart-hotel Imeretinskiy:
Hotel Blue Dal:
Hotel Comilfo:
Pension Primorsky:
Guest House Swallow's Nest:
Oasis Hotel:
Recreation center and camping on the first:
Guest house on Kalinina 13:
Hotel Rus:
Jennet Mini-Hotel Complex:
Recreation center Lunnaya Polyana:
Pension Lad:
Guest House Zarya:
Bristol Apart Hotel:
Hotel Villa More:
Camping Paradise:
Guest yard Parus:
Recreation center Tour-Service:
Sanatorium Oktyabrsky:
Apartments on Nessebar:
Hosta Hotel:
Pension Kristall:
Hotel Prestige:
Lazur Beach Hotel:
Hotel Adelphia:
Hotel Riffos:
Bridge Resort Hotel:
Almira Hotel:
Velvet Seasons - Catherine Quarter:
Hotel Crew:
Sanatorium complex Knowledge:
Sport Inn Hotel and Wellness:
Arfa Park Hotel:
Hotel Radisson Blu Paradise Resort & Spa, Sochi:
Hotel Fregat 1:
Guest House MaryAnna:
Hotel Mayak:
Guest House Piano:
Guest House Zhemchuzhinka:
Black Sea Guest House:
Hotel Athena:
Hotel Pier:
Hotel El Paraiso:
Wishka Hostel:
Spiti Hostel:
Guest House Barsa:
Guest House Vesta:
Boss's Villa:
Apart-hotel Forward:
Mini-hotel Verona:
Hotel Marmaris:
Guest House Mars:
Atlant Hotel:
Arly Hotel:
Hotel U Bocharova Ruchya:
Hotel Villa Anna:
Hotel Raduzhny:
Pension Edem:
Sanatorium Belarus:
Apart-hotel Sanremo:
Sochi Breeze Spa Hotel:
Hotel Rest-Matsesta:
Grand Hotel Zhemchuzhina:
Sanatorium White nights:
Hotel Dream by the Sea:
Sanatorium Actor:
AquaLoo:
Sanatorium Islands:
Alpha Apartments Chernomorskaya:
Hyatt Regency Sochi Hotel:
Rodina Grand Hotel:
Hotel Twix:
Green Hosta Hotel:
Hosta Hotel:
Hotel Suitcase:
Hotel Yuzhny:
VeryHotel:
Hostel on Navaginskaya:
New Hostel Sochi:
Hostel Olympic:
Residential complex Victoria:
Hotel Aledo:
Park Inn by Radisson Sochi Center:
Hotel Zvezdny:
Hotel Agat Inn:
Guest House Mechta Vardane:
Hotel Complex Ecohouse Adler:
Bridge Resort Hotel: