In pursuit of my post about that, how to keep money and where, I decided to write a little more about a credit card in this scheme, or more precisely, about how you can make money on credit cards. This applies not only to being at home, but also abroad. The earnings will be small, but there is a ruble, here is a ruble, and in total we get a good profit with a minimum of effort. In addition, the credit card is also convenient, the main thing is to use it skillfully and not to pay interest on the loan. Otherwise, it is better to take a loan, otherwise the interest on credit cards is completely inadequate.
The content of the article
Why do I need a credit card
While you are using borrowed funds, yours are on the deposit and bring you income. This is especially true if your spending on the card is large. Obviously, if you use a little card, then the profit will not be very.
When traveling, while booking a car via the Internet, the distributor blocks a deposit of 20-50 thousand rubles. In my opinion, this is inconvenient if your funds are blocked, let it be better credit.
You do not need to think about the balance on the card for 1-1.5 months, you just spend the credit limit. I used to transfer money from the deposit to a debit card once a week, because I won't put the entire planned amount there at once..
If suddenly in the store it turned out that you need more money, for example, a large purchase turned up, then you do not need to run to the ATM or home for a cash, everything is on a credit card. Likewise, it is important when traveling if any payment is delayed, but money is needed now.
Thus, you can use a credit card, both occasionally and constantly. And with the right approach, you will not pay anything in excess of the amount spent, I mean that you do not need to pay interest on the loan. Those negative reviews about credit cards that people write usually boil down to the fact that the bank took such and such a huge interest, although, they say, was only one day late in payment. This is a fundamentally wrong approach, credit cards are not intended for loans! In addition, you must always read the terms of the contract, if you are going to get into a loan, and not spend more than what you can reimburse.
By the way, do not think that banks issue credit cards at a loss, no. It's just that the scheme for using credit cards given here is not used by the majority. On the contrary, everything is designed for the fact that a person will go all out and get on credit for the most.
My cards
I already wrote about what cards I have in the post about bank cards for abroad, but here I will repeat a little specifically about credit cards.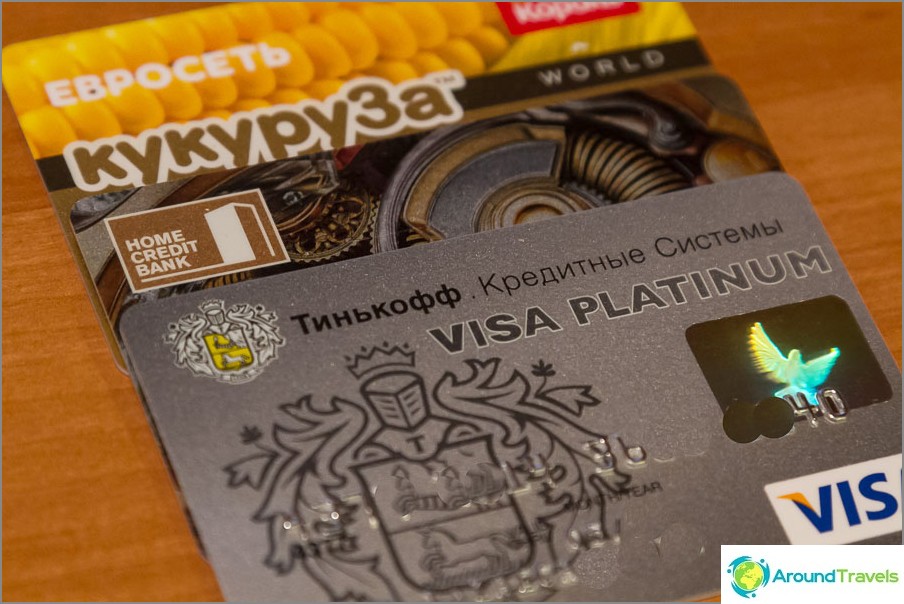 Initially, I made a Homecredit Cashback Gold credit card with 3% cashback. This card was very profitable until the bank changed the internal conversion rate, which has just been hellish lately. Now it is beneficial only for Russia because of the cashback. However, I will not dwell in detail, because they are no longer issued and you will not issue it anyway.
Then I ordered Tinkoff AllAirlines (using this invitation link you will get 1000 miles as a gift) with 2% cashback for everything and 5-10% for tickets / hotels. There are cashback miles, but if you look closely, then they really spend on tickets, it's checked. Tinkoff also has a regular Platinum credit card with 1% cashback, it is easier to learn, but less profitable, I ended up closing it.
In general, it is convenient to have several products in one bank, I have a debit and deposits in Tinkoff. Unfortunately, due to the crisis, there are less and less profitable credit cards, and besides, not all banks want to give them to me (since I am an individual entrepreneur), and Tinkoff gives out to everyone without quirks. In any case, which bank to choose a credit card is up to you..
How to make money on credit cards
During the use of credit funds, yours are on the deposit and generate income.
You get cashback for purchases 1-5%.
Money from a credit card can be cashed and deposited.
Listed above, officially and legally. The last option is becoming less and less available, its essence is that you need to withdraw credit funds in some way in cash or to another account in order to put them on a deposit or somewhere else. It's one thing when you have a credit limit of only 10-20-30 thousand, another thing when it is 300 or 500 thousand, or even several credit cards with large limits. Such an amount, even on a monthly deposit, can bring a noticeable amount. As far as I know, before everything was much simpler, and these schemes were on the surface (through the Qiwi payment system), but now what is in the public domain does not work.
Alternatively, you can pay for your friends, and get cash from them 🙂 For example, a friend wanted to buy a laptop for 30 thousand, so you can put 30 thousand on a deposit, and even get a cashback bonus. But this is already so, childish fun.
How to use your credit card correctly
Basic terms
Grace. Interest-free period, grace period. Usually 55 days. This is the time when you can use credit funds without prejudice to your budget, that is, for free. But not all operations go to grace. For example, withdrawing cash, replenishing electronic wallets, in most banks means leaving grace. Moreover, there is such a rare situation when the terminal in the store is configured as cash withdrawal, and not as payment for the goods, but there is no way to find out about this in advance. Interbank transfer is also not available for credit cards.
Credit limit. The maximum amount you can spend on a credit card. The amount of the credit limit is set by the bank individually, depending on your credit history, the salary of the future cardholder and the bank itself. For example, Tinkoff easily issues cards and often without income certificates.
Annual maintenance. Most credit cards have an annual service fee that is higher than debit cards. But there are also credit cards with free service, like credit cards from Homecredit Bank..
Cashback. Many credit cards offer cashback. In order not to repeat yourself, read about cashback cards, there I wrote about it in more detail.
SMS fee. Almost always, SMS notifications are paid and you can refuse them, then the choice is yours. The main thing is not to forget to pay off this amount, even if you did not use the card.
Credit insurance. Banks are trying to impose credit insurance services. If you use it, then a certain percentage will be paid for anyone, so it is best to refuse this service..
Two main rules for using a credit card
Never withdraw cash from a credit card. The fact is that cash withdrawals often take place with a commission of 3-6% (the first hit), and the free period does not apply to the withdrawn amount (the second hit). That is, you immediately get on the commission and get into a loan at interest. But there are credit card offers where the withdrawal fee is fixed or 1-2%, and the grace period applies to cash. Thus, most often the credit card is intended only for payment in stores..
It is necessary to pay off the debt at the end of the grace free period, not later. Actually, due to this, the free use of borrowed funds is achieved..
These are two general rules that apply to most credit cards. But for each card, before using it, it is imperative to clarify all the nuances, and not only from the bank, but also on the bank.ru forum in the credit cards section. It is there that everything that is possible is collected, and that you will sometimes look in vain on the bank's website.
Let me give you an example. Usually the free period for credit cards is 55 days. But when using a Homecredit Cashback Gold card, you need to pay off the debt after 30 days. Yes, you can do this for 50 days, but then you will have to pay a commission for using the card in 250 rubles / month. This is how they try to take the annual service, because it is free (subject to repayment in the first 30 days). But the collective mind of the forum did not stop there, but concluded that if the spending in 30 days exceeded 45,500 rubles, then you can painlessly go to the paid grace. That is, paying 250 rubles will be more profitable than not paying, provided that your money is on the deposit.
Credit card usage scheme in detail
I'll explain separately just in case. During your free grace period, you use credit in the amount that you can easily repay, because in this context, a credit card is not considered an analogue of a loan. While you are using borrowed funds, your own money is on a replenishment-revocable deposit, that is, one from which it can be withdrawn at any time. Sometimes it is convenient to keep a deposit in the same bank as a credit card. Then it will be possible to pay off the debt in the same Internet bank, without a commission for an interbank transfer, and on weekends, when transfers work only within banks..
A reasonable question is when is the best time to pay off the debt. You can extinguish it on the penultimate or last day of the grace period, but you need to understand one important thing. Let's say you have a grace period of 55 days. But in fact, you have only a month to empty the card, if you use this card continuously from month to month..
This is considered so. You spend funds within a month from April 1st to April 30th (billing period). At the end of the month, you will be invoiced and given 25 days to repay, until May 25 (billing period). Thus, we have a total of 55 days. But! If you have already used up your credit limit, for example, 100 thousand rubles in April, then you will not be able to use it again in May until you pay off the debt. Moreover, if you pay off the debt only on May 25, then in fact you will have only 5 days until the end of the month to use the entire credit limit again, because at the end of May you will again be invoiced for repayment. Or, in another way, you can say how much you will deposit in the account in May, so much you can spend in May, but by May 25 you have to pay off everything so as not to get interest. I think it is clear that if you use all or a significant part of the credit limit, then it is easier to pay off the debt immediately after invoicing (that is, once a month) in order to again have 30 days to use the card..
Sometimes it is considered differently, for example, the billing period starts not from the 1st, but from the first purchase with the card.
P.S. Please note that there is not all the information here. It is necessary to clarify the conditions for specific credit cards.