Orthodox churches in Thailand are not uncommon. They are on Koh Samui (here) and Phuket (here) are also available in Pattaya. This resort has such a large Russian-speaking community and such a number of winterers, not to mention tourists, that the presence of an Orthodox church is quite appropriate here..
The content of the article
Orthodox churches in Pattaya
By and large, there are 2 Orthodox churches in Pattaya. But one of them is located outside the city. The second, or rather, the first built in Pattaya and the only one within the city, is the All Saints Temple. The building of the temple is white, two-story, with a small bell tower. There is a temple on a very small area. Some Orthodox shrines are kept in the church - a miraculous image, particles of the relics of St. Andrew the First-Called and St. Blessed. Matrons of Moscow (for whom there are many kilometers of queues in Moscow). The paintings inside the temple were made by Thai masters, and the rector of the temple, Archpriest Daniel Vanna, is Thai by birth, studied at the St. Petersburg Orthodox Theological Seminary. The church has a Sunday school for the children of parishioners and there is a fairly extensive library in Russian, which includes liturgical books and Russian classics..
The second, Pokrovsky Temple was built at the entrance to the so-called «Russian» village, Ban Dusit (Baan Dusit Pattaya Lake). Many Russian families bought houses in this place, so the appearance of a temple here is quite logical. The Church of the Intercession is quite new; it was consecrated in 2014. Stands between tennis courts and a Russian restaurant. It can be clearly seen from the road to Wat Yan. Fr Mikhail is conducting services in this church. There is a church shop at the temple.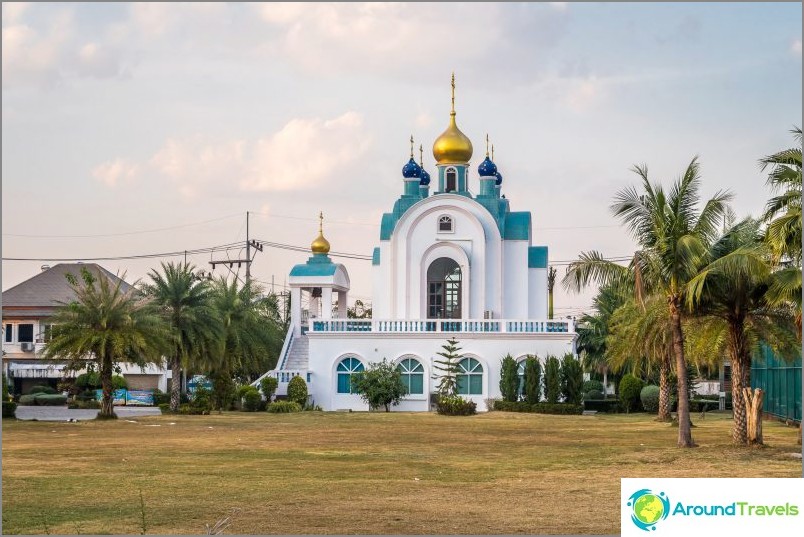 How to get there
All Saints Temple is located in the north of Pattaya, in the Naklua area. Of the large hotels on the coast, the closest to it is the Long Beach Garden Hotel & Spa. From this hotel inland there is the Naklua 16 Alley road, to which the smaller street Naklua 14 goes in front of the Aroy restaurant, after one turn it winds and you have to turn from it into the second lane, to the left, there will be a temple. There are two cell towers right next to it, you can navigate by them. And right outside the territory of the temple there is a large vacant lot with a local market.
The Intercession Church is located outside the city, about 15-20 km from the city center to the south. Further along the same road are Wat Yan and the Viharna Sien Chinese Temple-Museum. The temple can be reached by Sukhumvit and then following the signs to the farm Greta, Wat Yan or Ban Dusit.
On the map
Orthodox churches in Pattaya
Intercession Orthodox Church:
All Saints Orthodox Church: