So we returned from Pereslavl-Zalessky. We left Yegor with his grandmother for a couple of days, and went to the Pere-Movement festival dedicated to the development of tourism in Russia. Unfortunately, the festival began on Friday, and we arrived only on Saturday afternoon, so we did not find anything except tipsy people and a concert where our friends from the Seredina group performed.
Despite the fact that it was cool, it was drizzling all weekend, and the festival was over, we had a great walk around the city of Pereslavl-Zalessky. I will talk about this later, although the sights there are quite small-town. And now I wanted to talk about Russian tourism. In comparison, you know, everything is somehow not very rosy ...
Festival Movement
As I said, the fest ended on Saturday afternoon (although according to the plan it should be before Sunday), and we just arrived at that time. Therefore, we only had to eat and listen to music. In addition to the Middle, other people performed, but I don't know them, somehow I don't follow musical trends. So I can hardly say anything about the festival itself. We saw only the tents of various organizations, in most of which the people had either already rolled up, or were puffing up peacefully. Perhaps before that some interesting seminars were held, but maybe not.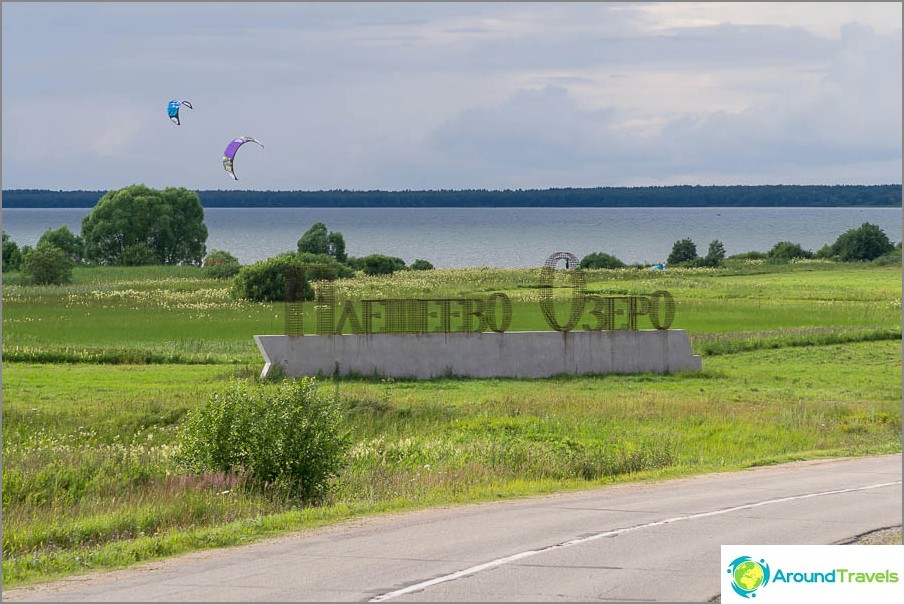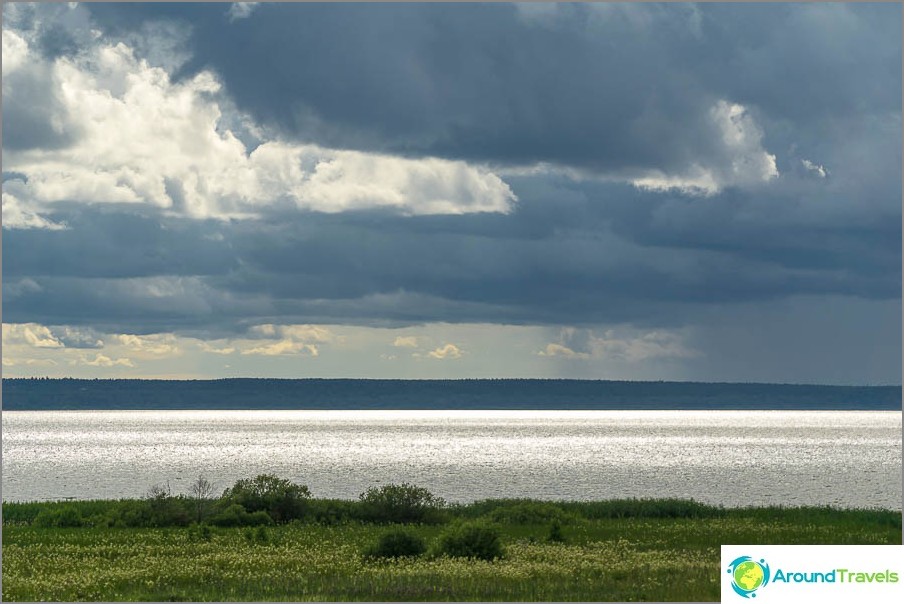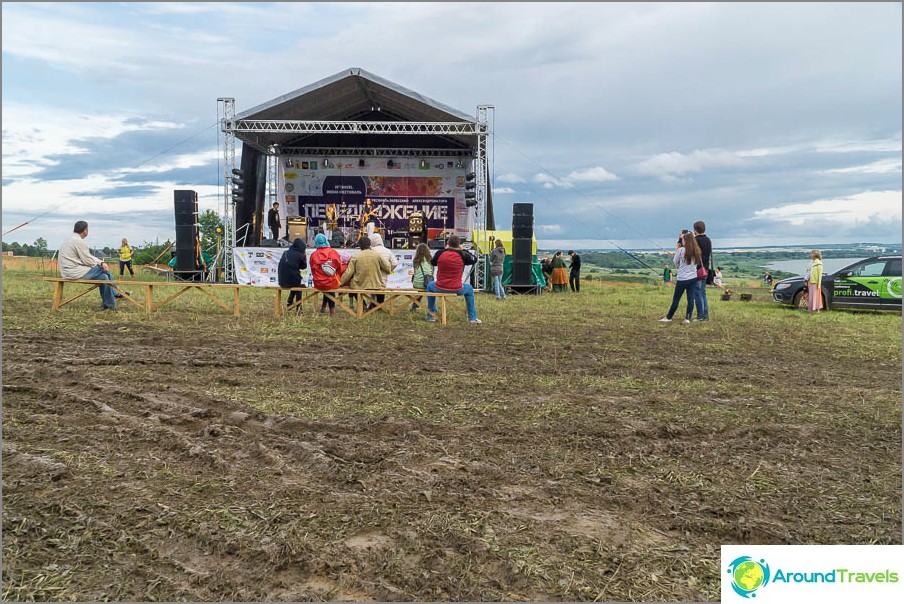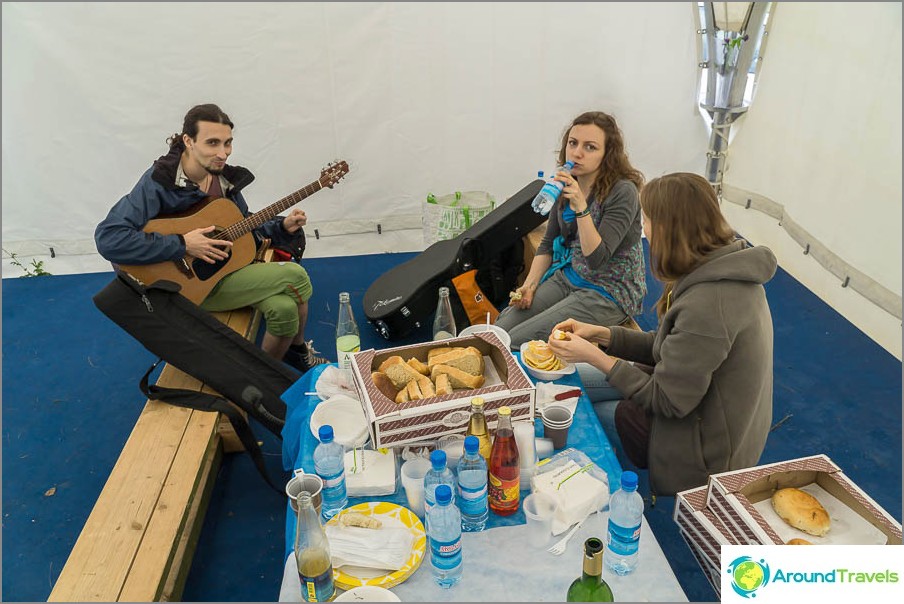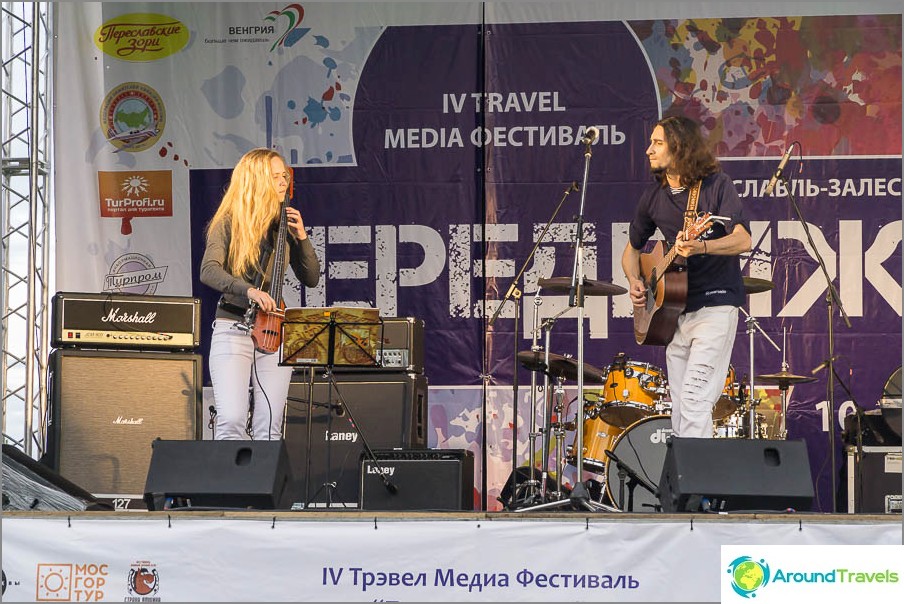 We went into one of the tents, representing a snail farm located nearby, where you can taste the most delicious snails (supposedly tastier than in France) and watch the snail race. There were races at the festival, but we were late, so we just talked a little with the representatives.
Of the interesting, but already curled up - 3 mobile homes. From the existing pavilions, it was possible to test a mobile bath on yourself, leave an ax, shoot a crossbow, swing on a swing, and mold a character from plasticine, which could later be revived into a movie using a camera and laptop (a master class for children). By the way, the swing cost 200 rubles, I don't know the rest. But the trampoline was free, so it was chosen by everyone, especially children. It's a shame, but I tried it for the first time in my life, I really liked it, I didn't think that you can get tired of jumping. By the way, I even managed to do somersaults, I will definitely need to purchase such a thing when I have my own house.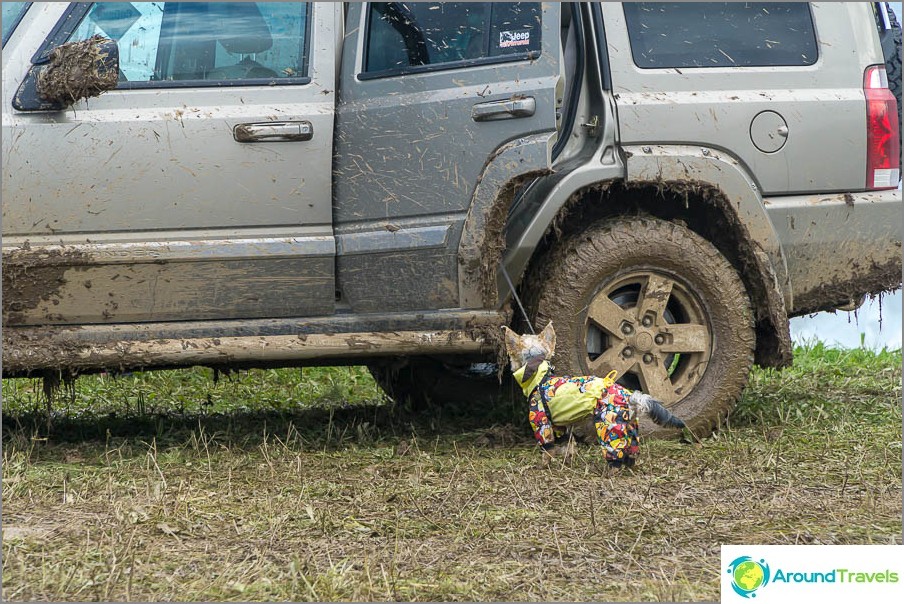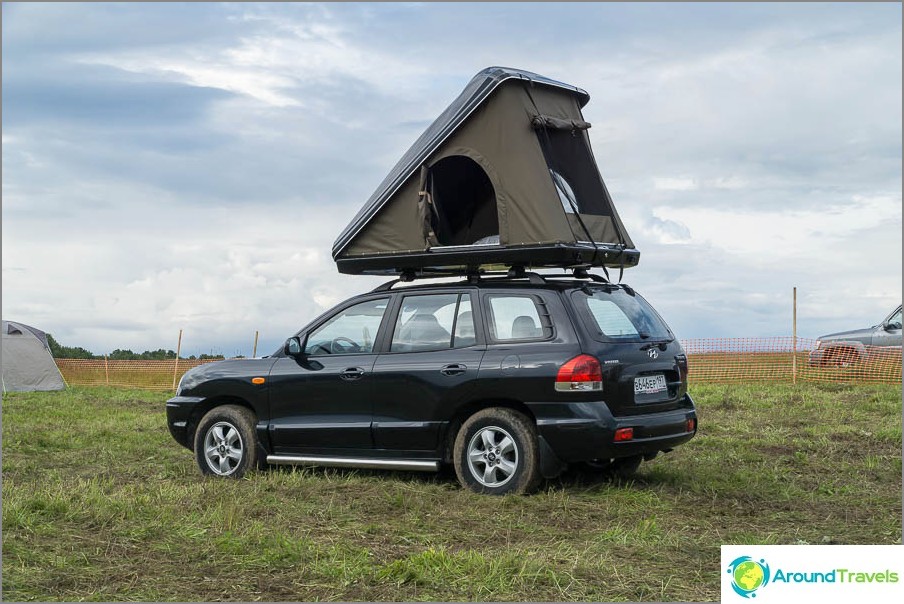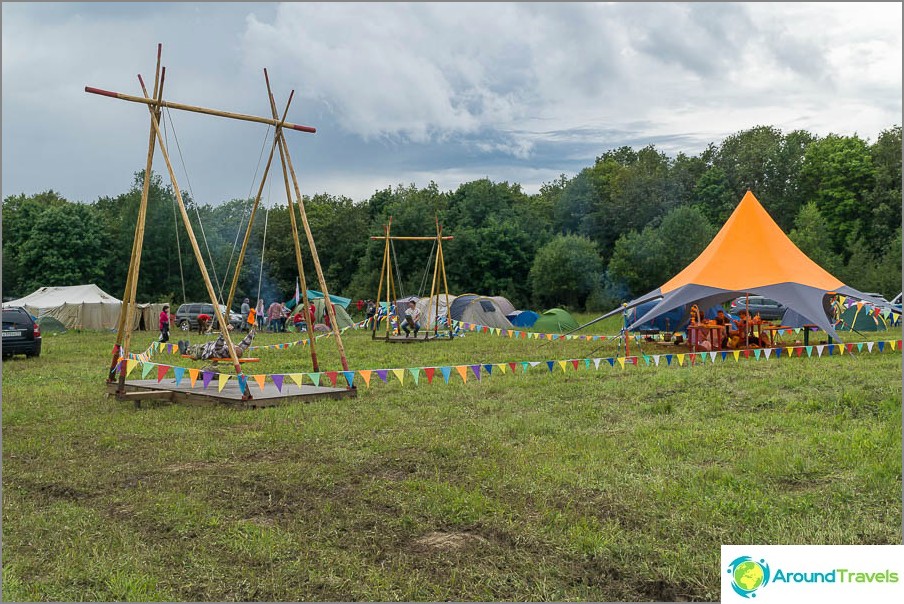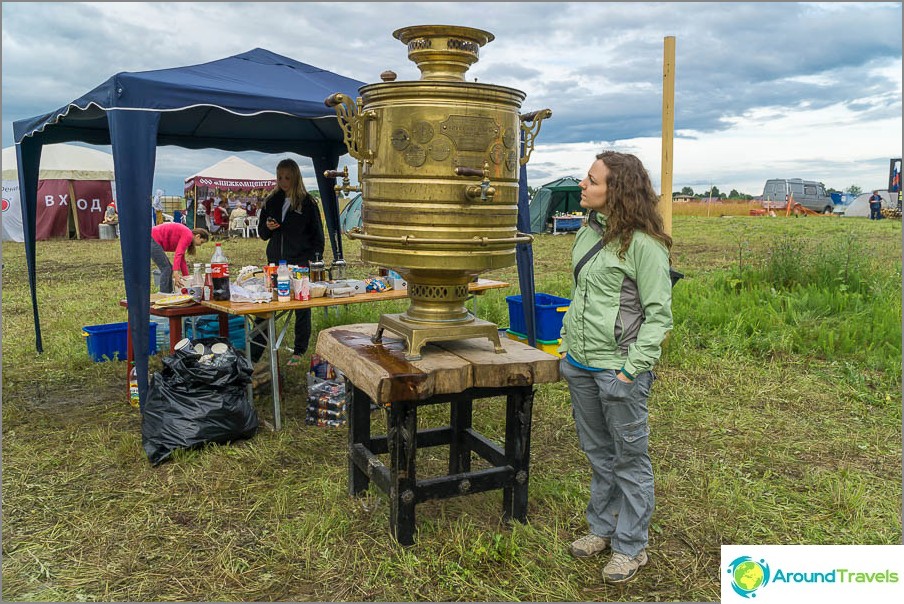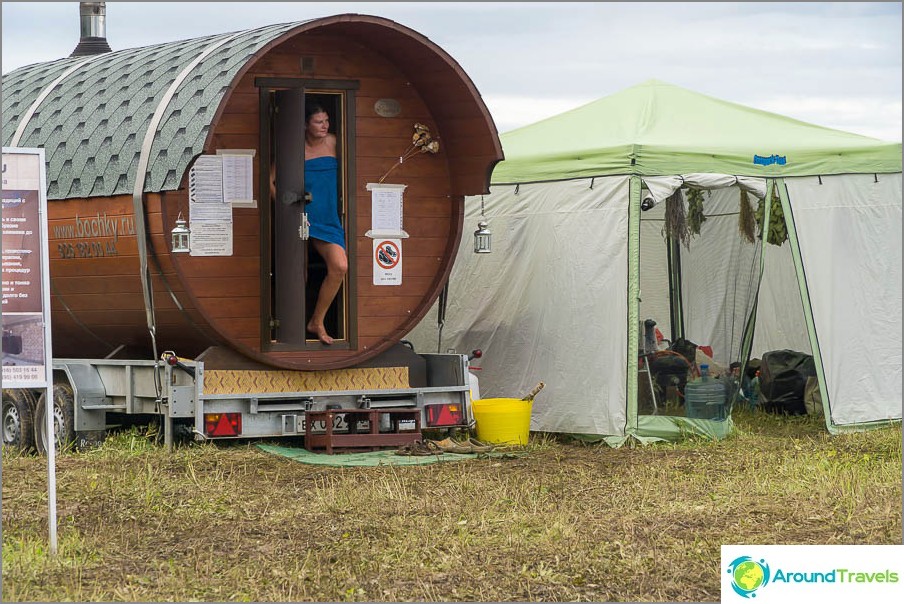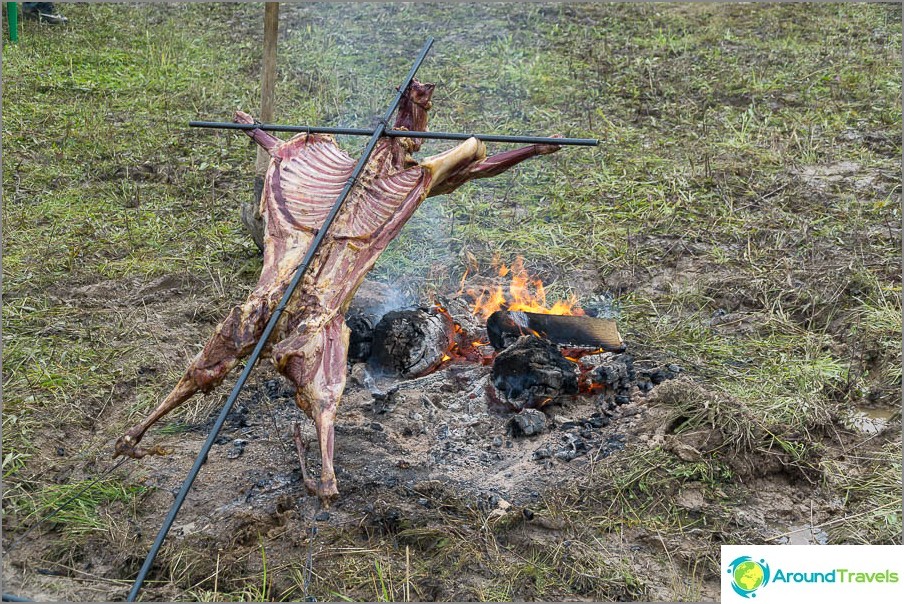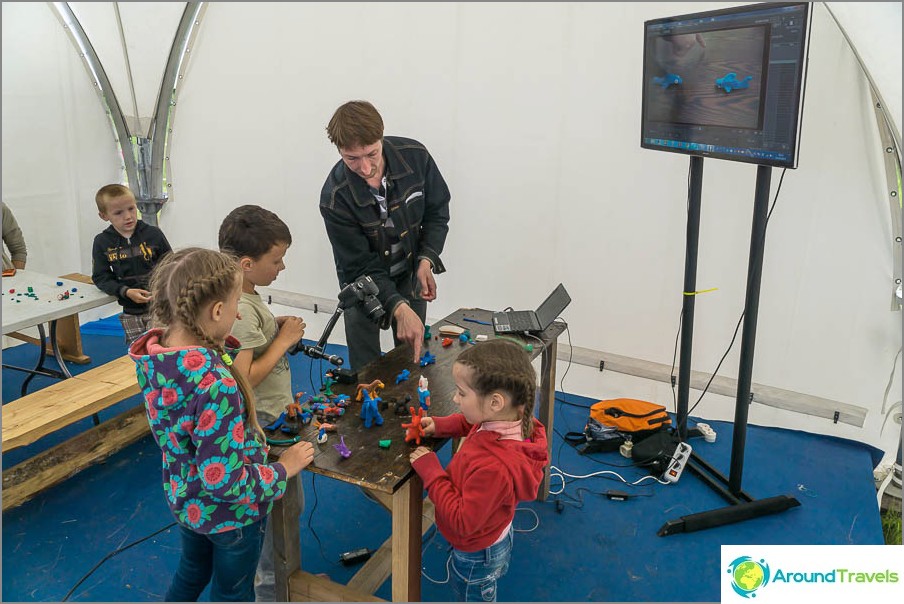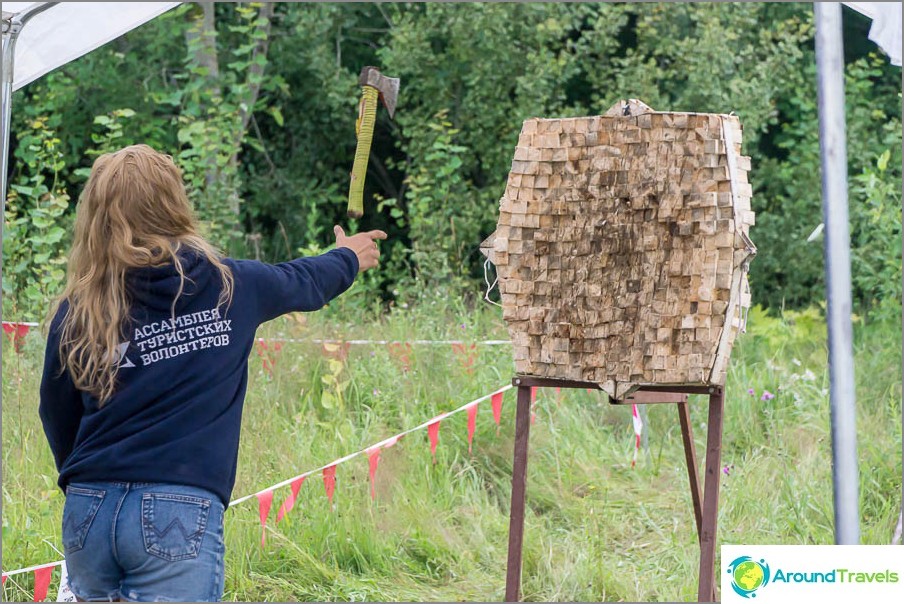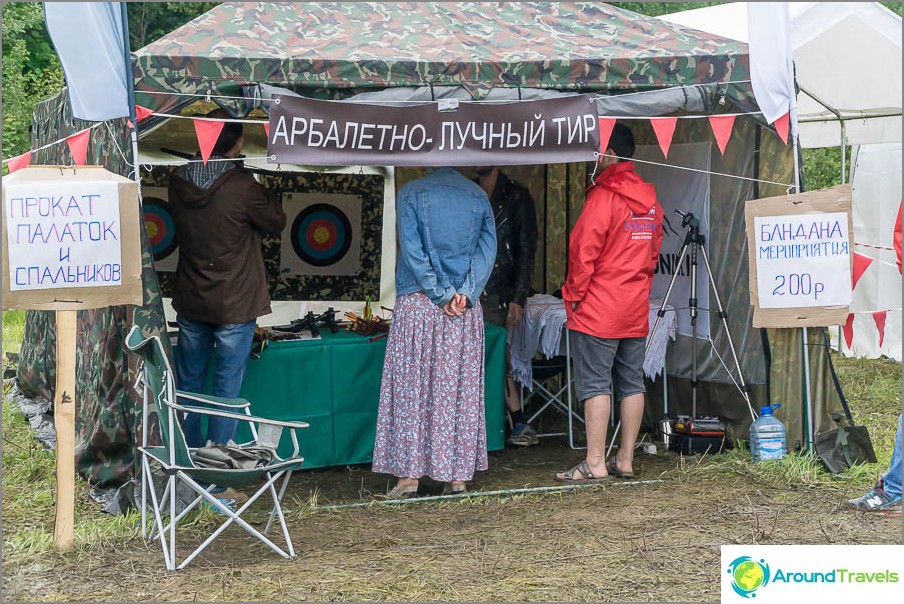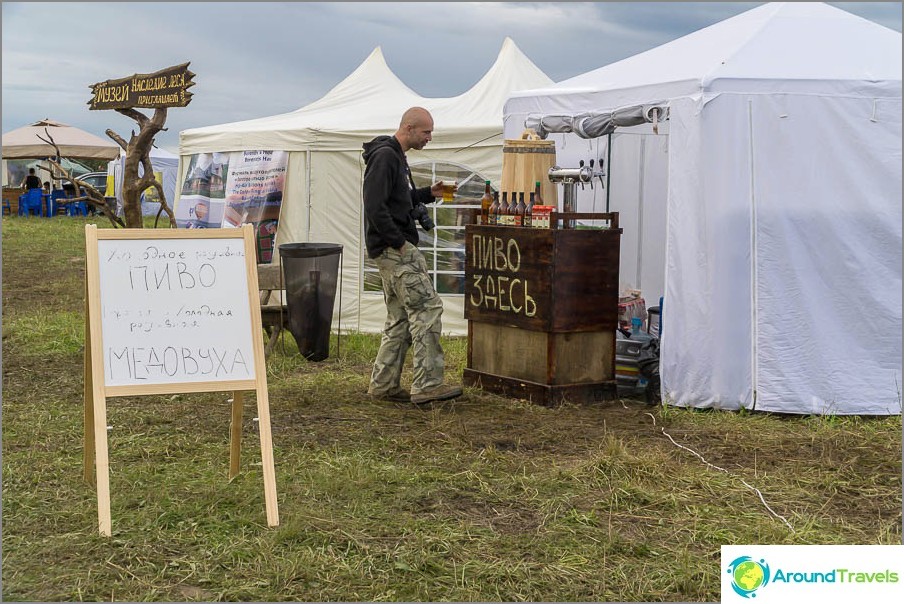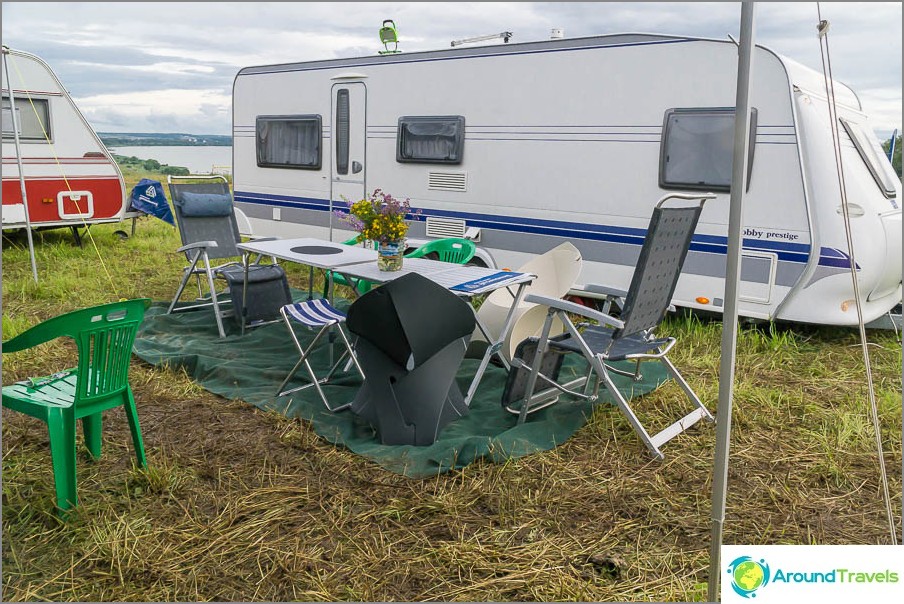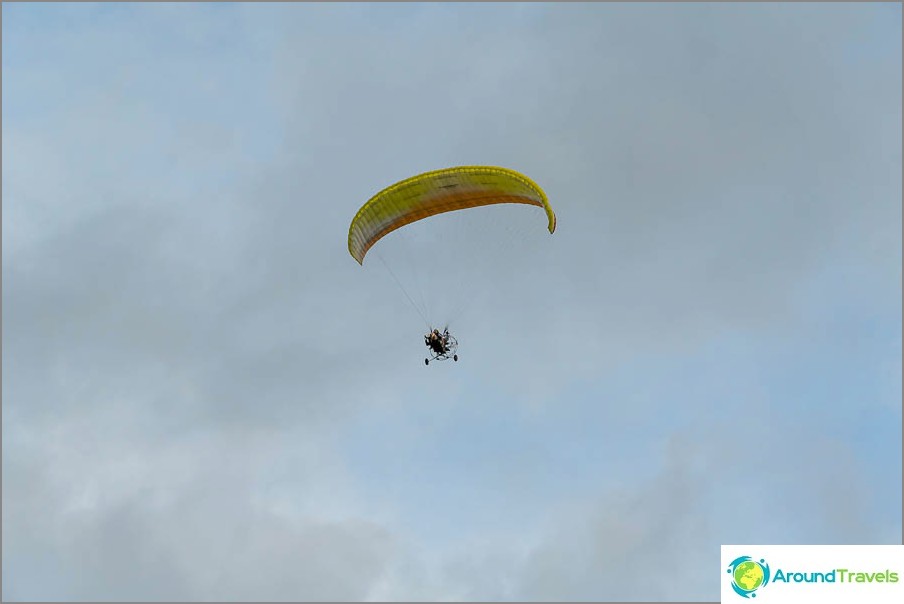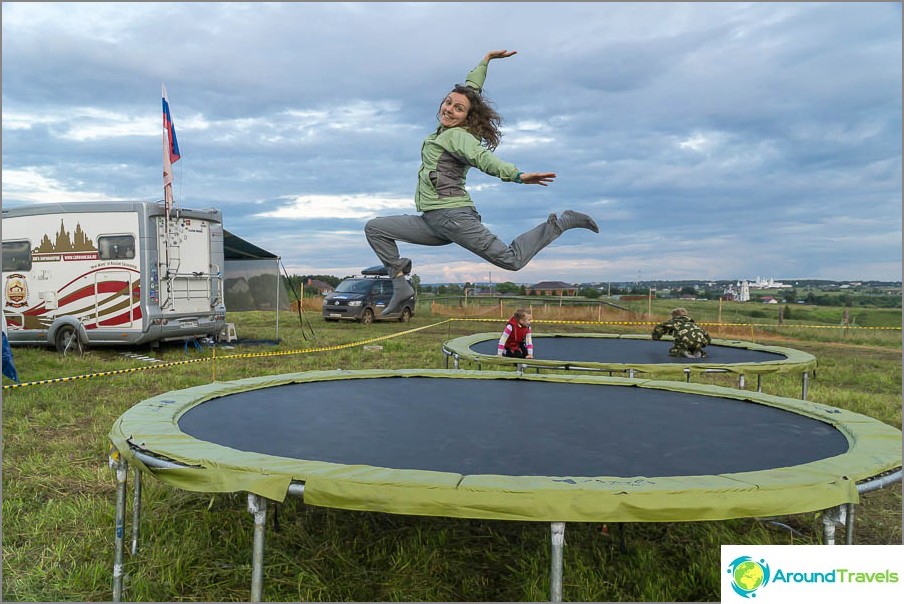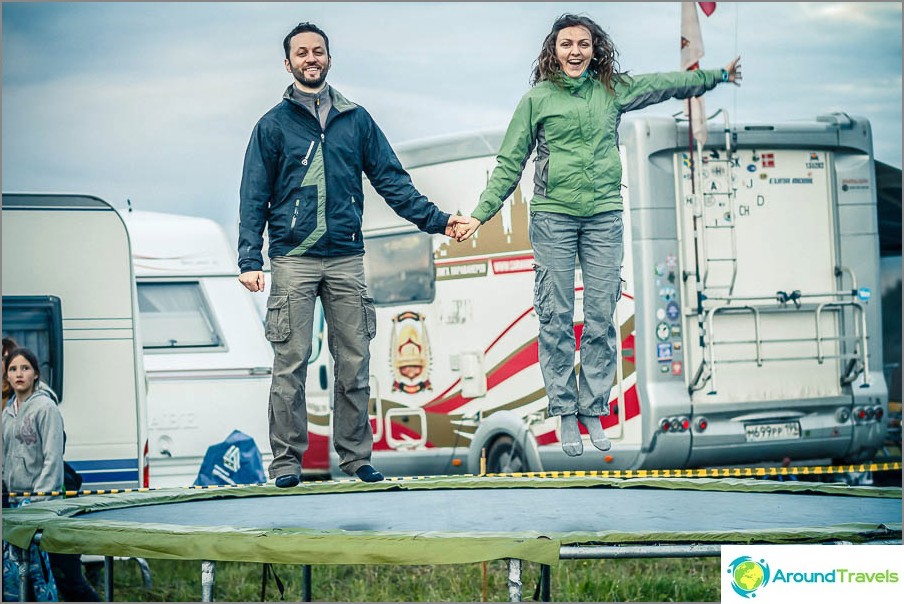 And I didn't like the food, neither the price nor the quality. Salmon shashlik 300 rubles / 100 g, vegetables 100 rubles / 100 g, pilaf 250 rubles / 300 g. We somehow did not immediately pay attention to grams, so we thought the price per serving, and were surprised at the final amount. A modest dinner (we did not eat at all) for two came out at 1,400 rubles, and along the way they also divorced us (they did not weigh anything in front of us), because, as I didn't figure out later, I couldn't get that much. It will be necessary to send this photo to the organizers of the festival in order to change their food partners. And somehow the festival is very symbolic «supports» tourism in Russia ...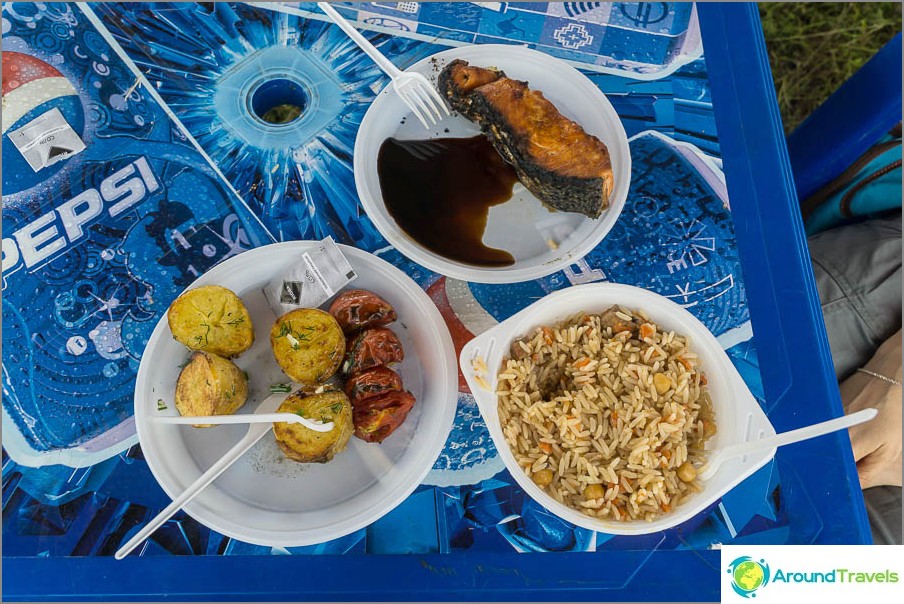 Are there any prospects for tourism in Russia?
You know, this whole trip left two impressions, from the festival itself to Pereslavl-Zalessky. On the one hand, we were very happy to finally get out somewhere and be together (the last time was several years ago), on the other hand, there are obvious problems with civilized tourism in Russia. And this is very noticeable. Previously, we mostly went only with a tent, we cooked food on a fire, that is, they were not tied to prices and service. And here, on the contrary, they tasted the usual civilian tourism of the weekend format, which had previously been tested only in Europe and Asia..
Well, with the festival, you already understood that the food did not cost adequate, and alcohol was an obligatory attribute for arriving tourists (there were also those who got drunk on firewood). Sadness. But okay, let's skip it, maybe it's all an accident. Better to talk about something not accidental, about the prices and availability of tourism for mere mortals..
Since it was raining, the roads were smashed (you can't drive up by car), so we didn't set up a tent at the festival, as we originally thought, but drove to the hotel. From hotels for price / quality on the Internet advised Victoria Plaza (follow the link for my review) for 2800 rubles / day. By the way, the hotel is good, WiFi is available, everything is clean, breakfast is simple, but the price ... The rest of the hotels in the same price category are a little cheaper, there are a little more expensive (I don't consider dumb motels).
Further, in addition to walking around the city, we went to the museum of irons for 15 minutes, to the museum of steam locomotives for an hour and another hour rode bicycles in the arboretum (see the links for reviews and prices). The cost is 1140 rubles for everything. I must say that although the locals are good fellows that they work and try to make money, instead of whining, the sights are very simple, the big word museum means only a small exposition. Iron Museum - 1 small room, Museum of Steam Locomotives - a pair of locomotives from a narrow gauge railway and a pair of carriages. In addition to food at the festival, we ate 2 more times in a cafe: in Montpensier for 1420 rubles and in Bamboo for 1180 rubles. Nothing fancy, just ate no frills.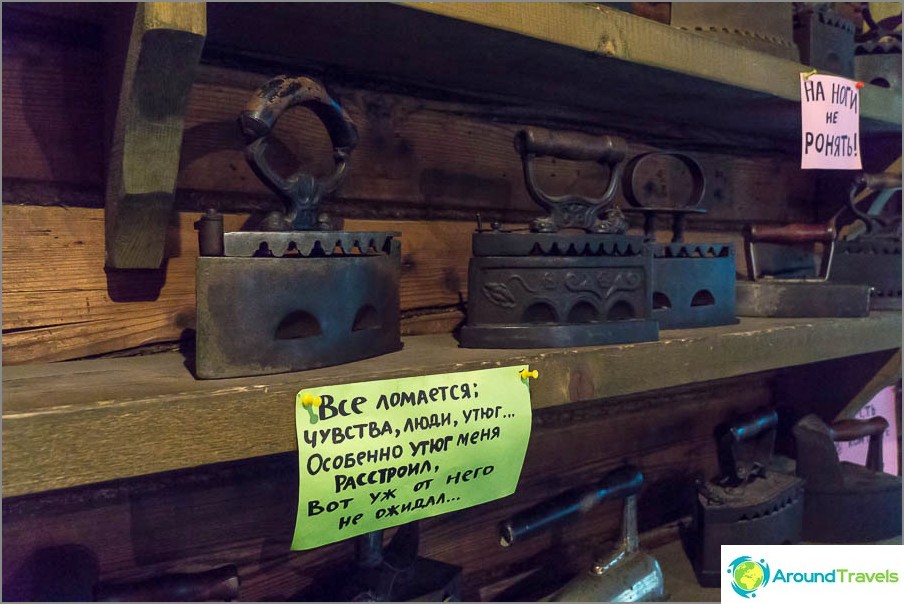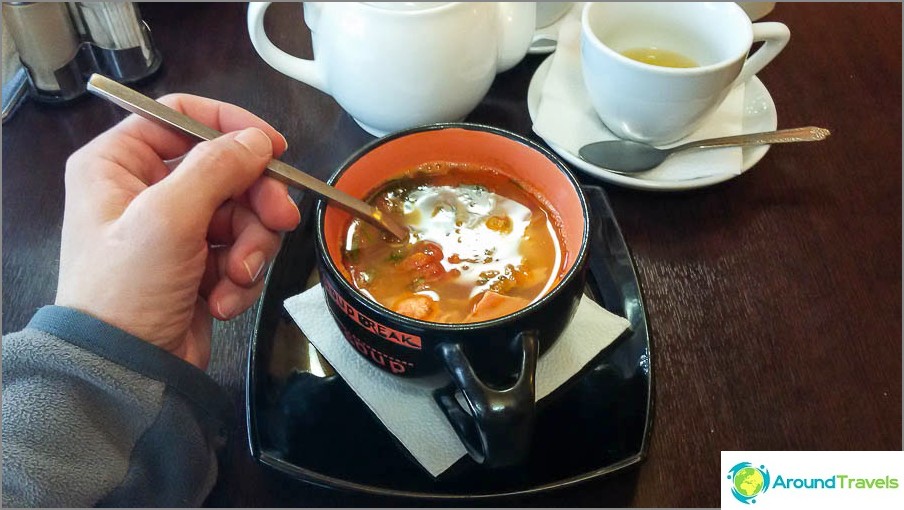 As a result, we get the total cost per day (overnight stay + sightseeing + 3 meals) - 8000 rubles, not counting gasoline from Moscow. Before the fall of the ruble, it is slightly $ 250. Now, in dollars, the price is no longer so high, it has become equal, so to speak, like everything has become cheaper 🙂 And if you spend 2 nights, eat 2 days and visit more, then you can safely leave 15,000 rubles. Isn't that a lot for Pereslavl-Zalessky? Isn't that a lot for Russian tourism? Tell me, can an ordinary person with a salary of 30-40 thousand rubles afford to spend 8-15 thousand over the weekend? And will he be able to do this every weekend or every other time? In the summer, in an amicable way, you need to get out more often, a healthy lifestyle, a healthy nation, all things. Note that the matter is not only in prices, but also in the average wages in the country, nevertheless, it is interconnected. And the most important question is, for whom is Russian tourism designed for 10% of the population??
Now I will not specifically compare with other countries, it is useless, because tourism should be available to the average Russian living in Russia. Otherwise, how can we talk about its development if it is not available to the majority, or it is necessary to save up for such trips. Imagine banners by the road «Do not wait, go to Pereslavl-Zalessky on credit!». Funny and sad at the same time. It is not surprising that instead of Pereslavl-Zalessky, where you have to go from Moscow in traffic jams for 4 hours, it is easier to go to the neighboring forest for barbecue and swell there for a much smaller amount.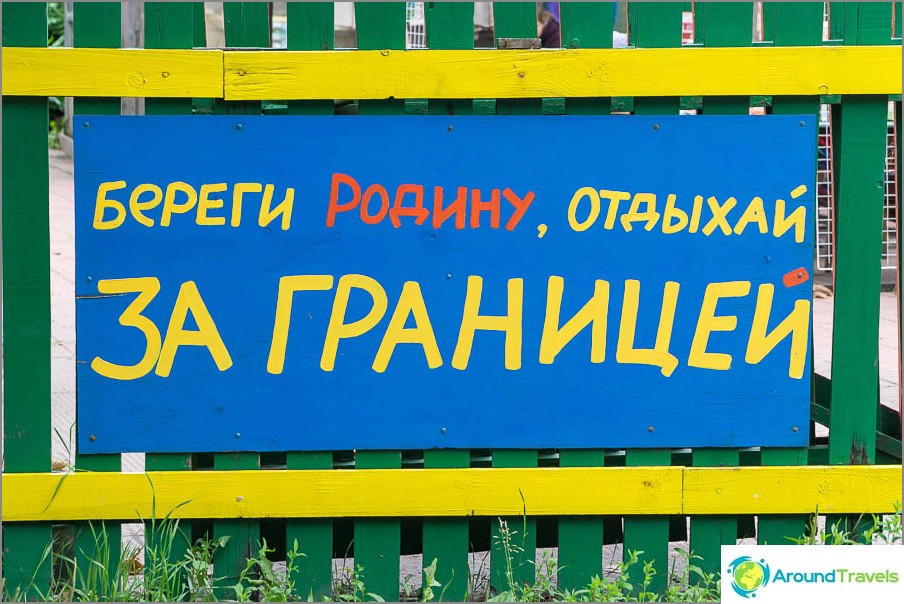 P.S. And it seems like I want to travel around Russia, since there are many beautiful places, but you understand that either you will spend unjustifiably a lot of money, or you are destined to make purely hiking excursions with overnight stays in a tent, your own food and natural attractions. What do you think about this?