Tong Sala is a large urban-type settlement (someone simply calls it a city), which serves as the administrative center and main port on Phangan. The once simple fishing village is now a fairly large section of the island with a high population density, with two full, concrete piers, and urban infrastructure.
In addition to all this, Tong Sala has its own piece of the coastline, which can be very conditionally called a beach. You are unlikely to have a desire to swim in it, and here is the reason.
The content of the article
Beach description
Despite the fact that Thong Sala is just a small town in the south of the resort island, the coast along it is generally not suitable for a beach holiday. Both Thong Sala piers provide a fairly dense passenger traffic, from ferries to fishing longtails, so the sea, and the beach itself around the piers, can hardly be called clean..
The right edge of the Tong Sala beach rests against a wide river bed, and the left one smoothly turns into Ao Bang Charu beach, which also belongs to the city beaches of Tong Sala. The entire surface of the coast near the piers is reinforced with concrete and, in fact, is a single embankment, under which lies sand and debris.
Entering the water, depth and waves
For objective reasons, I did not begin to measure the depth of the sea and the purity of the bottom with my own feet, and I did not see people swimming there either. Feel free to think of Thong Sala as a technical beach, where you can sit with a bag of food or make a fire for romance at sunset.
Waves happen here regularly because the sea near Tong Sala is deep enough, although fairways are still dug to the piers so that ferries do not hit the bottom with a keel.
Sun beds and shade
There are no sun loungers on Tong Sala, the situation with the shadow is also unimportant. There are some large trees under which you can hide from the sun during the daytime. Well, and a couple of bacon on the shore are great for a temporary respite or a snack. Sala (accent on «but») - these are Thai gazebos under the roof and with benches, you will often meet them throughout Thailand.
So to speak, a local cultural and architectural feature, very relevant for tropical countries, with their capricious weather, when either the sun is hot or there are sudden torrential rains.
Beach photo
Thong Sala pier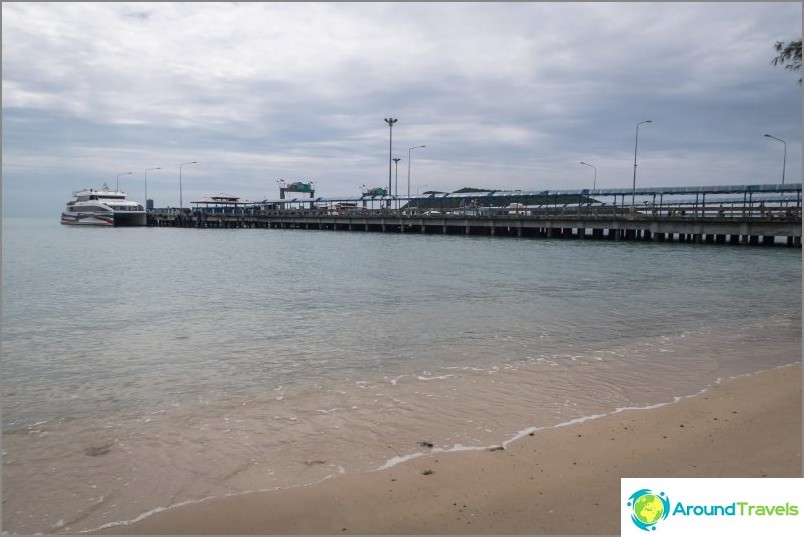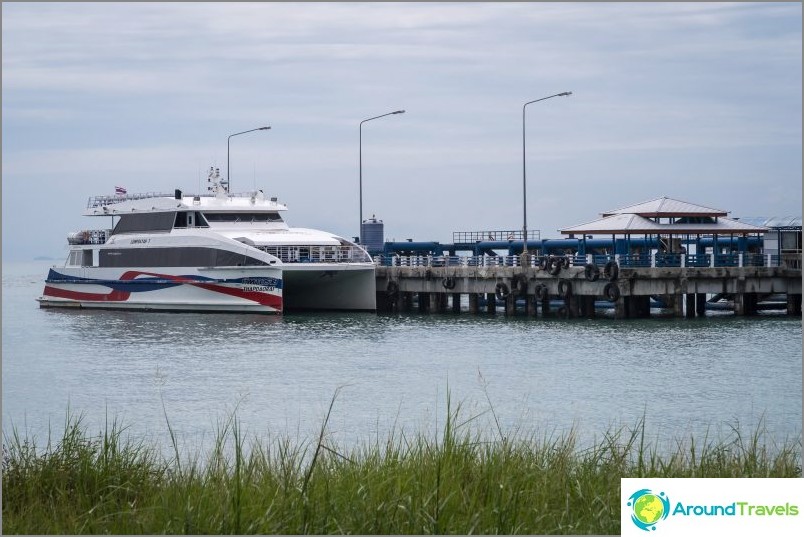 Ao Bang Charu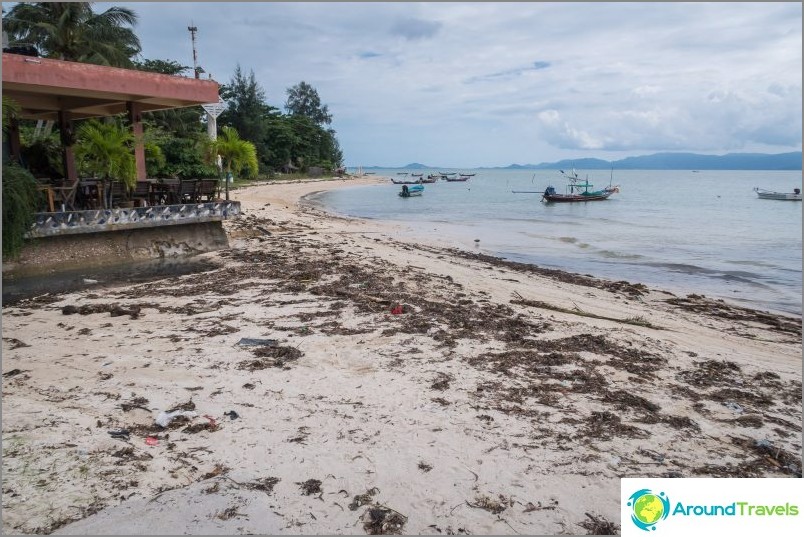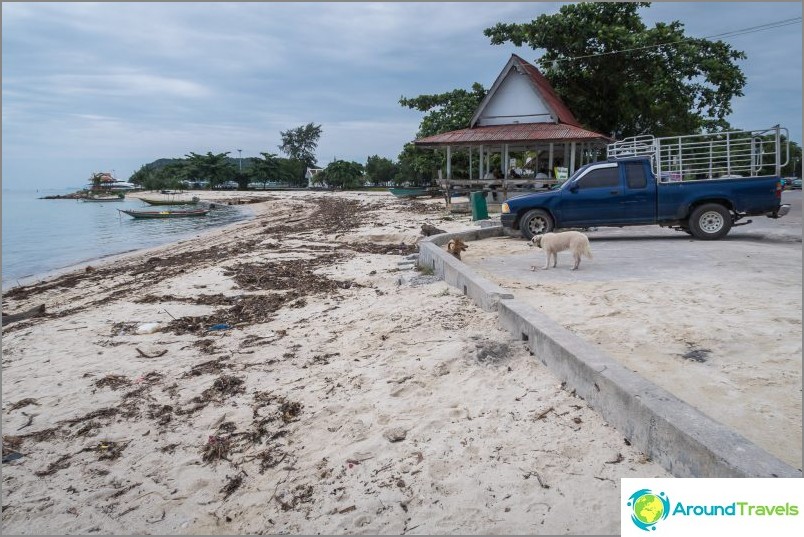 Infrastructure
The infrastructure of Tong Sala is the most complete in Phangan. Adjusted for the island, of course. Thong Sala is home to government offices, a host of shops and supermarkets, markets, cafes and restaurants, car rentals, banks and ATMs, hotels and guesthouses. And the most popular meeting point with friends is the food court. Pantip Market, where you can eat inexpensively.
In general, it's easier to say in two words - Tong Sala has everything. Even a public gym has even been built on the embankment, where you can work out for free on simulators with your own weight - this, by the way, is a trend in the resort towns of Thailand. But for you to understand, Koh Phangan does not yet reach Koh Samui, which, in turn, also never Phuket and Bangkok.
Also, I have not met anyone seriously discussing Tong Sala as an option for a long-term stay in Phangan. Tong Sala is a local capital, noise, epicenter of trade and transport hub rolled into one, with an ugly beach and a couple of attractions: landing ship «Phangan», a monument to King Rama V and a dilapidated model of the island in the square with a roundabout. People come here to hang out, shop or dive on the ferry, but definitely not for a beach holiday..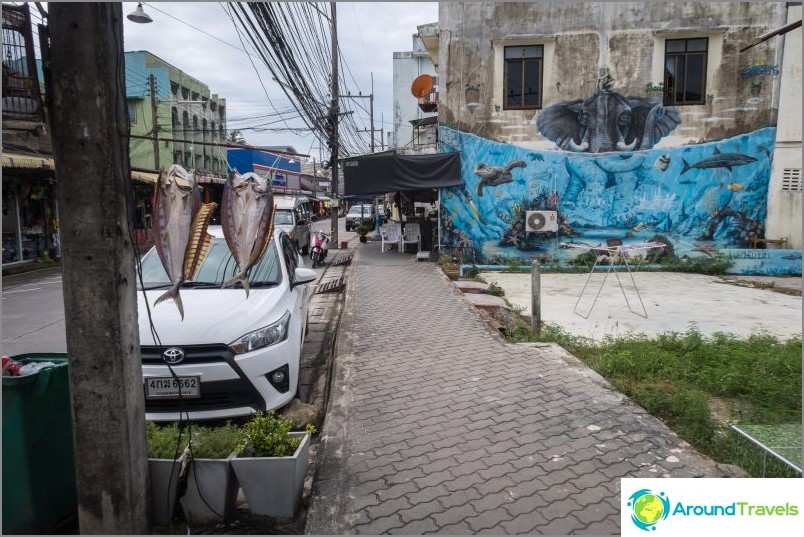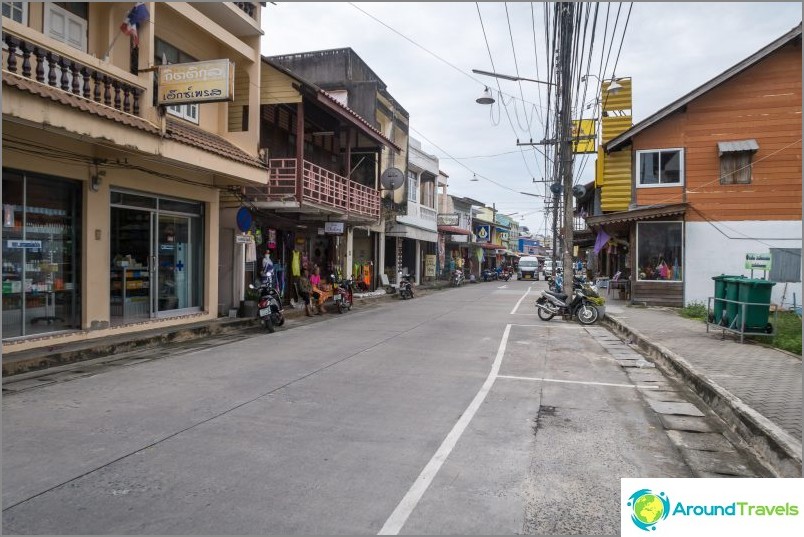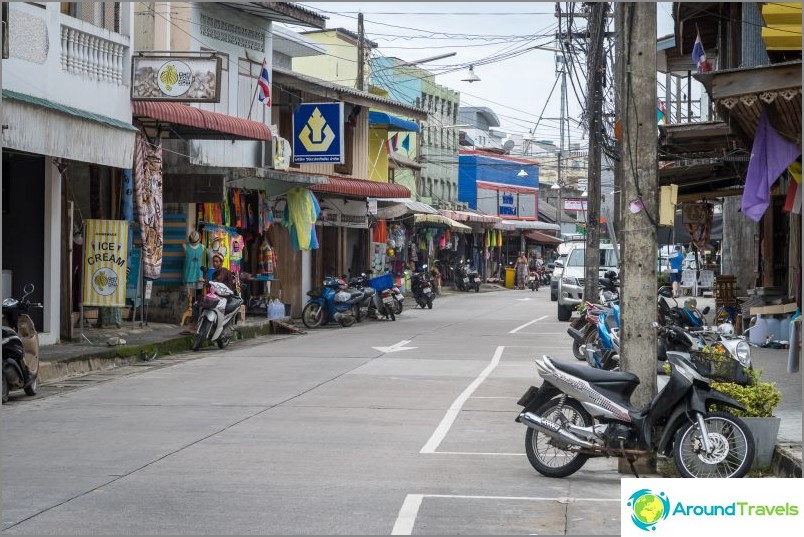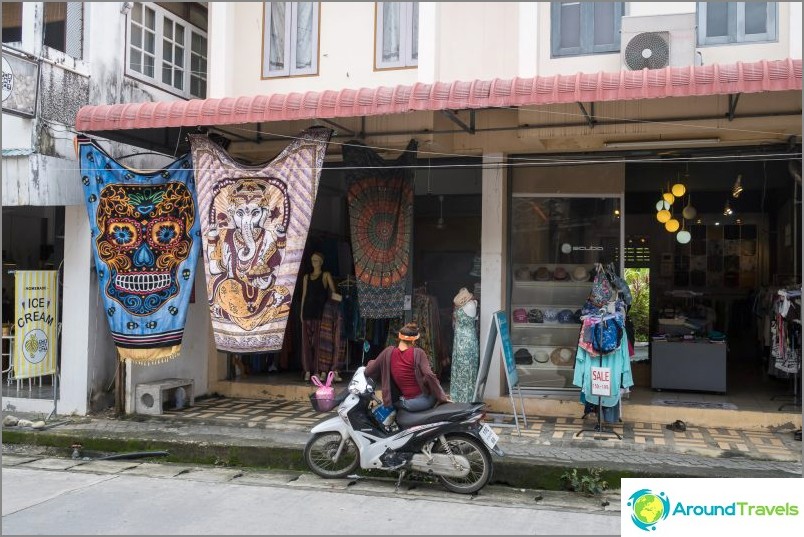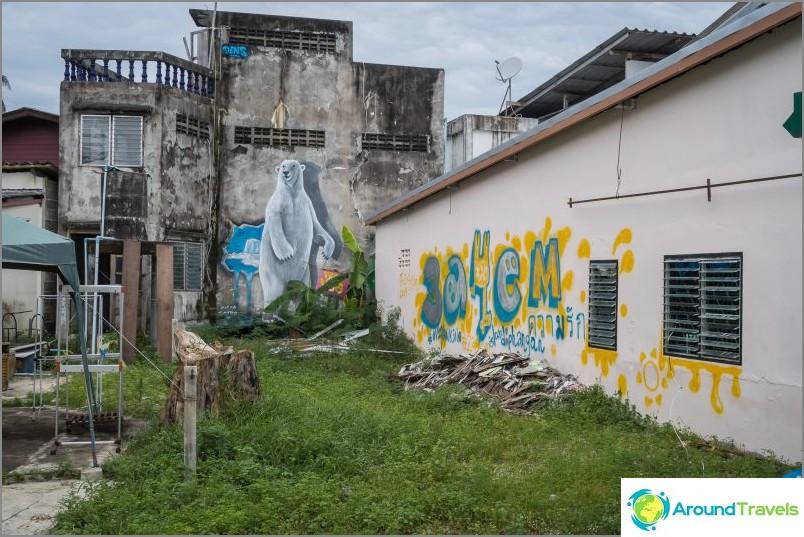 Houses and hotels on the beach
With all that has been said, there is a sufficient number of economy-class housing in Tong Sala, and how else could it be in a town through which thousands of tourists pass in a day. There are no expensive hotels or resorts, neither near the sea, nor in the second or third line, for obvious reasons.
And when choosing a place to stay among guesthouses and first line hostels, I would first of all pay attention to these:
For you guesthouse
Bigboss Hostel
Taya's Place
Thus, if the task is to save money, or, for example, to live in the center «civilizations» (or spend the night before sailing to the mainland or Koh Samui) then consider Thong Sala. Alternatively, you can live on the outskirts, for example, I lived somehow here in this hotel.
Hotels near Thong Sala>
Be sure (and I insist) to check for discounts or special offers on the excellent Roomguru service. He will quickly and easily show you discounts in all existing booking systems. In Asia, for example, there are a lot of offers on Agoda.com, which are much more interesting than for exactly the same hotels on Booking.com.
For the lazy, here are the direct links to the hotels listed above:
How to find the beach
You can find Thong Sala beach with your eyes. But seriously, with a 50% probability you will get to Koh Phangan exactly through the Tong Saly pier, which means you will see it in its entirety, passing along the pier from the ferry to the coast. An exception will be the far end of the town, which is called Ao Bang Charu, by the way, it was he who got into my lens. There was essentially nothing to shoot near the piers, except for the piers.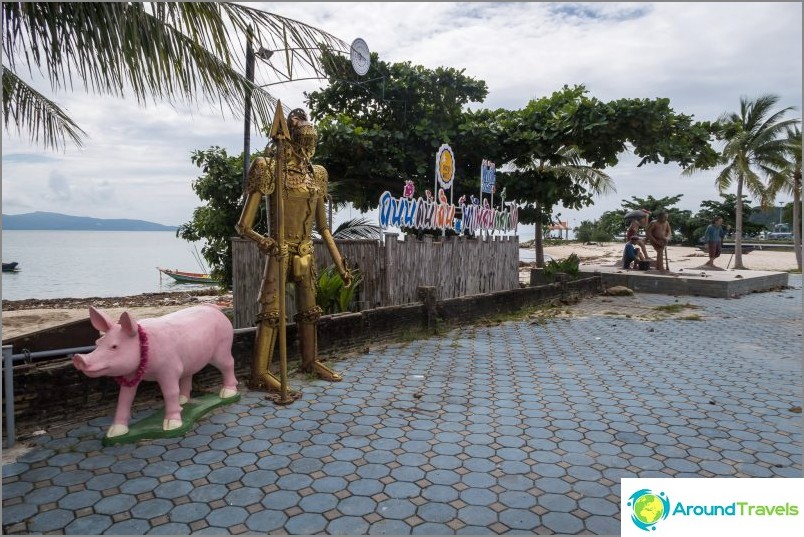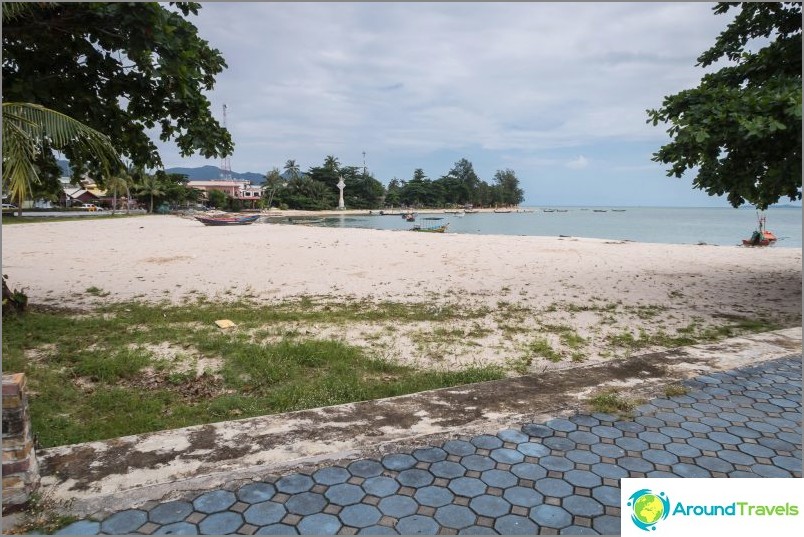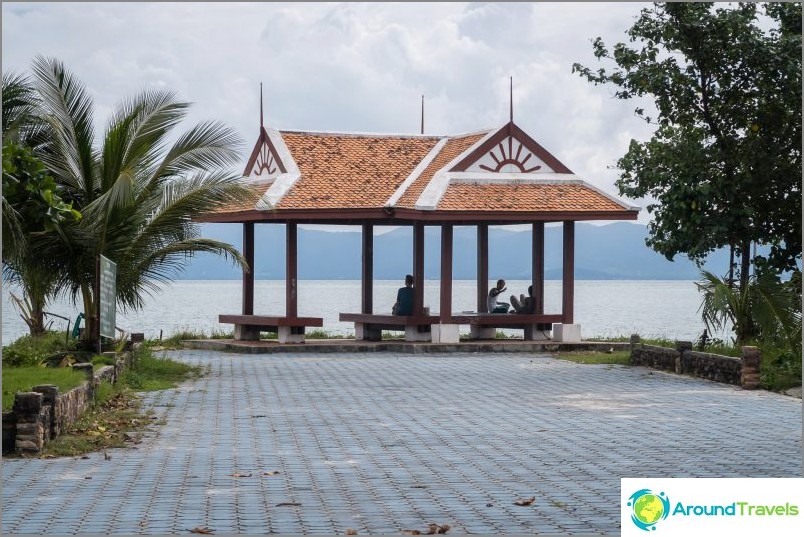 Beach Map
Thong Sala beach and town map
Map of the beach and town of Thong Sala: