Tropical Garden or Nong Nooch Tropical Park is probably the most famous attraction in Pattaya. If he is inferior to something in popularity, then perhaps Volkin Street. To say that Nong Nooch didn't like it is somehow even embarrassing. On the one hand, Nong Nooch is a very popular attraction, its fame among tourists has long outstripped reality. On the other hand, the experience of the garden depends on your personal taste and novelty of sensations..
After all, Nong Nooch is not a landscape park in its purest form, but rather all in one: a fun amusement park for children, with dinosaurs and swings, colorful shows with animals, lush tropical nature, a petting zoo and much more. It is better to see for yourself once and form your own personal opinion about this place.
The content of the article
Nong Nooch Park in Pattaya
Nong Nooch private park. Its story began in 1954, when the family of Mr. and Mrs. Tansach bought a plot of approximately 250 hectares. Madame Nongnuch Tansacha planned to grow fruit on this land, but after a trip to Europe, where she was impressed by the beautiful gardens and parks, she decided to create on Thai soil a kind of Versailles Garden and open it to the public. The creators of the Nong Nooch garden did not limit themselves to one style and also added a copy of Stonehenge, the Italian Garden and other themed areas to the French park. In 1980, the park was inaugurated to everyone..
Thais love abundance. Therefore, the ideal garden in their performance is not just thousands of species of tropical plants, ponds, gazebos, pavilions, entertainment shows, aviaries with animals, birds and butterflies, cafes and covered elevated paths, but also thousands of painted concrete sculptures and sculptures from romantic virgins to giant dinosaurs. Nong Nooch is the personification of the abundance and Thai nature and the generosity of the Thais for everything bright and colorful. And, frankly, the park now looks like a vinaigrette from everything in the world..
What can you see in this magical garden? From which, however, you should not expect too much if you are an experienced and sophisticated traveler and have seen many gardens and parks around the world.
The main «chips» a tropical park that actively advertise to tourists - a huge collection of palm trees, an orchid garden and a variety of tropical plants, an elephant show and folklore show, a collection of cars, a French garden and the newest zone of the park - the dinosaur alley. Along Nong Nooch you can ride elephants, feed different animals from the same elephants to huge turtles and giant (up to 3 m long!) Freshwater arapaima fish in one of the ponds, as well as take pictures with a tiger or a large colorful parrot.
The landscapes of Nong Nooch are constantly changing and reworking, new ones are added to the existing ones. In recent years, the park has become more and more entertainment, including those focused on children..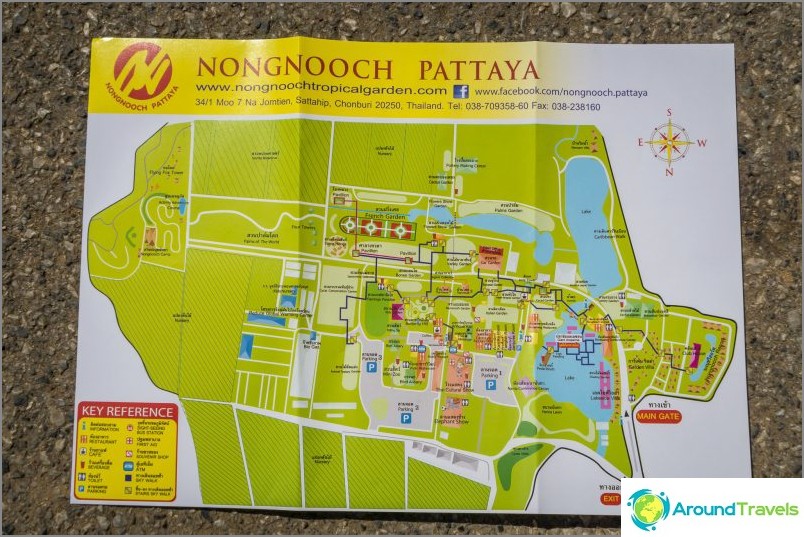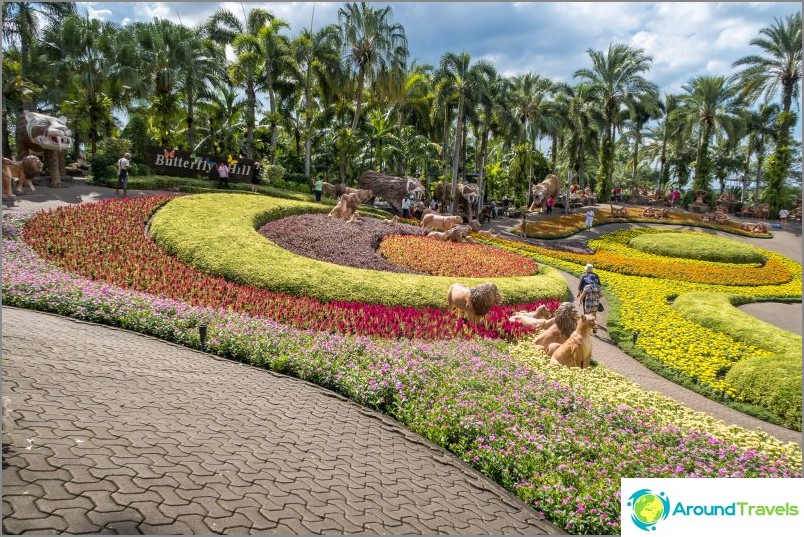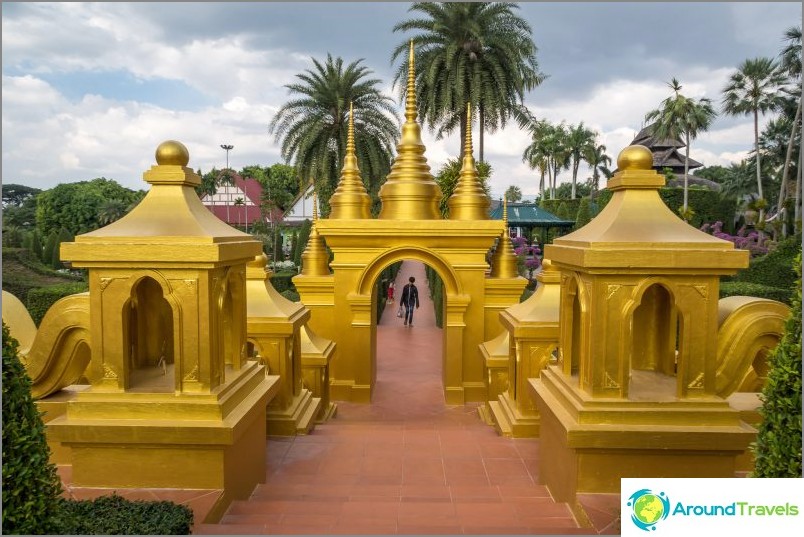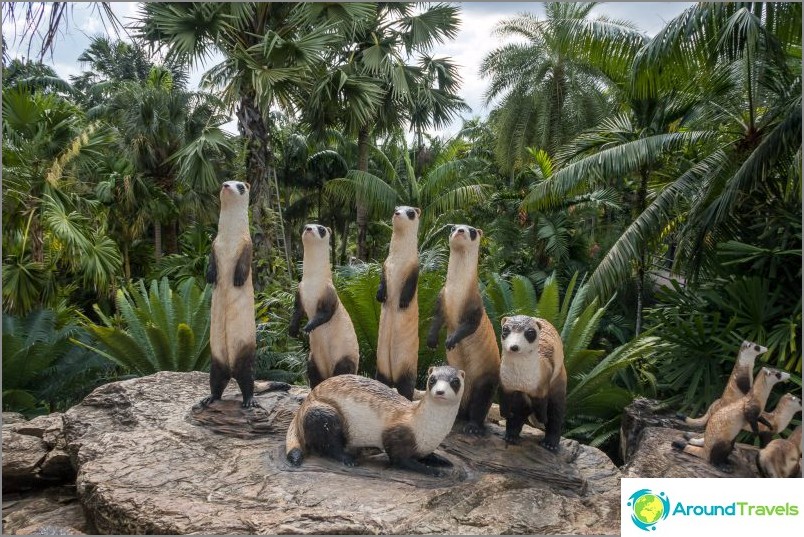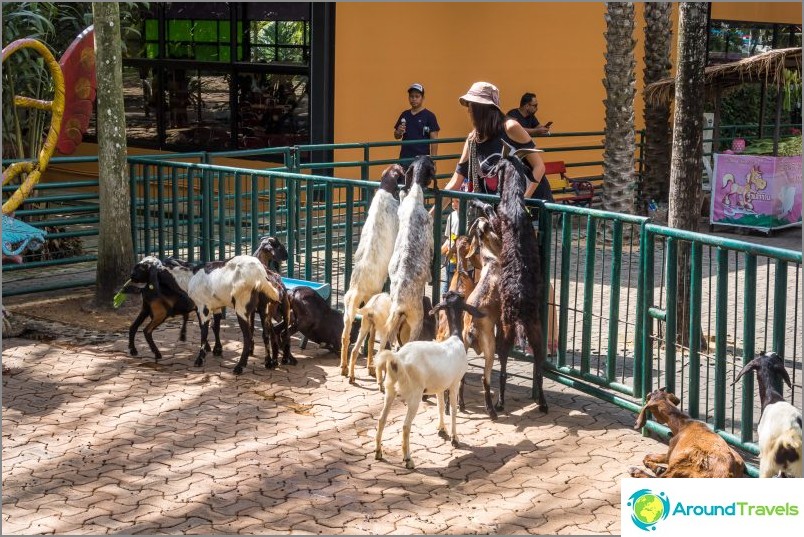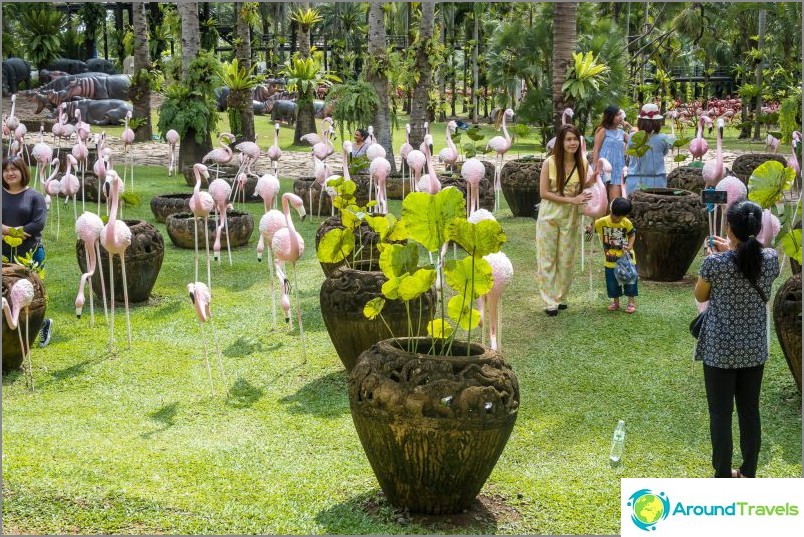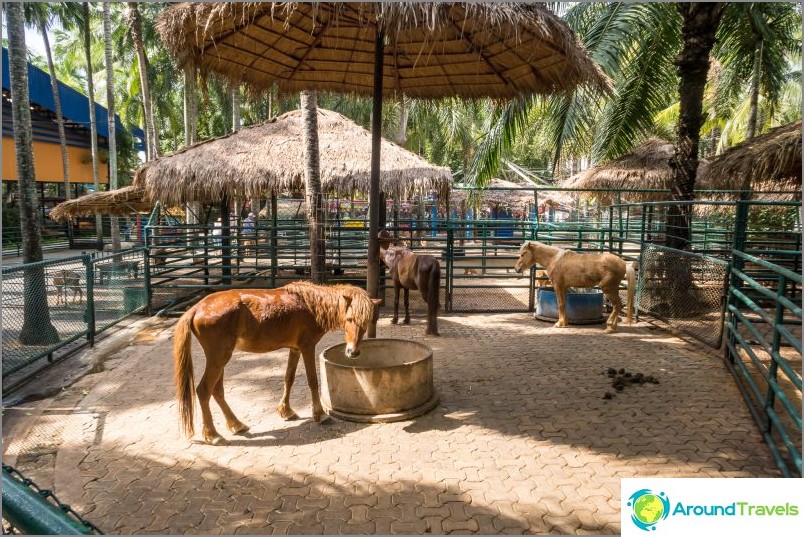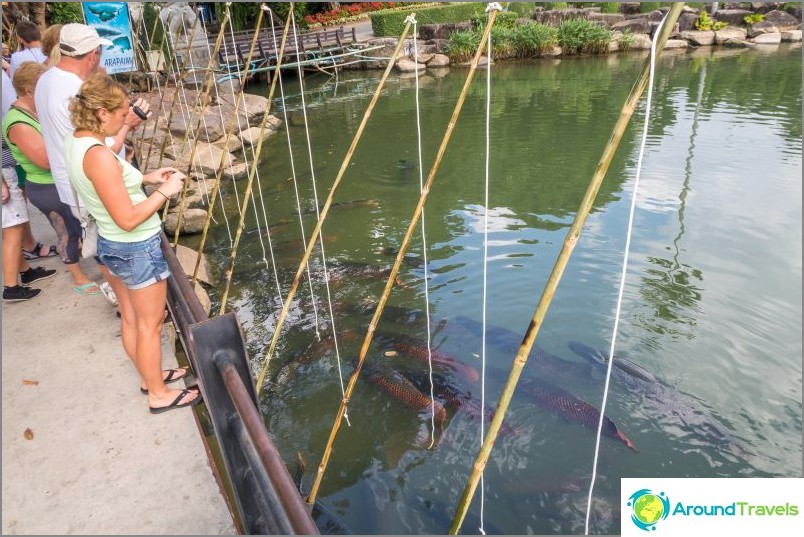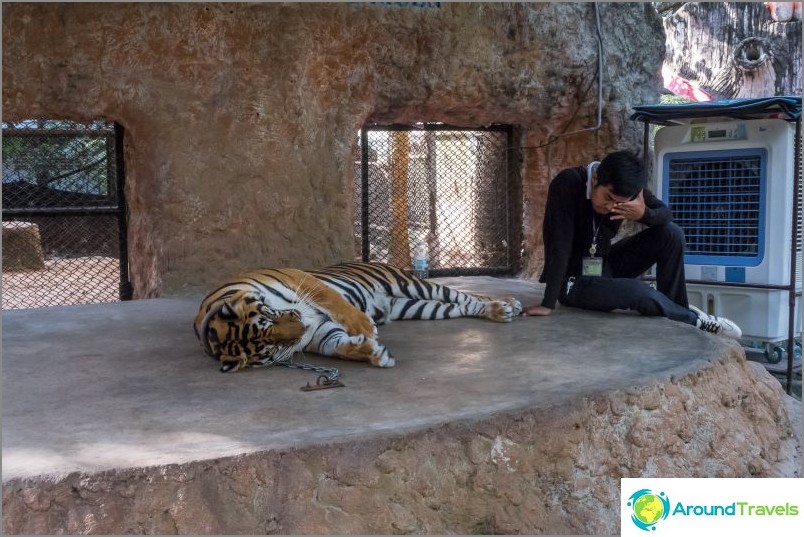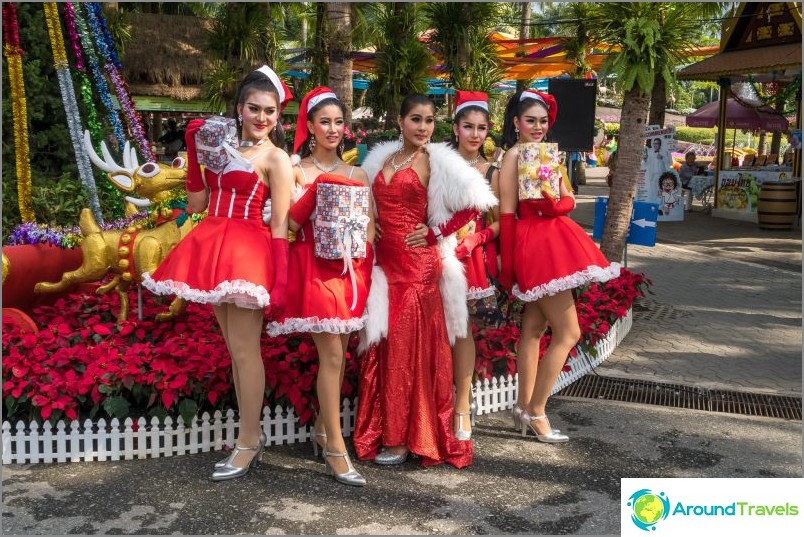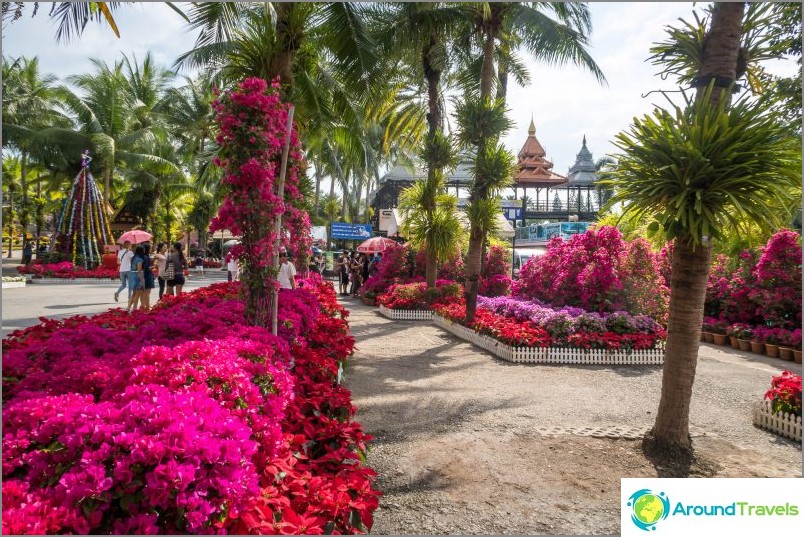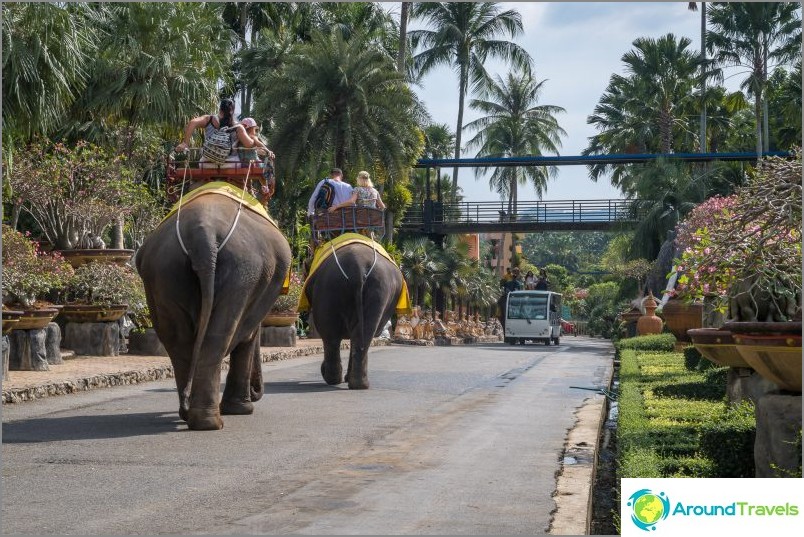 In terms of landscape design, the most interesting thing in Nong Nucha is the French and Italian gardens. The most popular view for photos in Nong Nooch is a French regular park set against a backdrop of mountains, palm trees, Thai traditional architecture and a hill with dozens of white and gold pagodas. This is one of the most spectacular corners of the park. It is located at the end of the park farthest from the entrance. In the same place, next to the French park are the Alley of Dinosaurs and a copy of Stonehenge.
From the architectural point of view in the park, interesting is the Thai national house, pagodas and bells over the French park, and as an exotic thing - the ant tower in the center of the park. An imposing structure, decorated with colorful figures of giant ants.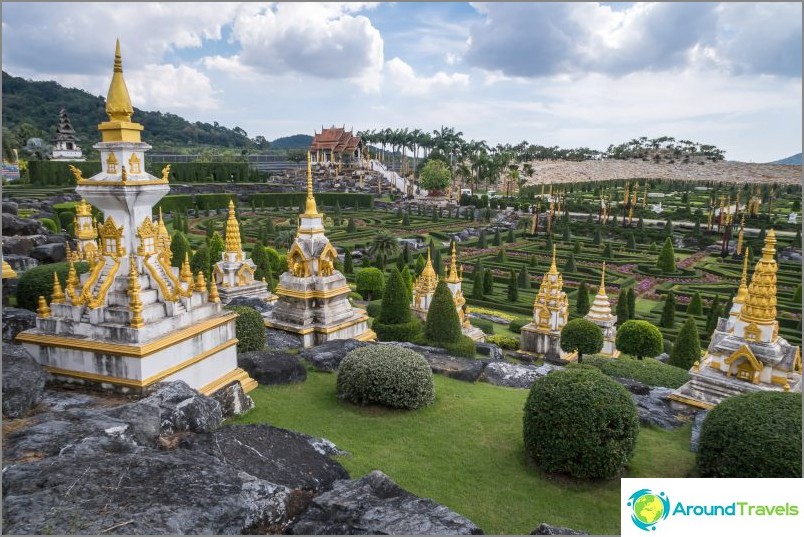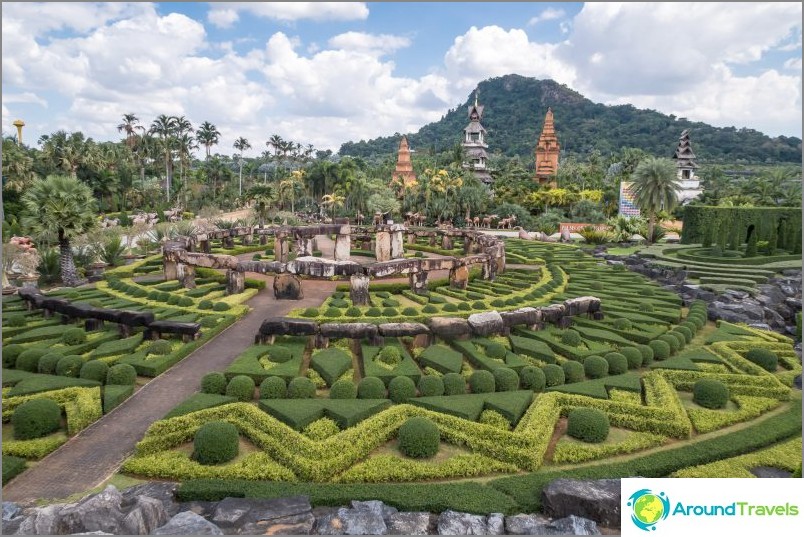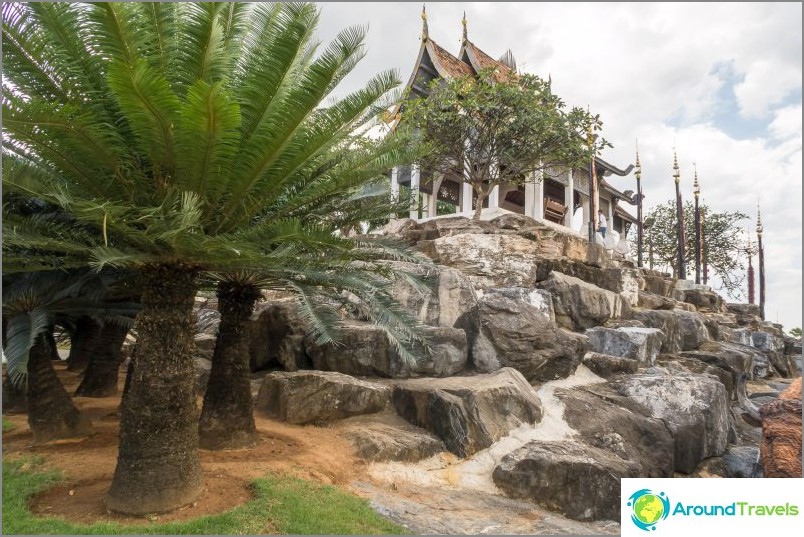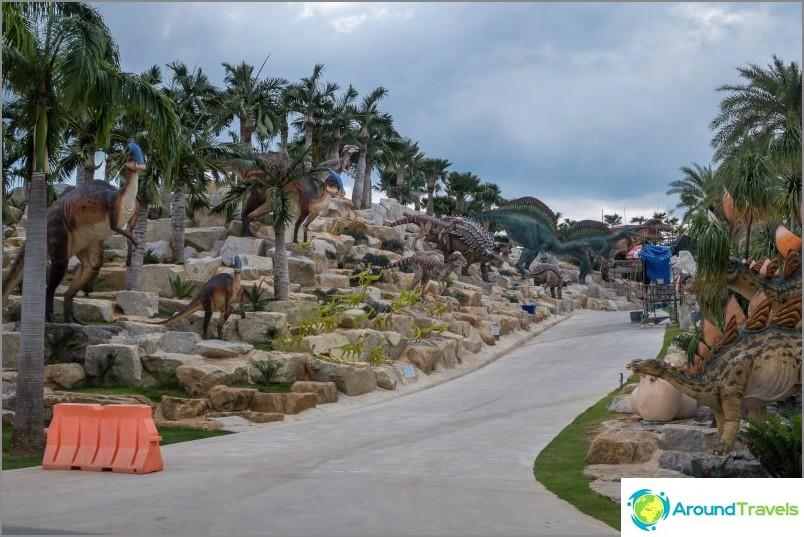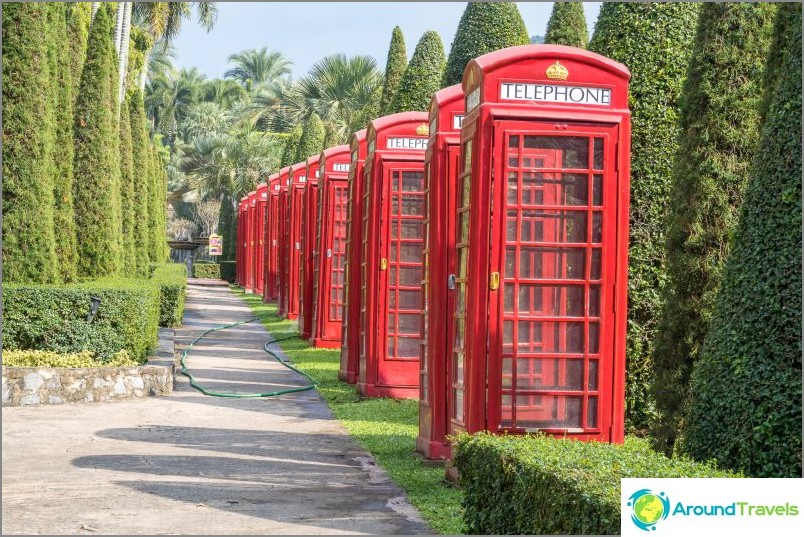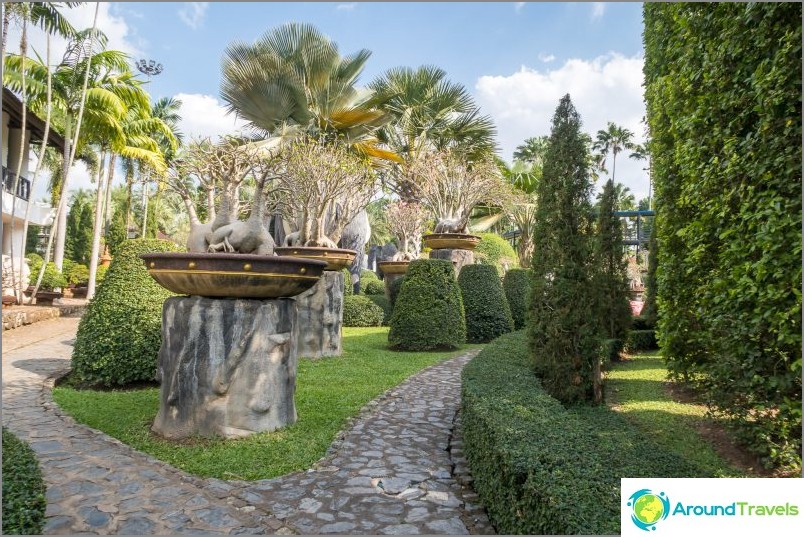 There is a lot of shade in Nong Nooch, so you can walk here even during the day, in the very heat. But the most comfortable time to visit is in the morning and closer to sunset, from about 4 pm. In addition, the most beautiful photographs are obtained at sunset and immediately after. Nong Nooch is full of nature for a photo..
It is convenient that throughout the park you can walk along «air bridges» - these are multi-level paths with a canopy raised above the ground, from which beautiful views of the park open, it is convenient to look at tall tropical plants. The canopy protects from the sun, and at a height it is cooler than below and blows in the breeze.
Since 2001, Madame Nongnuch's son has been managing the tropical garden, thanks to him a pavilion with cars appeared in the park - this is the owner's personal collection. This pavilion is also valuable for the fact that while watching cars, you can also take a break from the heat - an air-conditioned room.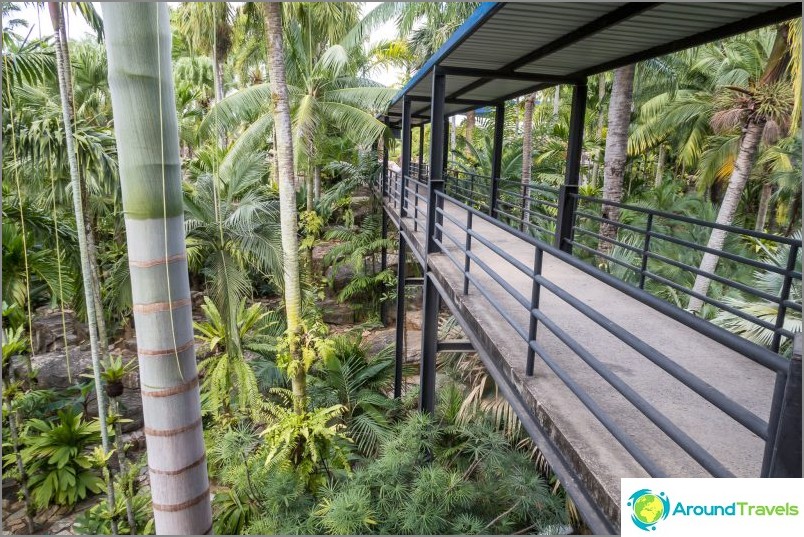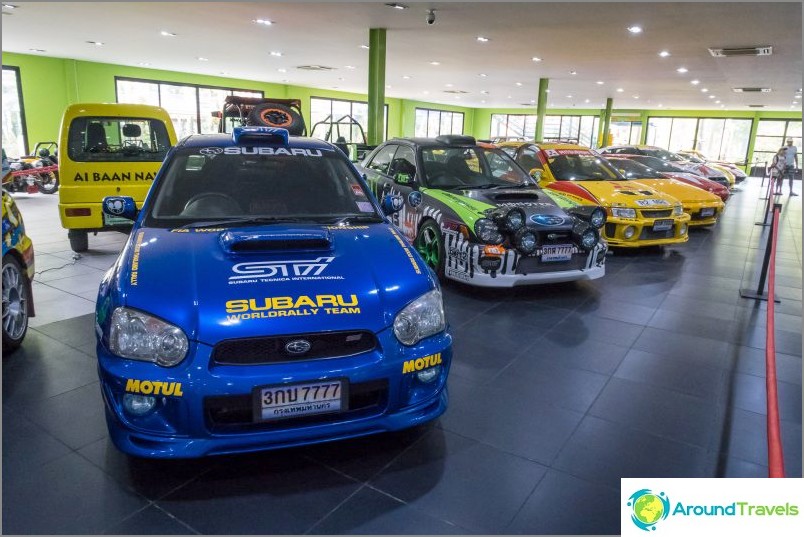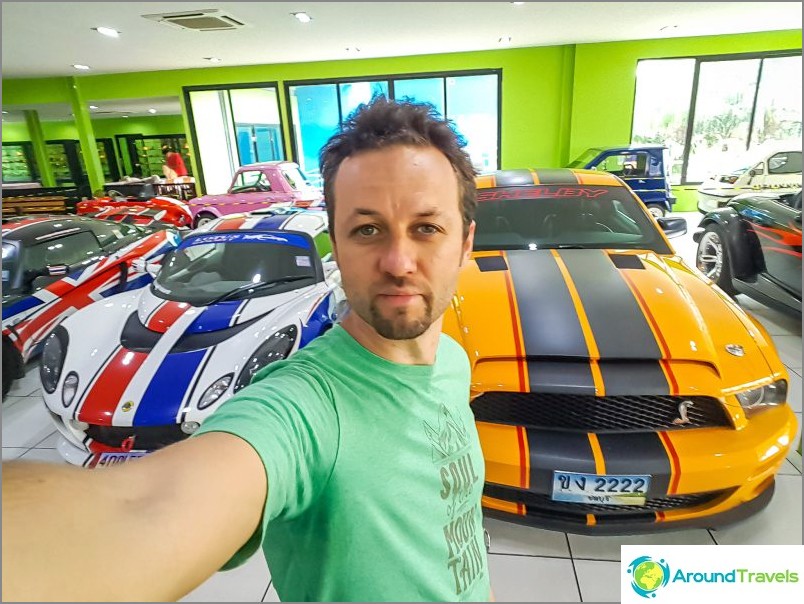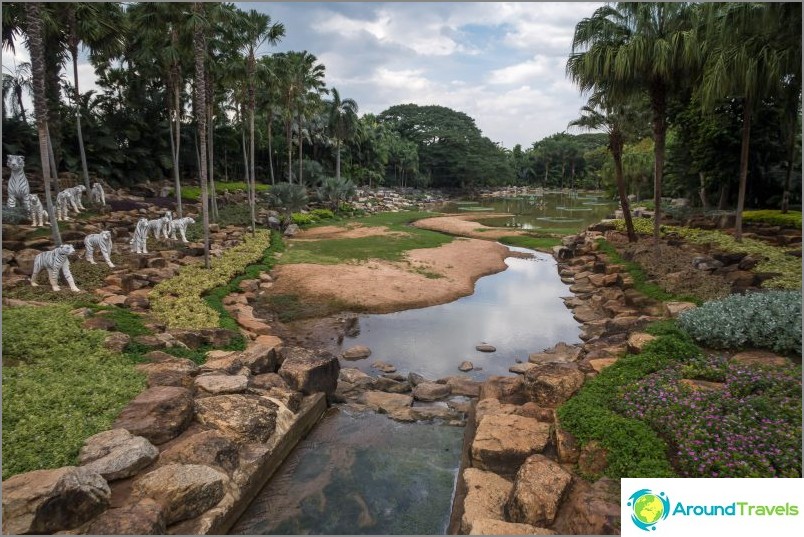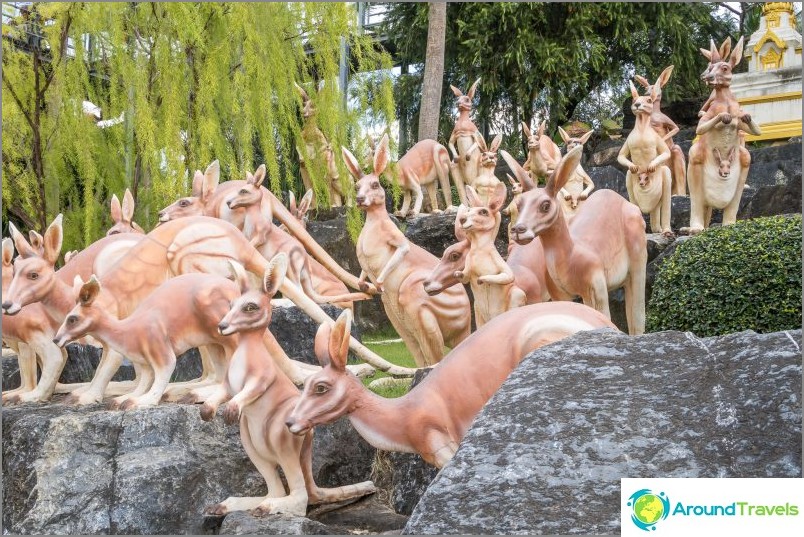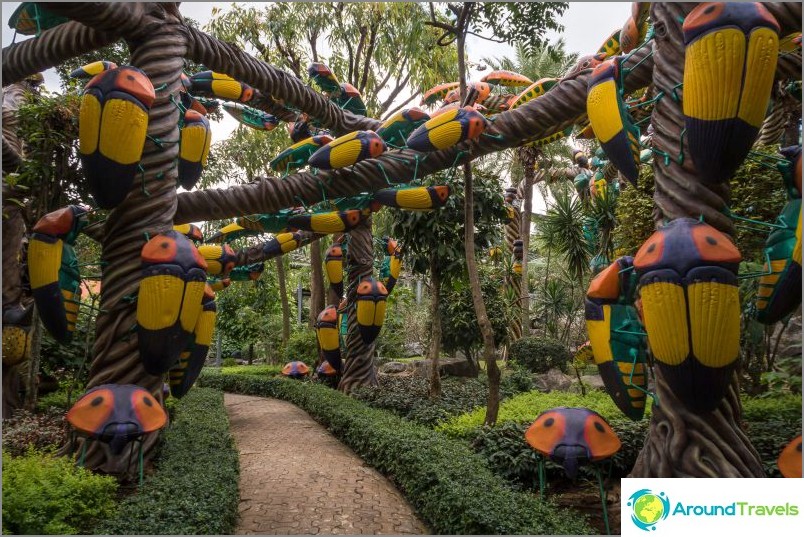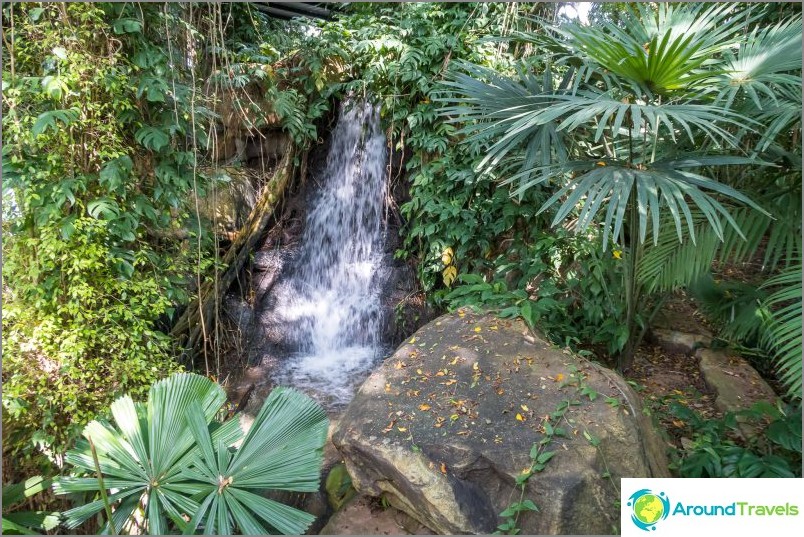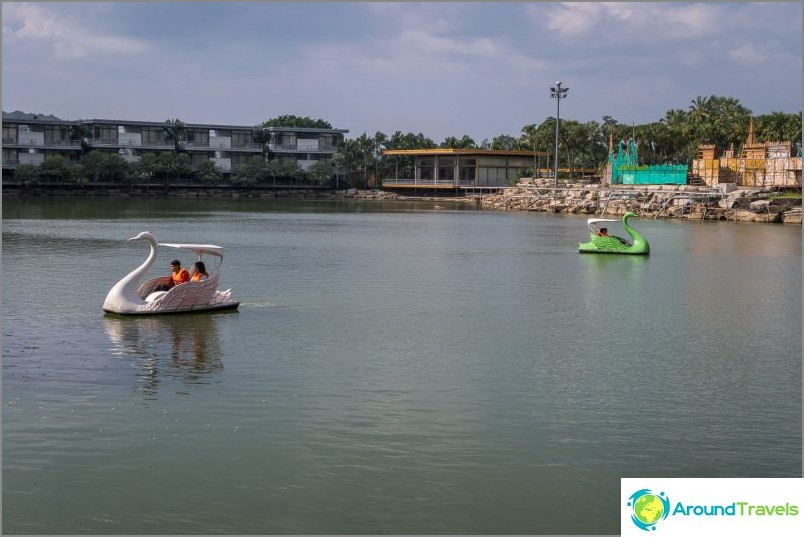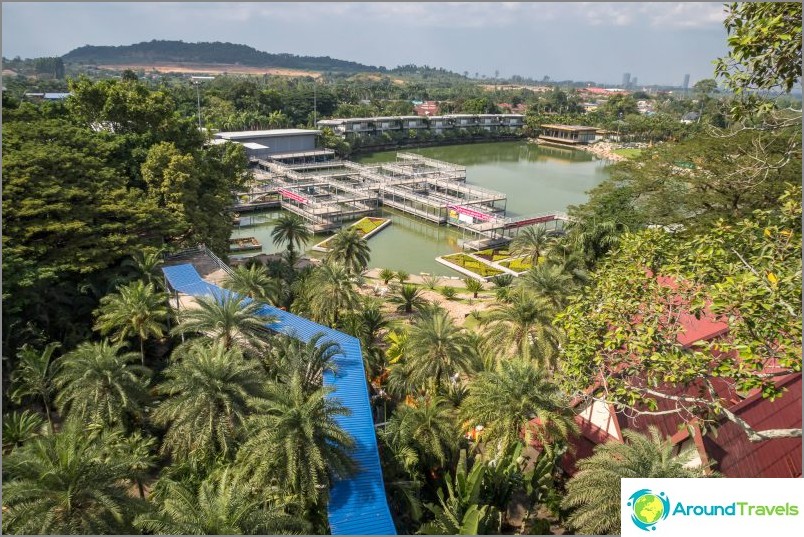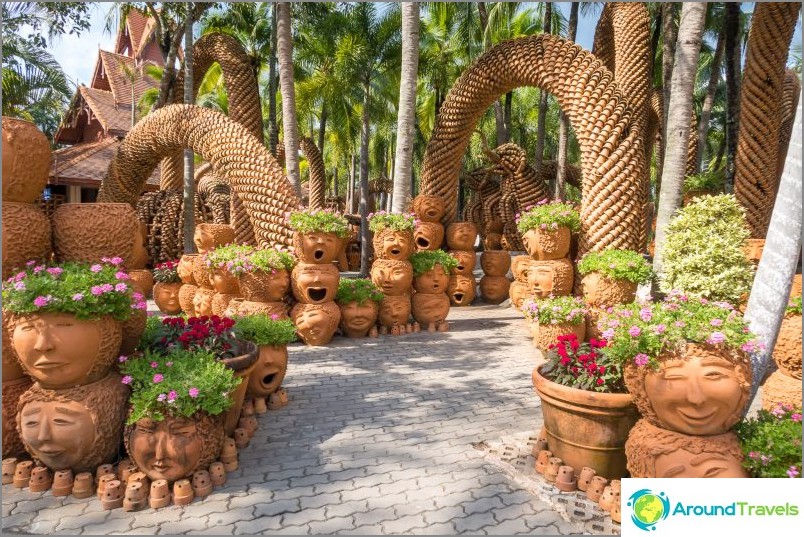 Probably, in order to fully appreciate the variety of palm trees, you need to walk through the park with a guide who can tell you about them in detail. But even without a guide, you can just read the signs under the trees, the names are written there and there is a description. True, in English. Also worth seeing is the cactus and succulent garden, as well as the bonsai garden..
Bromeliads also grow in the orchid garden. Moreover, there seems to be even more of the latter. With orchids, everything is not so simple: they are hung in pots around the garden and, apparently, at different times there are different numbers of them. But as a bonus to orchids and bromeliads, there is a whimsical Thai design with figurines of birds, installations from clay flower pots and ponds. In addition, if you wish, you can buy yourself an orchid seedling. They are sold in special bottles for easy transportation..
There are usually a lot of people in the park, but only in the center, where there are parking lots, shows and main cafes. It's already quiet in the far corners. You can come to Nong Nooch not once, but at least every year. And find all the new angles and nice places. In addition, the type of park depends on the weather and time of day..
Ticket price and life hack
Ticket price: 500 baht per adult, 300 baht per child (90-120 cm tall). Children under 90 cm free. But this is only to the territory, the ticket with the show / food is more expensive.
Garden ticket + cultural show + elephant show: 800 baht adult / 600 baht children.
Garden ticket + buffet: 800 baht adult / 600 baht child.
Garden ticket + 2 shows + buffet: 1200 baht for adults / 800 baht for children.
LIFE HACK HOW TO BUY CHEAPER TICKETS!
350 baht per adult and 250 baht per child. For a family of 3 people, it will save about 700 rubles, it's nice! And everything is done in 2 clicks. We go to the Klook service, register, pay by card and a voucher is sent to the email, which must then be shown from the phone screen at the entrance to the park. The service is very cool, I recommend it, I myself always take discounted tickets there. There are ticket options with the show, and also cheaper, choose yourself.
Discount Tickets to Nong Nooch>
An organized excursion to Nong Nooch will cost about 800-900 baht in travel agencies. Includes tickets to the park, transfers and shows. That is, if you do not have a rented bike or car, then the excursion can be cheaper than an independent visit (entrance fee + taxi).
Nong Nooch with guided tour>
Information to visit
It will take a whole day to slowly walk around the entire park and look at all its zones. But you can quickly run around everything in 2-3 hours, depending on your speed and desire to watch everything or just the very thing. There are so many entertainments on the territory that it will be difficult to see everything at once. I walked around the entire territory without a show and at a brisk pace in about 3 hours. But with children, for example, it will take longer..
Nong Nooch hosts 2 large-scale shows: elephants and the so-called folk show. The elephant show at Nong Nooch is the most spectacular in Pattaya. Elephants play football, massage volunteers with their feet and entertain them with various tricks for an hour. The cultural show is a dynamic spectacle with costumes and interesting performances. It also lasts about an hour. Showrooms at Nong Nooch can accommodate 2,000 people. Several sessions of each show are held every day. Start time: 10.30, 11.30, 13.30, 15.30, 16.30, 17.30
Opening hours: from 8:00 to 18:00, but in the evenings there is a special program, with dinner in a restaurant, a transvestite show and the launch of sky lanterns.
In Nong Nooch there is an international buffet for 550 baht, located near the observation deck (it was also offered at the entrance to the ticket). There is also a 300 baht buffet with Thai food and an Indian buffet for the same price, they are in the heart of the park. There is also a regular Thai food court where you can buy simple Thai food typical of street cafes. For example, fried rice for 50 baht (the payment system is similar to food courts in hypermarkets - with a card, which you put money on at the checkout of the food court).
And on the territory of Nong Nooch there is Nong Nooch Garden & Resort with accommodation in pretty villas surrounded by greenery. The villas also have a communal pool, spa, fitness room, coffee shops and restaurants. Living in a villa gives you the opportunity to walk around the territory at a time when the park is closed for tourists.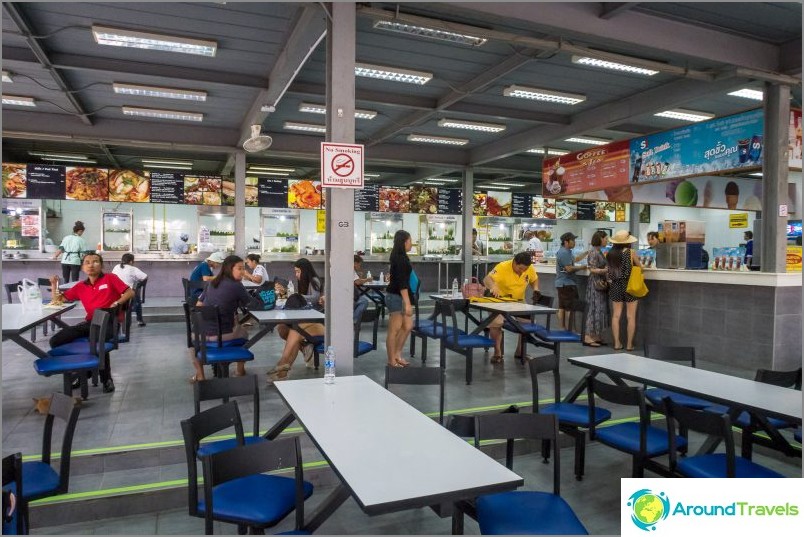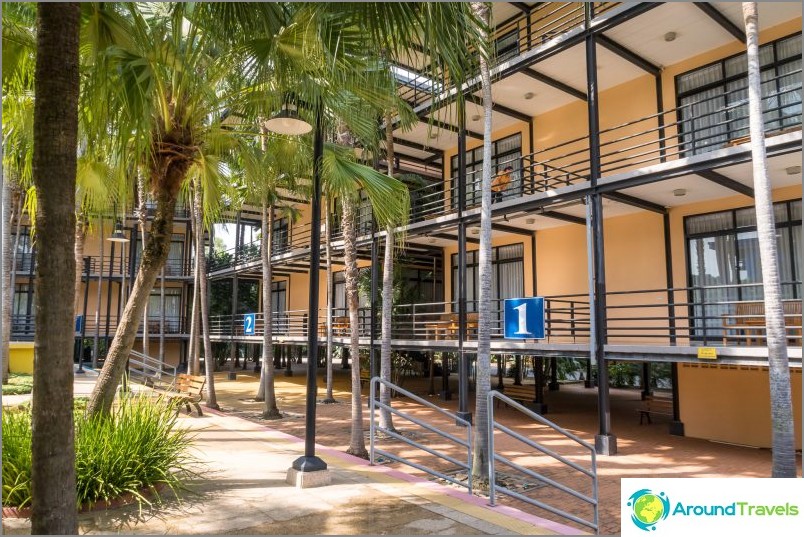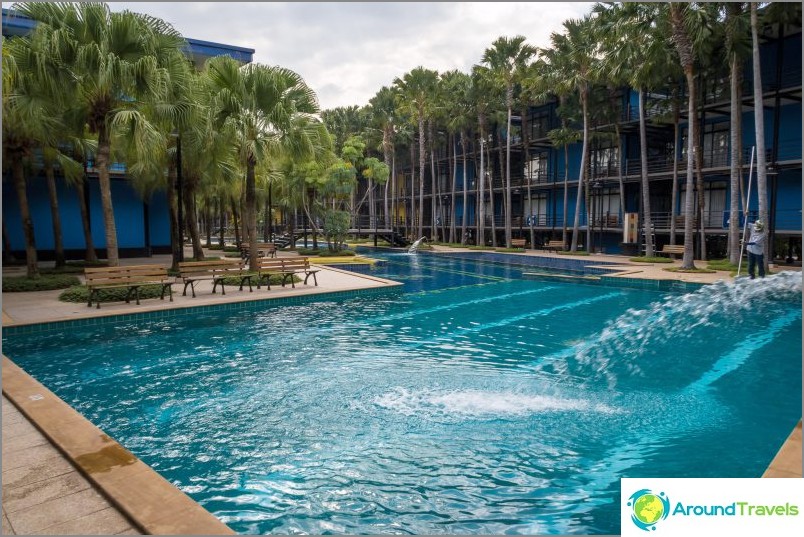 How to get there
You can get to Nong Nooch with your own transport or taxi from Pattaya. It is located on the 163rd kilometer of the Sukhumvit highway, south of Pattaya, about 17-20 kilometers from the city center. A taxi to Nong Nooch can be reached for 250-300 baht one way. There is also a more budgetary option: on a white tuk-tuk that go around Sukhumvit.
Drive in the direction of Sattahiba and get off at the huge signboard Nong Nooch to the left of the highway. There is a road from this place to Nong Nooch, about 3 km. With a strong desire, you can walk on foot. Or drive directly to the park on a motorcycle in a cart for 40 baht. In the morning and in the afternoon they are on duty at the turn from Sukhumvit.
Since the territory of the park is very impressive, you can move around it not only on foot, but also by long golf carts with a free sightseeing tour. Cars leave from the parking lot opposite the Coffee Corner Cafe every 30 minutes. It costs 100 baht per person, the tour lasts 35 minutes. Alternatively, you can ride on the back of an elephant. For an additional fee, of course. You can also rent a bike or a small open car.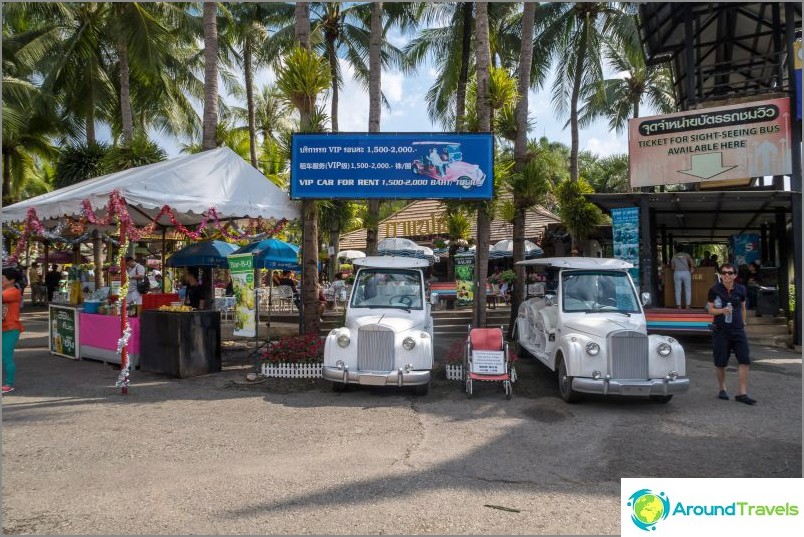 On the map
Nong Nooch Garden
Nong Nooch Garden
One of the most popular places around Pattaya. The point is at the point of entry into the territory and purchase of tickets.
One of the most popular places around Pattaya. The point is at the point of entry into the territory and purchase of tickets.