What is a VIP vacation in Sochi is known to everyone who has visited this magnificent resort. First of all, it is the magnificent, unique natural conditions of the resort city. The majestic beauty of the Caucasian mountains, the warm and gentle Black Sea, the vibrant vegetation of the subtropics and the fertile climate. The weather in Sochi is warm throughout the holiday season; numerous resorts, health resorts and hotels in Sochi offer their guests luxurious, comfortable rooms and polished modern service. In the sanatoriums of Sochi, you can not only have a great rest, but also get medical treatment, improve your health that has faltered over the winter..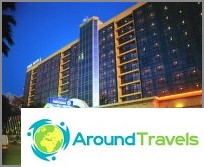 The vip town of the Arctic Circle of Sochi is very popular among vacationers, where, in addition to great outdoor activities and exercise in the fitness center, swimming in the sea and in the pools, you can heal the musculoskeletal system and the nervous system, cardiovascular diseases and gynecological and urological diseases. The town has a modern infrastructure, on the sanatorium beach there are sun loungers and sun loungers, umbrellas and awnings to protect from the sun. In addition to the beach, vacationers have excellent pools with water slides and heated water..
There is a cinema room and an aqua bar, entertainment programs and discos, you can rent a car for a sightseeing tour or order a transfer for delivery to the airport or train station. Radisson Lazurnaya Hotel, located on the Black Sea coast, offers excellent conditions for a seaside holiday. The hotel has more than two hundred cozy rooms, six two-storey villas, restaurants and cafes, a nightclub and a fitness center, bars and a private beach, excellent swimming pools and tennis courts, as well as sports grounds.
Various entertainment programs are organized for the guests of the hotel, all aimed at a full and varied, elite rest in a hotel. For business people, the Marins Park Hotel offers excellent conditions for holding business events. Modern conference rooms and a congress hall, equipped with all the necessary offices, all conditions for business negotiations and workshops of the highest class.