Suburbs of Pitsunda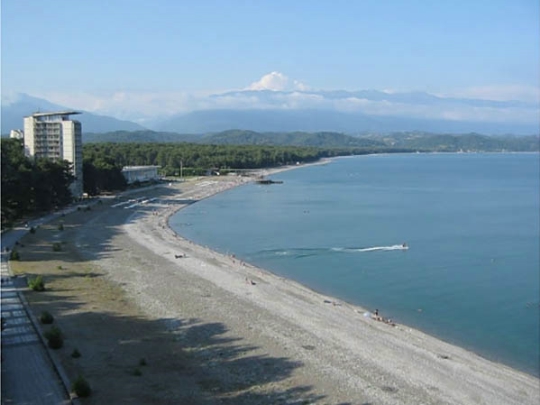 The climatic beach resort Pitsunda is a suburb of the city of Gagra and a favorite vacation spot for Russian tourists since Soviet times. Getting a ticket to Abkhazia has always been considered a great success, and today, thanks to the opened opportunities to travel on your own, you can rent private accommodation here and enjoy the sea and the sun, regardless of the mode and schedule of sanatoriums and boarding houses.
The multicolored waters of Ritsa
The most popular excursion from Pitsunda is a trip to the mountain lake Ritsa, located in the wooded gorge of the Yupshara and Lashipsa rivers at an altitude of 950 meters above sea level. The surrounding ridges form a picturesque landscape. The height of the mountains is more than three kilometers and they seem to be the walls of a giant bowl. Ritsa stretches for two and a half kilometers in length, and its width reaches almost 900 meters. The depth of the reservoir is quite impressive - from 60 meters on average to 131 at its lowest point.
The lake is fed by mountain rivers and melting snows in spring, and therefore the temperature of its water does not exceed +17 degrees, even at the height of the swimming season. The color of the Ritsa water surface changes with the seasons. In summer, special algae develop in it, giving a yellow-green color to the lake bowl, but in winter the water becomes bright blue and especially beautiful.
Fans of recent history can take an excursion to the dachas of Stalin and Brezhnev on the shore of the lake, where the original interior of those years has been preserved.
In the footsteps of Sherlock
Another unique attraction in the vicinity of Pitsunda, a suburb of Gagra, is the Gega waterfall, also called the Circassian waterfall. It is formed by the waters of the river falling from a height of almost 70 meters in the northern spurs of the Gagra ridge.
Gega is a typical mountain river, which has a length of only 25 km, but delights tourists with its picturesque banks throughout the entire course. In one of the sections, passing through a karst cleft, Gega turns into a beautiful waterfall. The icy and crystal clear stream served as the filming location for the famous Soviet television series about Sherlock Holmes. The scene of the fight between the hero Vasily Livanov and Professor Moriarty at the Reichenbach Falls was actually filmed in Abkhazia.
Abode of New Athos
The city of New Athos can also act as a suburb of Pitsunda, the main attraction of which is the New Athos Monastery, founded by monks who came from Old Athos in Greece in 1875. Among the priceless relics of the monastery are the relics of the Apostle Simon the Canaanite, who retired and prayed in a cave not far from the monastery. In the 1st century he preached Christianity in Abkhazia, Libya and Judea.
Photos