Water parks in Pitsunda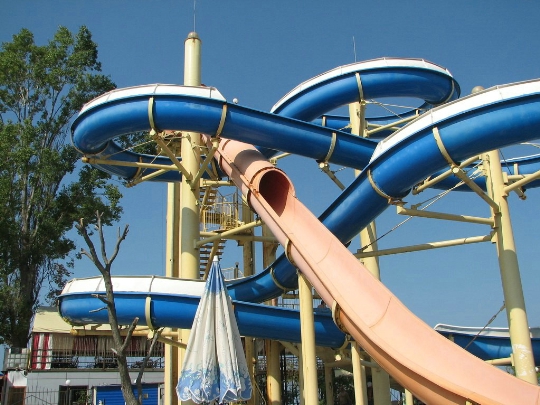 Having gone to Pitsunda, vacationers will be able to give themselves and the young travelers with whom they will go on vacation, a lot of unforgettable impressions!
Despite the fact that Pitsunda does not have its own water park, guests of the resort can go to the Gagra water park, which is equipped with:
7 pools with fresh and sea water, dolphin fountains;
6 slides in particular,"Multislide", "Trumpet", "Bend", "Wave";
children's area with a swimming pool (depth - no more than 50 cm), water attractions and a pirate ship.
In the water park for hungry visitors, they organize lunch, offer to cool down with drinks and ice cream (there is a cafe-bar with a wide range of dishes and drinks at guests' service). In addition, discos are often held here (beginning after 20:00), lasting until the morning, and musicians perform.
Adult guests will be asked to pay 800-900 rubles for entrance, and children (4-10 years old) - 500-600 rubles.
Water activities in Pitsunda
If you decide to stay in a hotel with a pool, take a closer look at the club hotel "Dolphin" (he will also delight you with a Russian bath, a Finnish sauna, a playground with slides and a sandbox), boarding houses "Musser" and "Boxwood grove".
Fans of active pastime can be offered to go rafting on the Bzyb River (one of the travel companies can take over the organization of such leisure - it will also provide an instructor and inflatable boats). Important: you should absolutely not do rafting on your own, since the river is divided into several sections, including very dangerous ones..
Beach lovers should pay attention to the Central Beach (available entertainment - paragliding, riding a rented jet ski, boat trips; entrance to the beach is free only for guests of the complex's boarding houses "Pitsunda resort"). If you are interested in a secluded vacation, head to the beaches located on the east and west of the coastline - they are almost deserted, and some of them are surrounded by a coniferous forest (their shade will protect vacationers from the hot sun rays).
As for scuba diving enthusiasts, they, turning to the services of diving centers located on the coast, will be able to explore the ruins of the city of Pitius (in ancient times it was located on the territory of modern Pitsunda, and now it rests on the seabed) and choose the underwater rocks in the suburbs Pitsunda - the village of Ldzaa (it is also famous for its sandy beaches).
Vacationers may also be interested in boat trips (day and evening) - they will have a chance to admire the pine grove and Cape Pitsunda, sailing along the coast of the Pitsunda Bay on a motor ship with a bar with soft drinks.
Photos