Ski resorts in Armenia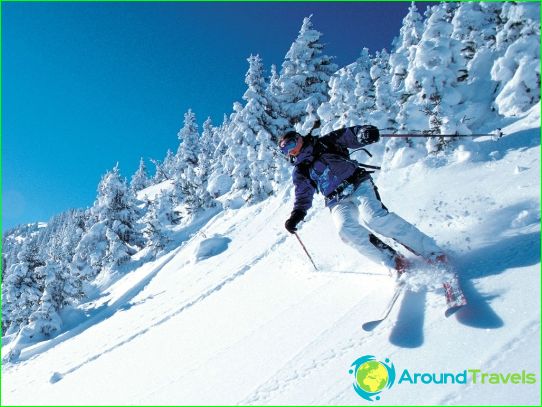 Armenia is a mountainous country, and therefore the resort of Tsaghkadzor for practicing winter sports is the subject of a real tourist pilgrimage. The season at the resort begins in December and lasts until the end of March. The weather favors comfortable skiing: a lot of sun and a pleasant light frost make the slopes of Armenia ideal for practicing your favorite sports.
Equipment and tracks
The ski areas in the Tsaghkadzor resort are located quite high. The initial mark of the tracks is at the level of almost 2000 meters, and their total length is more than 30 kilometers. The longest slope is 8 kilometers long. On the upper sections, located at an altitude of 2800 meters, there are "black" slopes for the most experienced skiers. They are transported to the starting point by a chairlift. The main feature of these tracks is steep turns and descents, and therefore they are recommended only for real professionals. On the slopes marked "black", gurus can test their strength on a ten-meter cornice and a gutter left over from a former bobsleigh track. Athletes who have only recently started skiing will try their hand at medium altitudes. They are helped by an excellent ski school, whose instructors conduct technical classes and teach how to overcome obstacles encountered on the track. The middle slopes of Tsakkhadzor offer calm skiing on a three-kilometer descent, the characteristic difference of which is that the snow remains soft in any weather. But you shouldn't relax here either - a three-meter cornice allows you to test yourself for stamina and professionalism! Hotels in the resort offer free shuttle buses to the ski lifts. However, a taxi in Tsakkhadzor is quite affordable if there is a need for individual transport. The price of a ski pass also compares favorably with European or Canadian resorts.
Entertainment and excursions
Armenia is a country with unique cultural traditions and rich nature. Visitors to Tsakkhadzor resort have the opportunity to get acquainted with the sights of Armenia and go on interesting excursions. Trips to the Kecharis monastery complex are especially popular. The monument of Armenian architecture was erected in the XII century and serves as a visiting card of these places..
In the vicinity of the resort there is a riding school, several swimming pools and an athletics stadium. Fans of Armenian cuisine will find restaurants with a traditionally high level of service, while tasting lovers will find the best cognac for which Armenia is famous..
Photos of ski resorts in Armenia