Christmas in Australia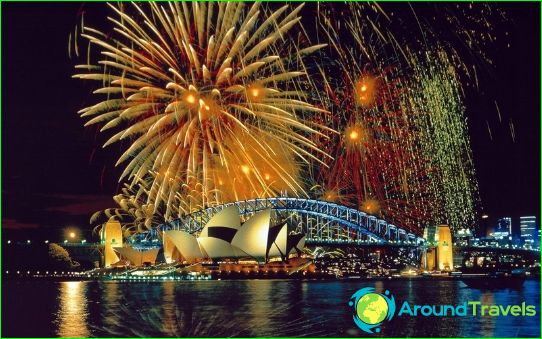 «Who's upside down above us?» Remember this childish riddle? The Australians may well be considered this people, and celebrating Christmas in Australia means turning over all the foundations and coming up with completely new traditions..
Southern Hemisphere and Santa's Bag
Australians largely adhere to the European canons of preparing and conducting the holiday, because most of them are descendants of the first emigrants from the Old World. So the main difference here is only in the weather. In December, the calendar summer is raging on the Green Continent, and therefore it is hot.
And yet Santa comes to children and adults, despite the weather. He brings gifts, which he carefully arranges in smart socks hung by the fireplaces, and places festively wrapped parcels under the Christmas trees..
Roasted turkey or chicken, fresh vegetables and fruits, pies and puddings and, of course, local wines predominate on the tables at Christmas in Australia, the fame of which has reached even distant European shores..
Parades and fairs
The tradition of opening Christmas events has evolved over the years. Today it is Christmas parades in the cities of the country, carol songs and family picnics on the green lawns of parks and gardens. Christmas trade does not lag behind American or European, and at Christmas in Australia all sales and purchase records are broken. Everyone strives to find the best gifts for family and friends, stock up on delicacies and delicious drinks at reasonable prices.
Evenings before the holiday start, Australians spend in gardens and parks, where impromptu concerts are held. They are a spectacular show that anyone can participate in. The culmination is a sea of ​​lighted candles after sunset, when the concert stage looks like a large but peaceful bonfire..
Swag Men from Uluru Cliff
In addition to Santa, Australia is ruled by the character Swag Man, who, according to legend, lives on the famous red rock Uluru, located in the middle of the Australian desert. On holiday, he comes to cities and distributes gifts. And the Uluru Rock is one of the most visited natural attractions of the Green Continent. It is unique and amazing, and similar stone formations on the planet no longer exist..
A distant but amazing Christmas in Australia will be remembered for the warmth of its people - hospitable, friendly and very hardworking people. A holiday in such a company will be an excellent option to shake things up and paint gray everyday life with bright colors..
Pictures of Christmas in Australia