Vienna observation decks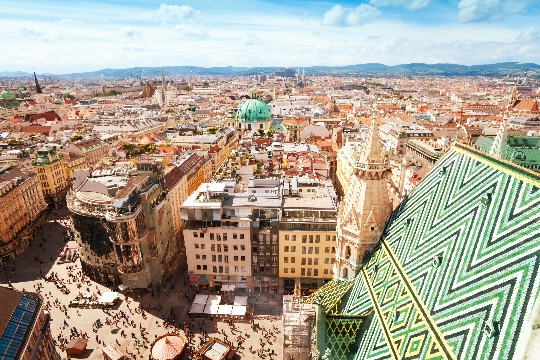 Planning to climb Vienna's observation decks? You will have a chance to admire from a height the wide squares and avenues, luxurious residences, park ensembles, majestic temples, the Hundertwasser House (land has been brought to the roof, grass grows there), picturesque outskirts.
St. Stephen's Cathedral
Here tourists will be able to admire works of art of world importance, see church utensils and crucifixes (entrance to the cathedral will cost 4 euros for adults, and 2.5 euros for children), descend into the catacombs (the remains of Austrian emperors are kept; only excursion groups are allowed to visit ; ticket price - 3.3 euros), as well as inspect the two towers of the cathedral:
South Tower (height - more than 130 m; adult ticket - 3 euros, children - 1-2 euros): after overcoming more than 340 steps, you will find yourself on one of the best observation platforms, offering views of the Kahlenberg, Pannonian Valley, Danube.
North Tower (entrance - 4 euros / adults; 0.5-1.5 euros / children): deciding to admire the panorama of Vienna from this tower, you will take an elevator to a height of 68 meters.
Address: Stephansplatz 3.
Danube Tower (Donauturm)
For the lift to the site at a 150-meter height (the journey will take 35 seconds; visibility range - 80 km), adults will pay 7.4 euros, pensioners - 5.9 euros, 6-14 year olds - 5.2 euros. It is worth noting that if you wish, you can visit a restaurant located at a 170-meter height or a coffee shop at an altitude of 160 m, as well as jump (bungee jumping) from a 150-meter height in the summer months!
Address: Donauturmstraße 4; website: www.donauturm.at
Mount Leopoldsberg
Climbing the mountain (its height is more than 400 m) on foot (the path will lie along the southern slope of the mountain through the vineyards) or by city bus number 38A, travelers will be able to admire the Danube, Vienna and the town of Klosterneuburg.
Mount Kahlenberg
Climbing to the top of the mountain (484 m above sea level), you will be able to see the Church of St. Joseph, visit a restaurant (on the menu, dishes of Austrian and international cuisine), inviting guests to admire Vienna and the Danube River, as well as spend time in a rope park (exploration of the trails is limited by height - not less than 1.1 m).
How to get there? You can take bus no. 38A (address: Dobling, 19th district of Vienna).
Gloriette Pavilion in Schönbrunn Park
From the Gloriette Terrace, 20 m high, you can admire the park and palace, the rooftops of the buildings against the background of the hills. Tip: be sure to visit the strudel show at a local cafe - there you will learn the secret of cooking and taste this delicious dessert.
How to get there? By bus no. 10A or tram no. 58 or 10 (address: Schoenbrunner Schlostraße 47-49).
Riesenrad Ferris Wheel in Prater Park
Closed carriages are delivered to the 65-meter height - to take pictures of the Old Town against the backdrop of the Vienna Woods hills, you can open a window. Ticket price - 9 euros / adults, 4 euros / children.
Address: Prater, 1020 Vienna.
Photos