Travel to Austria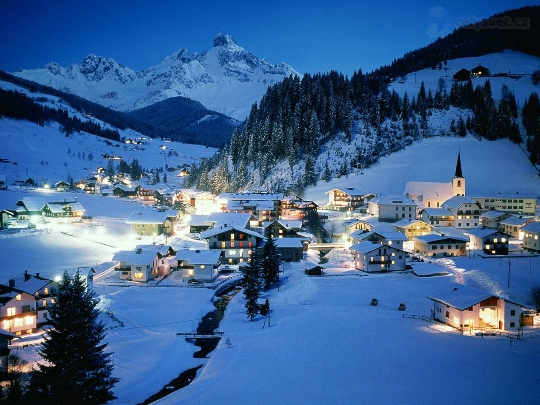 Imagine a place where fat cows graze on flooded meadows, and roadside taverns serve you a thick, herb-scented village soup, where winter is all about downhill slopes and bright Christmas markets. Want to? Then a trip to Austria is exactly what you need..
Public transport
The main means of transportation in Austrian cities are buses and trams, very rarely trolleybuses.
Vienna's public transport includes buses, trams, metro and commuter trains. The most convenient way to travel is, of course, the subway. Almost all stops are oriented so that tourists can get to the sights of interest..
Trams are in the second place for travel convenience. Both modern models and old ones, which are very similar to our Russian trams, enter the route here. The ticket can be bought at an automated ticket office or from the driver. Remember to validate your ticket upon boarding.
Intercity communication
There are no long distance flights in Austria. The country is practicing exclusively suburban communication. The main purpose of buses is to deliver passengers to railway stations. Average price of a trip is a few euros.
Please be aware that there may be no bus service after 6pm.
Taxi
Taxis in the country can be ordered by phone or taken at a specialized parking lot. Catching a taxi on the street is simply not realistic, stop around «voting» it is not accepted here.
The cost of the trip is paid by the counter. There is a separate boarding fee, approximately 2.5 EUR. If you wish, you can tip the driver, but this is not necessary. If you are planning a long trip, then the final cost must be agreed in advance.
Air transport
The main task of domestic flights is the delivery of passengers to large airport complexes, from where they already make international flights. In general, the volume of domestic traffic is very small. International flights are accepted: Vienna; Innsbruck; Salzburg; Linz; Klagenfurt; Graz.
Domestic flights are operated by Tyrolean Airways, a subsidiary of the country's national carrier Austrian Airlines.
Railway transport
The railway is the main way to travel around the country. The total length of the tracks is more than 6000 km. The timetable is followed with particular meticulousness. The main carrier of the country is the national company oBB.
You can travel on one of three types of trains:
long-distance investigation;
regional train;
commuter train.
The ticket price will depend on the distance of the end point of the route, the number of people traveling. It also plays a role if you took a one-way ticket, or both at once and back and forth..
The cheapest way is to travel in a group (no more than 5 people). In this case, you can use the special 1PLUS Freizeit ticket, when each next ticket costs half the previous one. Discount is provided automatically.
Photos