Azerbaijan cuisine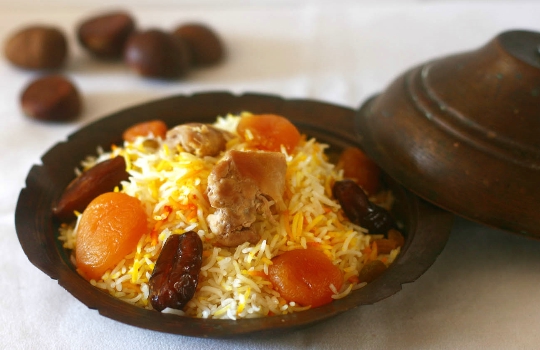 The cuisine of Azerbaijan is original and based both on the traditions of its people and on culinary borrowings from the Arab, Persian and Georgian people..
National cuisine of Azerbaijan
The Azerbaijani cuisine is characterized by the use of meat (lamb, poultry, game), vegetables, fish, which are complemented by many spices and herbs. Vegetables are especially held in high esteem - here they are finely chopped, dairy products, various sauces, vegetable oil, herbs are added to them. If we talk about some dishes, then sometimes they are supplemented with additives in the form of pomegranate juice, dried dogwood fruit, juice of unripe grapes. As for liquid dishes, fat tail fat is often added to them (it is finely chopped and put into the food).
The most common dish is pilaf (there are more than 40 recipes for its preparation in the country): for example, they cook here "nardancha pilaf"(prepared using chicken, rice, dried apricots, pomegranate seeds, raisins) or "shah pilaf" (rice, saffron, cherry plum, lamb, chestnut, raisins are used for its preparation). No less widespread in local cuisine are such dishes as potato or eggplant kebabs, pickled and stuffed peppers and tomatoes..
Popular dishes of Azerbaijani cuisine:
"dolma" (a dish, like stuffed cabbage, which is wrapped in grape or fig leaves, and not only minced meat, but also fish and vegetables acts as a filling);
"kelle pacha" (soup, for the preparation of which lamb legs and head are used);
"hamrashi" (soup with noodles and beans);
"azmya" (a dish of fried minced liver with spices);
salad "khazar" (vegetables, sturgeon, salmon, caviar and various greens are added to it).
Where to taste the national cuisine?
It is difficult to stay hungry in Azerbaijan: even in the menu of a roadside cafe, travelers can always find several types of meat prepared in different ways..
If you are resting in Baku, you can visit "Sultan" (in this restaurant, guests are treated to Azerbaijani cuisine, where you can watch the cooking process from behind a special counter), "Plov house" (pilaf fans drop in here, because here you can find its various variations; in addition, the institution offers to try shish kebabs, saj, meat and vegetable salads) or "Pahlava" (in this teahouse you can order any of 30 varieties of tea, as well as enjoy baklava, nuts, jam, dried fruits; in addition, those who wish to refresh themselves will be offered to taste dushbar soup and Azerbaijani pasties).
Cooking courses in Azerbaijan
If you come to Baku, there will be a visit to the market with a master class on spices; a master class and hand-written participation in the preparation of dishes such as "saj", "dovga", "baklava" and others; attending a tea ceremony in a teahouse + tasting sweets.
The very arrival in Azerbaijan will not be superfluous to coincide with the Gastronomic Festival in Baku (May) or the Pomegranate Festival in Goychay (October-November).
Photos