Prices in Grodno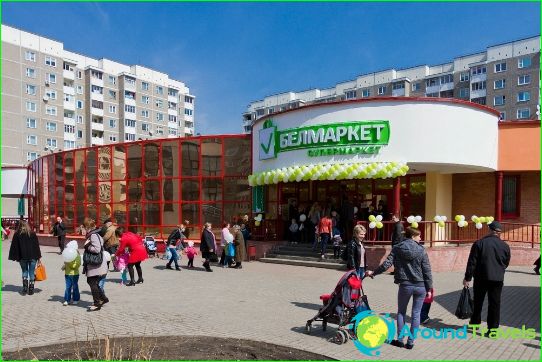 Grodno is a large city, which is the administrative center of the Grodno region. It is located next to the Neman River, in the west of the region, on the border with Lithuania and Poland. Prices in Grodno are the same as in other cities of Belarus. If you want to please yourself with interesting walks through the beautiful city, go to Grodno. Its streets are full of original architectural objects. The city has historical buildings that are well preserved. In addition, Grodno is the most important junction of the country's railways and motorways.
What to visit in 1 day
If you are passing through Grodno, then in one day you will be able to inspect only its central part. Walk along the streets of Ozheshko and Krasnoarmeyskaya, which will lead you from the bus station to the railway station. Relax in Jelibert Park while enjoying the beautiful nature. Popular places for tourists are cafeterias located on Ozheshko and Sovetskaya streets. The tavern next to the New Castle, on the banks of the Neman River, is perfect for lunches and dinners..
Where to stay for a tourist
There are many middle class hotels in Grodno. The price for a regular room with amenities is 80-500 thousand Belarusian rubles. There is only one hotel in the city offering luxury services. The cost of a room per day varies from 1 to 3 million Belarusian rubles. rubles.
What tourists buy
A trip to Grodno is a great opportunity to buy Belarusian souvenirs for loved ones. In this regard, city markets are a real boon for visitors. Craftsmen and craftsmen display their wares every day. They offer original products made of clay, wood, straw, canvas. A festival of folk crafts is held in Grodno every year. At this time, the central part of the city and the Zhilibert park turned into a town of artisans. You can buy any souvenirs there. Tourists are attracted by objects with the symbols of the city, as well as souvenirs depicting the most famous places of Grodno. At the fair there are souvenir dolls, plates, magnets, ceramics, clay bells and pots, embroidery, etc. Low prices in Grodno delight buyers. Authorship works made of genuine leather, exclusive gift sets and paintings are much more expensive..
Tourists visiting the New Castle most often buy the city's coats of arms, books, and magnets depicting monuments. There is a tent in the Old Castle offering souvenirs from the art salon «Hata mastaka». All products are made by hand. Painted plates, whistles and figurines in national clothes are in great demand..
Photos