Streets of Grodno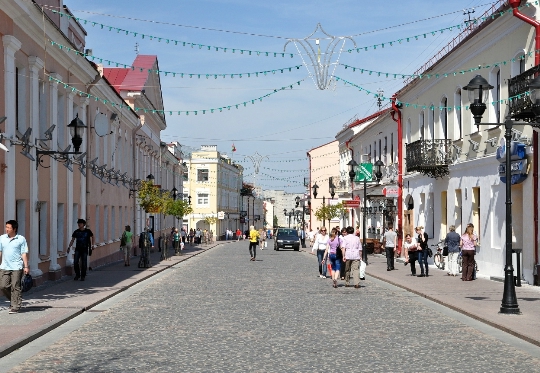 Grodno is the regional center and the most Europeanized city in Belarus. It is filled with historical monuments and beautiful sights. Many streets of Grodno have a medieval atmosphere. The city was founded in 1128, so there are buildings there that were built a long time ago. There are unusual modern buildings in Grodno.
The most interesting places
It is convenient to explore the city from the railway station. Streets with the usual buildings leave from it, but there are also original houses. In the central part of Grodno, each street keeps a history. There is a cobblestone pavement, ancient temples and houses. Among other places, Eliza Ozheshko Street stands out. It is decorated with the most beautiful Orthodox object - the Holy Protection Cathedral. There are a lot of Catholic churches in Grodno, there is also a Lutheran church. On Ozheshko Street there is a library named after the writer Eliza Ozheshko.
Walking along the street, you can reach the relief park named after the biologist Zelibert. This place is notable for its picturesque landscapes. To the left of the park are attractive streets, and to the right is a square with a monument to Lenin. Then there is Sovetskaya Street, along which only pedestrians move. It turns into Sovetskaya Square, where there is a remarkable object - the Church of St. Francis, erected in the 17th century. It is considered one of the most interesting architectural sites in the city..
Popular Grodno street - Sovetskaya
There are many drinking establishments in the style of the Middle Ages, shops, as well as a registry office. Sovetskaya Street is notable for its bright buildings - each house is painted in its own color. There are orange, lilac, blue, light green and other buildings here. The oldest Belarusian pharmacy operates on this street. It was opened in 1709. Today, a museum has been created in one of its parts, and the second functions as an ordinary pharmacy..
Sovetskaya pedestrian street is the pride of Grodno. It starts from Sovetskaya Square and gradually turns into Lenin Square. Paved pavement, European style of architecture, two-story houses, small cafes, forged lanterns, signs in Belarusian - such details create an indescribable atmosphere. On Sovetskaya there are buildings built in the 15th century. It forms a medieval quarter where unique architectural structures are located.
What sights are recommended to see in Grodno:
Soviet street;
the Church of St. Francis, the Church of the Exaltation of the Holy Cross, the Church of Boris and Gleb;
an old pharmacy with a museum;
Zeliber's park;
ancient castles;
Fire Tower.
Photos of Grodno streets