The most beautiful cities in Belarus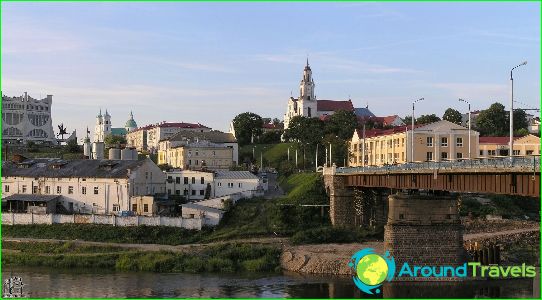 Belarus is one of the friendliest countries, which is always open to Russians. Disputes about the correctness of the name of the country, Belarus or Belarus, are as active as the enumeration of its merits and attractions. Low prices, many cathedrals, beautiful nature, friendly people - all this and much more fills Belarus.
Grodno
The city of Grodno is located on the banks of the Neman River and is the undisputed leader in the list of the most beautiful cities in Belarus. A large number of architectural monuments, ancient castles, many historical sites - the fire tower, the house of the Kasovsky merchants, monasteries, churches and much more. Today the city of Grodno is not only the administrative center of the Grodno region, which is an important crossing point of transport routes, but also an important tourist site..
Vitebsk
Vitebsk is known to many as a city of festivals, one of the most beautiful cities of the 20th century. Today it is gradually regaining its status. A cozy and peaceful city that delights everyone at first sight. Parks, clean houses and streets, theaters, festivals and much more await tourists here. Local residents are very proud of their city, they are confident that everyone who even drives past Vitebsk will certainly stay here to at least partially get to know the city.
Minsk
An overview of the most beautiful cities of any country, including Belarus, must necessarily include the capital, because this is a kind of heart of the country. Minsk is the largest city in Belarus, so it is here that most of the sights and entertainment in the country are collected. It is best to start your acquaintance with Minsk from the Upper Town, which is located on the top of a hill. Since the 16th century, this part of the city has attracted merchants and nobility..
Nesvizh
Whatever economic difficulties Belarus experiences, it always remains a friendly and hospitable country. Many tourists, in addition to visiting the capital, tend to get to Nesvizh. It was this city that was able to preserve the best of the country's history in various sights - the Corpus Christi Church, the City Hall, the Triumphal Arch, Nesvizh Castle, etc..
The four cities listed above are only a small part of the beautiful cities of Belarus. This list is undoubtedly worth continuing and highlighting such cities as Gomel, Brest, Pinsk, Mogilev, Polotsk, Novogrudok, etc..
Official travel video of Belarus

Photos