Brussels metro: map, description, photo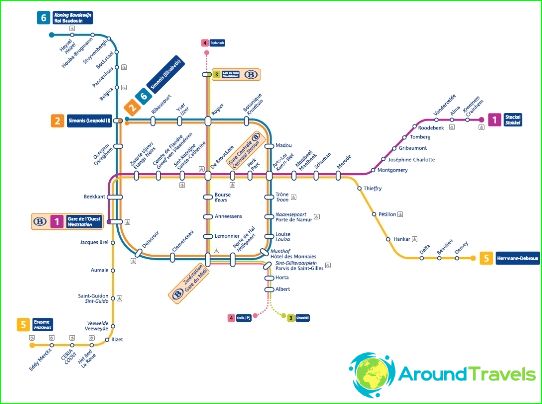 Brussels metro map
Brussels Metro consists of four regular metro lines and three light metro lines (premetro). The main metro lines (M1, M2, M5 and M6) are 39.9 and 59 stations long, the light metro network consists of three tram lines (T3, T4 and T7), which run partly underground, and which are planned to be converted into the main metro network. Light metro stations are no different from main metro stations. The total length of all tracks is 52 kilometers.
The first sections of the Brussels metro on two metro lines (from the De Brouckère metro station and the Schuman station) were opened on December 17, 1969 as tram routes, but in 1976 they were converted to metro lines, and later as a single line. forking in the sections between de Brooker and Thomberg and de Brooker and Beaulieu. Thus, the date of birth of a full-fledged metro in Brussels is September 20, 1976. In 2011, the Brussels metro had 125.8 million trips, and in 2012 - 132.4 million. The metro is closely connected with public transport, as well as the railway service of the capital of Belgium.
Brussels metro opening hours
The Brussels Metro runs from 05:30 am to midnight. On Saturdays, Sundays and holidays, the metro starts working at 06:00. Lines 3 and 4 start operating daily at 05:00 am. The train runs every 6 to 10 minutes during the day. Before 06:00 in the morning and after 23:00 the interval is increased to 20 minutes.
Brussels metro tickets
All metro tickets are valid for all types of public transport. One way ticket costs 1.80 € (2 € with large baggage). Tickets are valid for an hour and are checked by controllers. Within an hour, you can make an unlimited number of changes to any type of public transport. The cost of a round trip ticket is € 3.50, (the ticket is valid for 24 hours). Ticket for 5 rides: € 7.50. Book of 10 tickets: 13.00 €. Ticket price for 1 day: 6 € (until the end of the metro operation, not a 24-hour period).
Brussels Card is a tourist card that includes free access to over 30 museums and attractions and allows unlimited travel on Brussels public transport during its validity.
Travel for children under 6 years old is free when accompanied by adults. Children aged 6-11 can travel free of charge anytime with a J-ticket. Only a refundable card deposit of € 5 is payable.
Photos of the Brussels metro
Brussels metro map