Traditional Canadian cuisine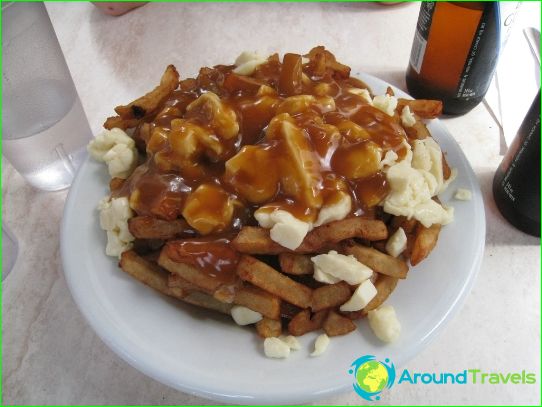 Food in Canada is characterized by the fact that the cost of food in the provinces and cities is different (the most expensive food will cost you in Toronto and Vancouver).
Food in Canada
The diet of Canadians consists of legumes, meat products (roast beef, steaks, steaks), snacks (pork, cheese, seafood, smoked fish), vegetable-based pureed soups (pumpkin, cauliflower).
Canadians are very fond of meat (pork, beef, rabbit, venison) - they fry it, boil it, bake it, make pates from it, and also add it to pies and pies as a filling.
In Canada, try the langet (a slice of beef, lightly beaten and fried); shawarma in the Canadian manner (donair); dumplings stuffed with mushrooms, potatoes, meat or cabbage (pierogi); french fries and cottage cheese (poutine) drizzled with sauce; rabbit stewed with vegetables; "fillet brochette" (kebab of meat fillet, bacon, onion and champignons).
The uniqueness of Canadian cuisine lies in the fact that, depending on the region of visit, you can enjoy various delicacies: in Manitoba - golden-eyed fish, in British Columbia - salmon dishes, in Alberta - beef dishes, in Nova Scotia - lobsters, in Quebec - French pies and other sweets.
Where to eat in Canada? At your service:
cafes and restaurants of local and international cuisine;
bistros and eateries.
Drinks in Canada
Popular Canadians Drinks - Maple Syrup, Beer, Wine, Vodka, Whiskey.
If you are a lover of spirits, then in most Canadian provinces you can only get them in specialty liquor stores. But it is much easier to purchase such drinks in bars, restaurants, hotels (some restaurants allow you to bring alcoholic drinks with you for a nominal fee).
Beer lovers, when visiting various provinces, will be able to taste the varieties of this foamy drink that are popular in each of them: in Quebec - "Saint Ambroise", in British Columbia - "Mushed", in Nova Scotia - "Alexander Cates".
Food tour to Canada
After embarking on a culinary tour of Canada, you will be accommodated in an old hotel in the city of Alton. On this tour you can sample a variety of wines and dishes prepared with local recipes. In addition, experienced chef Roberto Fraccioni will teach you 2 cooking lessons.
If your goal is to learn the intricacies of the culinary arts of Canada, you can study under the leadership of Chef Philip Tarlo at the Collingwood Academy.
If you do not have a lot of cooking experience and you want to improve your culinary skills, in this academy you can enroll in the Cooking 101 course - here you will learn basic culinary techniques and their variations..
Holidays in Canada are not only beaches, nightclubs, excursions involving sightseeing, but also an interesting gastronomic journey.
Photos of national dishes of Canada