Holidays Canada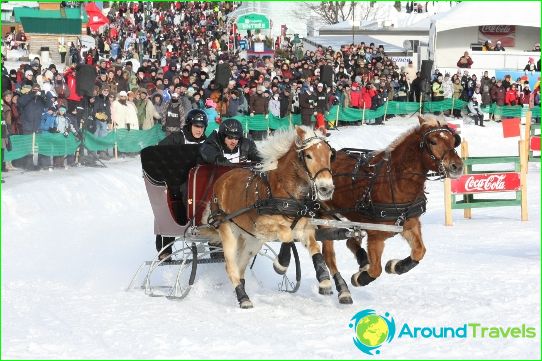 Holidays in Canada are not only Canada-wide, but also holidays celebrated exclusively in certain provinces. Canadians love to celebrate holidays - they visit guests, invite relatives or go to "long weekend" (many people prefer to coincide the holidays with weekends or time off).
Holidays and festivals in Canada
Christmas (December 25): Shops lure shoppers with huge discounts for the holiday; streets, squares and parks are decorated with multi-colored glowing garlands; and Canadians decorate their doors with Christmas wreaths. Since Christmas is a family holiday, as a rule, numerous relatives gather at the table. On a holiday, it is customary to exchange gifts and delight even strangers with symbolic souvenirs..
Groundhog Day (February 2): everyone who is interested in whether the warm days will soon come, observe the behavior of the groundhog on this day - the following fact testifies to the imminent onset of spring: the animal, not seeing its shadow, must come out of the burrow and not run back. Otherwise, winter will not allow spring to come into its own for about 6 more weeks. It is worth noting that in honor of Groundhog Day, residents and guests of Canadian cities have fun at festivals.
Canada Day (July 1): in Ottawa, on Parliament Hill, magnificent celebrations are held in honor of the holiday - numerous guests of the city are invited to take part in parades, attend concerts with performances of artists, and in the evening - admire grandiose fireworks.
Easter: a spectacular part of this holiday is the procession of the cross - the priests and believers walk in the procession from the temples. On Easter, it is customary to give each other colored eggs and sweets in the form of an Easter bunny, and to children - chocolate treats that parents hide in the house so that the search for children turns into an exciting game.
Montreal International Jazz Festival: During the celebration of this event, everyone rushes to the coast of the St. Lawrence River to attend various concerts where you can listen to a wide variety of music, such as classical jazz or indie rock.
Event tourism in Canada
Travel managers will help you organize a tour to Canada during the Summer Festival of Humor, Montreal Festival of Lights, Pyrotechnic Festival in Quebec, Walrus Festival in Vancouver, Snow Festival "Snow ball" in Ottawa, International Blues and Jazz Festival "Quebec Nights", International competition of ice sculptures, etc. So, as part of the event tour, you can visit the Canadian Tulip Festival (first week of May) in Ottawa. The festival opens with the Tulip Ball, held in a cabaret style - all guests are treated to national dishes and champagne. During the festival, everyone will be able to admire the famous buildings of the city (Parliament building, Peace Tower), buried in flowers.
Canada is a paradise for lovers of event tourism, because the country hosts many holidays every year. So, only in Quebec there are about 1000 of them a year.!
Photos