Costa Rica Resorts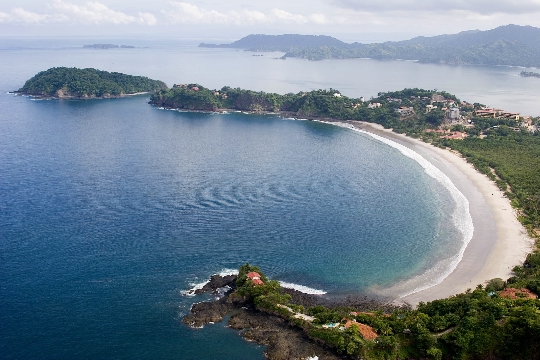 All the brochures advertising tours to Costa Rica are replete with photographs of amazing beauty and rapturous epithets of "delightful", "unforgettable" and "fascinating". Despite the long flight, thousands of Europeans flock to the resorts of Costa Rica every year, because this land is the best fit for the definition of a place ideal for rest.
In Costa Rica, you can simultaneously enjoy the serene beachside ralax and feel the great comfort and service of a modern hotel. It is customary here to admire the bright birds of paradise, sipping a cocktail prepared in full accordance with the advanced trends of bar art, and admire the rumbling waterfalls, immediately uploading photos to your favorite social network, since communication is ideal here even in the jungle.
For or Against?
An experienced traveler will oppose objections to a long journey with very weighty arguments - comfort on board of airlines performing transatlantic flights, and an excellent chance to go shopping at a European airport where a transfer is expected..
The absence of the need to issue an entry visa for Russian citizens makes it possible to go on vacation without the tedious collection of certificates and confirmations. The ability to monitor ticket prices in advance allows you to significantly save on flights and buy yourself a couple of additional excursions in the jungle of Costa Rica.
Always in the TOP
The International Happiness Index, which reflects human well-being and environmental conditions, is calculated annually. According to this data, Costa Rica has been ranked number one on the planet in the past few years. Any traveler who has chosen the resorts of Costa Rica as a place to spend their holidays or vacations can touch the happiest land and communicate with its inhabitants:
The province of Guanacaste is preferred by active tourists. Scuba diving and surfing thrive here, and wildlife lovers enjoy watching sea turtles choosing Grande Beach to breed. Hotels in these resorts of Costa Rica can boast any number of stars, and all the declared services are fully provided by the staff..
The beaches of Limon are located on the Caribbean coast, and therefore a serene vacation, complete relaxation and magnificent landscapes are guaranteed for guests of the local resorts of Costa Rica. Bonus for fans to explore natural beauty - excursions to Estrella National Park.
Photos