Districts of Prague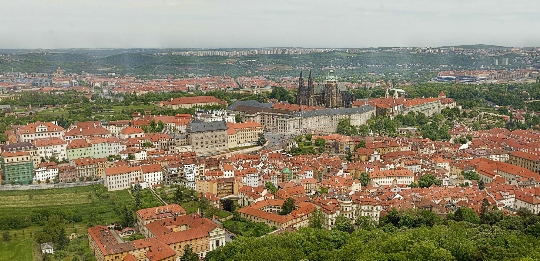 The districts of Prague are administratively represented by 22 units: they are called Prague 1-22, and the districts of Prague 11-15 are sleeping microdistricts (they have recreation areas with green areas).
Description and attractions of the main areas
Prague 1 (includes Stare Mesto, Mala Strana and Hradcany): This area is home to the main attractions of the capital. Guests will be invited to walk along the Old Town Square (famous for its unique clock - every hour figurines of the 12 apostles appear in front of the surprised guests) and Wenceslas Square, Prague Castle and Charles Bridge, explore the Church of St. It is worth noting that you can walk around Prague Castle for free, but you will have to pay for visiting St. Vitus Cathedral, the Old Royal Palace, the Strahov Monastery and other architectural monuments by purchasing tickets..
Prague 2: this area includes Vysehrad (the Church of Saints Paul and Peter, the rotunda of St. house and cathedral of St. Ludmila).
Prague 3: includes the Zizkov district with shops, restaurants and bars open until late (this is a rarity in Prague), and is also famous for the Zizkov TV Tower (there is a restaurant and observation deck) and the Jan Zizka monument. If we talk about outdoor recreation, then you can implement your plan in Vitkov Park and on the hill of St..
Prague 5: offers to explore historical monuments in the form of Villa Bertramka, the summer palace of the Kinsky princes, the Church of St. Gabriel. In the Prague 5 district there is the Smichov quarter - it is famous for its factory "Staropramen": tourists are advised to visit the bar at the factory to taste freshly brewed beer.
Prague 7: tourists are interested in the Botanical Garden (here, in addition to the tropical greenhouse, there is a collection of exotic butterflies), Prague Zoo, Troy Castle (open to the public in May-October), Stromovka Park.
Prague 8: guests can spend time in sports complexes, visit the Musical Theater, the Church of Methodius and Cyril, visit the House of Invalids (today it is the location of the Historical Archives and the National Technical Museum) and Grabova Villa.
Where to stay for tourists?
When monitoring prices for accommodation facilities, travelers can take note of the following information: the most expensive hotels are located in the Prague 1 district, and the Prague 3 district is famous for the more affordable hotels. Tourists can pay attention to the Prague 7 district - despite the fact that Accommodation prices here are slightly higher than the average in Prague, this is compensated by convenient transport links and incredible nature. Inexpensive hotels can also be found in the Prague 8 and Prague 10 districts..
Pictures of Prague districts