Prices in the Czech Republic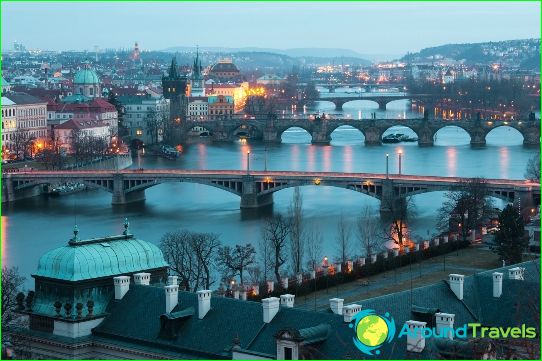 By European standards, prices in the Czech Republic are relatively low (the price level here is lower than in Germany, Austria, Poland).
Shopping and souvenirs
It is advisable to plan a shopping tour to the Czech Republic for the sales season - early January-late February, mid-June-late August.
What to bring from the Czech Republic?
- smoking pipes, crystal and porcelain products, cosmetics (natural cosmetics cost from 10 euros per product), jewelry with Czech pomegranate, "stone" flowers (they cost about 3 euros);
- clothes, shoes and accessories of famous brands;
- Czech beer (Starapramen, Gambrinus, Budvar, Krusovice), sweets.
Bohemian glass and crystal can be purchased at the Moser factory and company stores in Prague, Karlovy Vary and other major cities of the country. For example, for beautiful glasses you will pay 22-330 euros, vases - 50-2000 euros, decanters - 45-1000 euros.
Czech garnet jewelry is produced by a large company "Granat Turnov" - they can be purchased in the shops of Turnov, Prague and other cities. The cost of 1 piece is at least 50 euros, and, for example, for a set of earrings and a ring, you will pay about 150 euros.
Tours
For visiting museums and galleries, you will spend at least 4-6 euros, and theaters - 6-12 euros.
On a sightseeing tour of Prague, you will walk through the Old Town, where most of the sights are located: you will see the Charles Bridge, see its main tower and numerous sculptures.
On the Old Town Square you will see the Town Hall and the Astronomical Clock.
The approximate cost of the excursion is 16 euros.
Entertainment
The whole family can have fun in one of the Czech zoos. For example, in the Prague zoo, the cost of an adult ticket is 7 euros, and a ticket for children is 5 euros..
And going to the Babylon water park, adults will pay 5.7 euros / 1 hour for their stay, and children - 3.2 euros / 1 hour..
If you decide to travel back a few million years, visit the Dinopark in Prague, Ostrava, Vyškov, Plzen.
A visit to the Dinopark in Prague will cost you 5 euros (a child ticket costs about 3.5 euros).
Transport
You can get around the cities of the Czech Republic by buses, metro and trams. To do this, you can buy a "limited" ticket (its validity is 20 minutes, travel is only by one type of transport) at a price of 0.7 euros, or you can buy a ticket, the duration of which is 75 minutes (it allows you to travel by several types of public transport) for a price of just over 1 euro.
But it is more convenient to buy a ticket that is valid for a whole day (its cost is 4 euros) or for 5 days (it costs 20 euros).
If you decide to order a taxi, you will pay at least € 1.80 + € 1-1.5 per kilometer for boarding..
Daily spending on vacation in the Czech Republic depends on your budget: if you live in an inexpensive hotel, have a snack in cheap cafes, move exclusively by public transport, you will need approximately 25-35 euros per day for 1 person.
Photos