Denmark Railways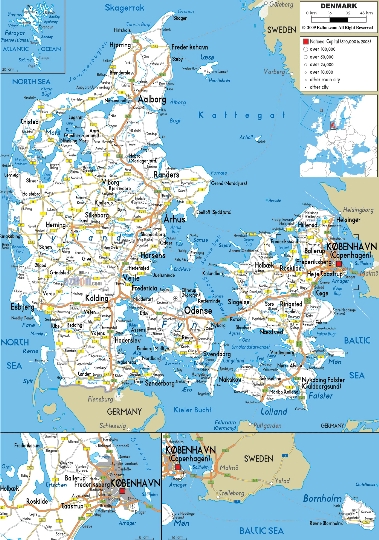 Danish railways are highly developed. They are served by a national organization «Danske statsbaner» or «DSB». The country's railway network stretches for 2,670 km. The Helsingor-Copenhagen-Padbor line and the S-tog system were electrified. Danish railways are mainly used for passenger transport.
Rail links in Denmark
The country maintains an intensive level of freight traffic with Germany and Sweden. Railway tracks differ in gauge according to European standards - 1435 mm. Historical sites are an exception. Danish railways are connected to Swedish tracks by the Øresund Bridge. A dense rail network covers all important cities, the islands of Funen and Zeeland and the Jutland peninsula. The largest train station is located in Copenhagen. From here, trains of the Intercity category, commuter trains and regional trains depart. Railway tickets are booked through the ticket offices of the country's main station. The largest transport hub in Denmark is located in Copenhagen. Another connection point for many flights is located in Aalborg. Passengers change from train to bus here.
Danish trains are comfortable and precise. They run strictly on schedule, but are quite expensive. The most popular trains are analogs of electric trains. These are S-tog trains that travel between the capital and suburban areas. Electric trains in Denmark are equipped with seats for passengers with strollers, bicycles, and are also adapted for disabled people. Long distance regional trains follow. Trains depart from Copenhagen hourly to Aarhus and Odense. Intercity and Lyn are considered high-speed trains. They have quiet zones and family compartments.
Buying tickets
The schedule is available on the Danish Railways website - www.dsb.dk. For EU residents, the Inter Rail Denmark and Inter Rail passes are available. Danish railways are very actively exploited, as trains are considered the most budgetary and convenient way to travel around Europe. Long-distance trains are equipped with free Wi-Fi. To book a ticket, you can use the services of tour operators in Denmark. Please note that travel costs will increase. Unified travel cards make it possible to travel with the help of urban transport and commuter trains. Discounts are available to students with an ISIC ticket. A profitable solution - purchasing the Copenhagen Card Museum Card, which provides free entrance to museums and free travel.
Photos