Diving in Egypt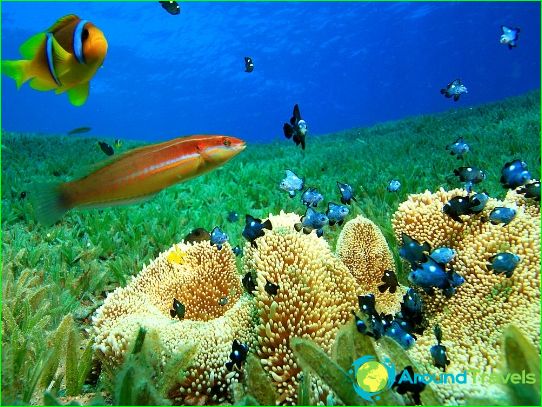 Diving in Egypt is the embodiment of your dream of a fabulous underwater world, decorated with magnificent coral gardens with schools of colorful tropical fish. Divers from all over the world gather at the best dive sites of this eastern country.
Giftun reef
Diving in this place will not only delight, it will completely capture your imagination. Slowly descending along a completely sheer wall, you can admire the magnificent gargonaria to your heart's content. At the end of the descent, a huge plateau opens in front of the diver, and the wall continues to descend even lower, disappearing into absolute darkness.
Numerous marine inhabitants have chosen these places: moray eels, napoleons. There are also triggers, graceful rays and crocodile fish. Frequent guests of the reef are sea turtles and pikes, and in the morning you can even meet sharks.
Careless Reef
The dive site is located near Hurghada, a little over an hour boat trip from the local port. The reef was once part of a mountain range, which was separated from the sea surface by only two tens of meters.
Nature has prudently created convenient parking spaces: two coral pillars, 30 meters wide. It is between them, at a depth of 15 meters, that the sea «clearing», length of 25 meters. Then it ends abruptly. The cliff wall, which has a huge number of caves, was chosen by representatives of the scorpion family.
Coral gardens, filled with numerous inhabitants, impress with their colors and variety of forms. Among the thickets «flutter» not only butterfly fish, but also reef sharks, and numerous moray eels.
Ras Disha Reef
Geographically, Ras Disha belongs to the Abu Hashish coral reef, but is very interesting as an independent dive site. Its northern part is a huge grotto of incredible beauty. The main inhabitants are unusual glass fish, which will be of interest to fans of underwater photography. In addition to these representatives of the underwater world, here you can watch butterfly fish and angel fish. Moray eels with stingrays also like this place. The reef shark becomes a frequent visitor to these places, and this fact only adds to the popularity of Ras Disha..
Reef Gota Abu Ramada
Not far from Hurghada, there is another interesting dive site - the Gota Abu Ramada reef. Among divers, he is better known as «Aquarium». So he was nicknamed for a relatively small area and a huge number of local residents. The reef is not located too deep, the maximum depth reaches 16 meters, but with distance, the bottom sinks to «decent» 30 meters. The sea is almost always calm, which provides excellent visibility..
Photos