Tourism in Estonia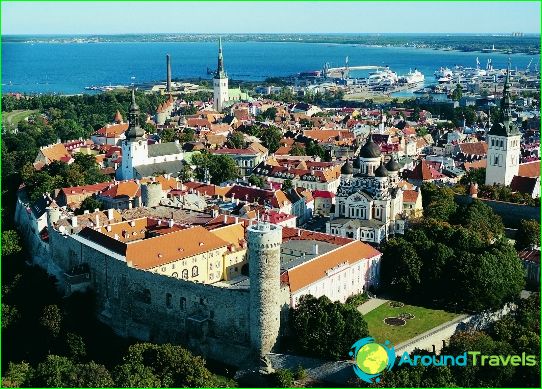 Once this country was part of the Soviet Union, but visiting it by many tourists was equated with a trip abroad, there were too many differences. Today, being self-reliant and independent, Estonia is still oriented towards visitors from the East. This is due to the geographical proximity to Russia, the simplified procedure for obtaining a visa, and the relative absence of a language barrier. Tourism in Estonia is a service of the highest level, sights and historical monuments, rest and treatment.
On the way to Estonia
Transport does not become a big problem to visit the neighboring country. A plane will get here quickly, but a little expensive, a train ride will be a little slower and cheaper. If a tourist wants to make travel even cheaper, he should choose a bus.
Driving your own car may be more expensive. But on the other hand, there are great opportunities to ride in Europe, glancing on the way to Lithuania or Latvia, which are no less interesting for a tourist..
Estonian cuisine
There are no exotic and overly complex combinations of products, but everything is fresh, tasty and relatively inexpensive. Dairy products and baked goods are popular. Estonians, not just their Swedish neighbors, are famous for their delicious buns.
Many gourmets, being in Estonia, stock up on excellent chocolate. Which is made here with various fillings, marzipans and sweets. The most favorite alcoholic beverage among tourists is liqueur. «Vanna tallinn», which is also a wonderful gift for family and colleagues. Honey beers and mulled wines are also at a premium.
Healing rest
Many resorts in Estonia are focused specifically on the treatment of arriving guests. They combine several components that contribute to the healing of the body, increase immunity, and resistance to diseases. The freshness of the sea air, the proximity of pine groves, mineral springs are real natural doctors.
Country of castles
Estonia has preserved a sufficient number of monuments from the Middle Ages, for example, Toolse Castle, Wiesenberg Fortress in Rakvere, many old churches, farmsteads and the Bishop's Castle on the island of Saaremaa. Many of them are included in the famous UNESCO list and are under state protection..
In addition to the masterpieces of architectural thought, many tourists are interested in the beauty created by Mother Nature. They have very beautiful poetic names, having heard which, a tourist simply cannot refuse a trip to them. For example, «Singing dunes», «Valley of nightingales», Lake Pyhajärv, considered sacred.
Photos