Beaches in Cannes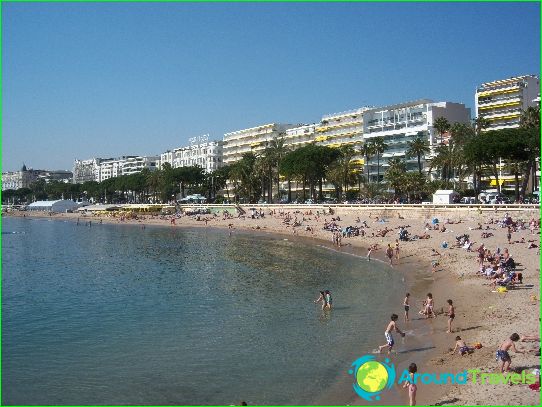 Along with the resort Nice, Cannes can be called the beach paradise of France. Of course, first of all, the prestigious film festival brings fame to the city, but the event ends at some point, and the city on the Cote d'Azur continues to live, receiving many tourists. The beaches of Cannes amaze everyone with the finest golden sand and incredibly comfortable descents to the water. Naturally, most of the beaches here are private and are not cheap to visit. An affordable alternative is the municipal beaches with free admission. Surprisingly, umbrellas and sun loungers can be rented here, but it will come out much cheaper than from private owners. But it is precisely because of this accessibility that it is crowded and noisy here..
It doesn't matter what the status of the beach in Cannes is, but on any of them you can ride a jet ski and water ski, on «banana». You can climb on a paraglider after the boat.
Public beaches in Cannes
France is a country where all beaches are public. This is established by law. And now for you the best sandy beaches of Cannes
Croisette zone
1. Beach «Casino»
The central beach, located near the Palace of Festivals, is open almost all year round. Volleyball competitions are often held here. The entrance to the beach is free and it's nice that there is a free shower.
2. Beach «Mase»
Close to private beach «Majestic» the western beach of the Croisette is located - «Mase». Here, during the days of the Cannes Film Festival, a huge screen is installed on which you can watch feature films and documentaries. You can visit this free beach all year round.
3. Beach «Verdan Square»
This small beach «Settled» between private territories «Bijou beach» and «Sporting». «Verdan Square» known for its swimming school and «By the Maritime Club de la Croisette». You can visit the beach all year round, and it's free.
4. Beach «Port of Palm Beach»
La Bocca Zone
1. Beach «Du tru de loncre»
Near the town of Mondelieu La Napoule, there is a beautiful beach with an equally beautiful name «Du tru de loncre». It is famous for being one of the first public beaches in the western part of the city. Entry is still free.
2. Beach «La Bocca»
This territory of golden sand stretches for more than 3 kilometers, and everything here, except for rental for a moderate fee, is free.
Midi Zone
Beach «Du Midi»
Beach «Lie»
Beach «Mistral»
Beach «De Labrevoir»
Beach «Madrigal»
Equipped with playgrounds.
Photos of beaches in Cannes