Lido Paris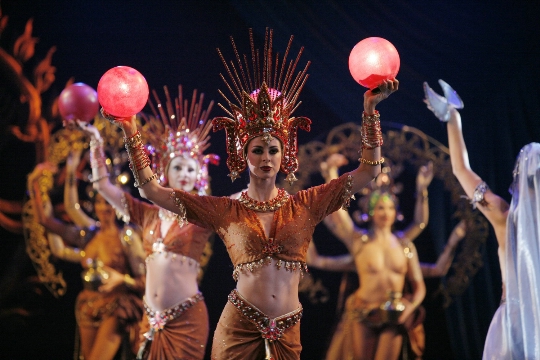 In 1946, two Italian brothers and successful businessmen, Joseph and Louis Clerico, tired of building houses and quarreling with workers, decided to drastically change their lives and occupations. They bought premises at 78 Champs Elysees and opened the Lido cabaret there. Paris had not seen anything like it until then: every evening the hall was full, and the girls dancing on the stage looked perfect and like a match - tall, slender and very artistic.
New concept of evenings
The main idea of ​​the then fashionable showman Pierre-Louis Guerin, hired by the brothers as an impresario, was that the presentation format should be completely new. It was difficult to surprise the spoiled audience with the usual performance of the cancan by semi-professional dancers, and therefore in Lido Paris it was necessary to "taste" a completely different show. However, in this case, tasting quotes was not required, because the dance performance in the cabaret was preceded by dinner and a glass of champagne as a welcome gesture from the establishment. From that moment on, Lida in Paris became a haven of luxury, and the new concept of evenings not only guaranteed a sold-out nightly, but was instantly copied in cabarets around the world..
Rene Fradey and Miss Bell
In 1947, Rene Fradey took over as artistic director of the Lido in Paris, with the addition of amazing special effects to the show. Cancan could now dance on skates on artificial ice, girls frolicked in fountains and jumped out of pools, and even the Independence Day parades overseas were frankly envious of fireworks.
Margaret Kelly, nicknamed Miss Bluebell, brought no less fame to the Lido cabaret and Paris. Her blue eyes and choreographic ability quickly made Margaret a star. After a while, the girl became the organizer of her own show, with which she performed at the famous cabaret in Paris. Long legs and elite appearance of the dancers, nicknamed Bells, won the hearts of the audience. Kelly became the permanent organizer of the casting, at which she personally selected 14 thousand dancers throughout her career in Lido.
Useful little things
Dinner at the Lido in Paris starts at 7 pm and the first show at 9 pm.
Prices differ depending on the chosen seat in the hall. The ticket price for the show with dinner starts from about 160 euros, only for the show - from 110 euros.
The second concert in Lido is given at 23.00. There are also night shows, the schedule of which should be checked on the official website of the cabaret.
Photos